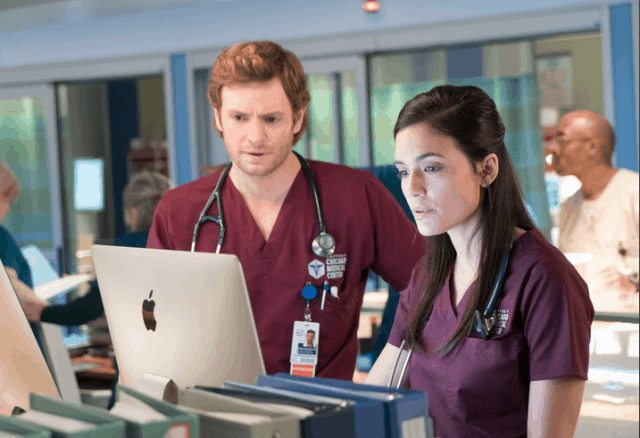 What is great about a medical drama is that each patient is unique, as is each doctor-patient relationship. Every case is a teaching moment, even for the most experienced doctor. This week the doctors of Chicago Med had to contend with the notion that sometimes the best course of treatment is no treatment at all.
Dr. Choi treats a patient in renal failure. What he doesn't realize is that her renal failure was caused by lithium she was taking for bipolar disorder. When Dr. Charles asks Dr. Choi if he has any experience with bipolar patients, Choi gets very cagey. Dr. Charles talks to the patient, and she decides that the best course of treatment is to continue with her lithium. Even though it has put her physical health in jeopardy, she doesn't want to lose control of her faculties because of the bipolar. Dr. Choi makes his opinion well known (he actually suggests she "just buck up"). Up till now not much about Choi's personal life has been made known, other than the fact that he was in the Navy. His attitude doesn't come from arrogance or cruelty, it's because he walks around with the weight of the world on his shoulders because of his time overseas. It finally becomes too much and Dr. Choi ends up breaking down in Dr. Charles's office, finally ready to ask for help.
Dr. Rhodes treats a boy who impaled himself on fencing wire and cut a whole into his heart. Dr. Downey takes over the case in surgery and requests that Rhodes, not Zanetti, fix the boy's heart. Dr. Downey then requests that Rhodes assist him in a cardio surgery. Rhodes is utterly confused, so he confronts Downey. Dr. Rhodes feels his place is as a trauma surgeon, and Dr. Downey respects his wishes. Dr. Zanetti thinks that Rhodes is a coward for turning down such an amazing opportunity. Later Dr. Downey comes in as a patient, where it is revealed he has liver cancer. Suddenly all of Dr. Downey's actions make sense. Upon realizing his prognosis wasn't good, Dr. Downey began looking for a protegee. Now fully informed, Dr. Rhodes agrees to learn at the hands of the master.
Reese is actually getting really good at maneuvering the ER. Her next task however, is not so cool and flashy. Everyone starting at the bottom has to put in their dues, Reese's just happen to be a homeless man with lice. Her patient is a very nice man who is extremely appreciative to be clean for the first time in months. Unfortunately he dies before he can leave the hospital. On his Patient Satisfaction Survey Reese receives high praise from her patient, his dying statement. Just goes to show you that simple acts of kindness do matter.
Dr. Halstead and Dr. Manning treat a patient with end-stage lymphoma. Per her wishes, she does not want end of life care, including extraordinary measures. Halstead wants to give her one last chance, so he asks a friend if he can get his patient into a closed clinical trial. His favor comes through, but his patient is less than thrilled. She very graciously turns Halstead down, explaining that she doesn't want to spend the rest of her life in a hospital. Halstead is upset, more because he is letting his personal feelings about his own mother's battle with cancer cloud his judgment. He's not backing down, going so far as to try to convince his patient's husband to talk some sense into her. When the patient crashes, Dr. Halstead goes against her DNR, and against Natalie, completely jeopardizing his career. If Halstead was expecting a thank you, he was sorely mistaken. The patient gives him a look I can only describe as "daggers of death", and Sharon kicks him off the case. Sure enough Halstead and the hospital now face a lawsuit, and Natalie is furious that Halstead dismissed her and his patient.
What do you think the best storyline of this episode was?
Chicago Med Season 1 Episode 9 Review: "Choices"
Summary
Dr. Halstead made a potentially career-ending move in tonight's Chicago Med.