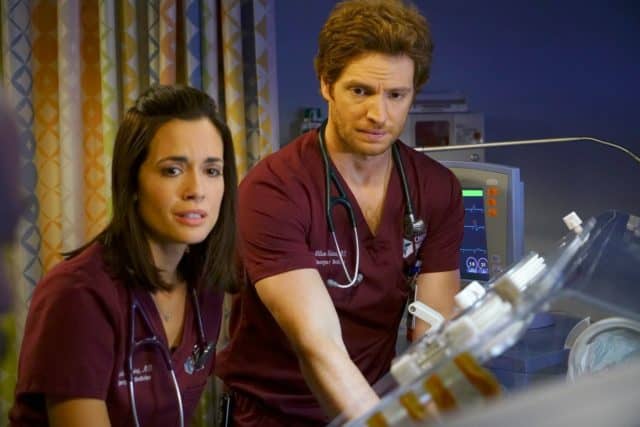 You know that feeling when you know you're about to do something against good judgment, but you do it anyways? That is the theme of this week's Chicago Med. Good intentions go out the window when you're under pressure to do the right thing, and the right thing isn't as clear-cut as you think it is. What is best for a patient while they are in need of emergent hospital care, does not always extend to the next few hours, days, and the rest of their lives.
"Into the fire, in the flame" must have been Reese's thinking in putting herself through exposure therapy in a prison. What on Earth possessed her to believe that that was a good idea, I'll never understand. Reese has trouble with regular ER patients. Angry inmates, who have to prove their dominance just to survive, should not have been Reese's first major intake. With a lot of strength, and a better understanding of her environment, she does do better the second time around. Thank goodness, she is on the road to recovery.
Dr. Choi and April treat a teen runaway whose living conditions were so bad that she ended up with a cockroach in her head. It's not pretty, but bugs get into very uncomfortable places in the human body. The only reason the critter ended up in his new host was because he was attracted to the cerebral fluid leaking from the skull fracture the teen had, courtesy of her mother's boyfriend. Dr. Choi trusts that the system will help his patient, but if the case worker is any indication, the girl actually is better off on her own. Choi and April are so different in the way they see the world. They can either meld the best of their differences to help their patient, or leave it in the hands of someone else.
Dr. Bekker's mentor Dr. Jaffrey comes to Chicago to have his heart surgery performed by his prize pupil. More to the point, Dr. Jaffrey wants to be awake during his surgery. To say that Rhodes is concerned would be an understatement. Dr. Latham understands Jaffrey's desire to see his own heart a little too well, so Rhodes doesn't have an ally there. He can't stop the surgery, but it's a good thing he doesn't back out either. Rhodes knows what it is like to treat your own mentor. He understands the pressure that Bekker is under treating her mentor, while she has his heart in her hands. A surgeon who wants to bark orders and reprimand his surgeon while she has his heart literally in her hands has major control issues. Honestly, what kind of a person says "You disappoint me" to someone who saves their life? At least the ice has thawed between Bekker and Rhodes a bit.
Halstead and Manning treat a mother when she goes into labor at 22 weeks. The poor baby doesn't even look like a person yet, so his parents decide it would be cruel to use extraordinary measures if it will do more harm than good. But when the doctors see that the baby is fighting, they fight too. Manning takes her fight too far, giving the parents false hope. She clings to the idea that if the baby has enough fight in him, things are going to be okay. But Will sees only heartbreak ahead if the parents are continually made false promises that their child could survive. When the little boy does die, they don't focus on the false hope. They are grateful that Dr. Manning gave them time to hold their child. Will Manning's compassion work out this well the next time?
Chicago Med returns February 27 on NBC following the 2018 Winter Olympics.
Chicago Med Season 3 Episode 9 Review: "On Shaky Ground"
Summary
The doctor's bad ideas run rampant on this week's Chicago Med.