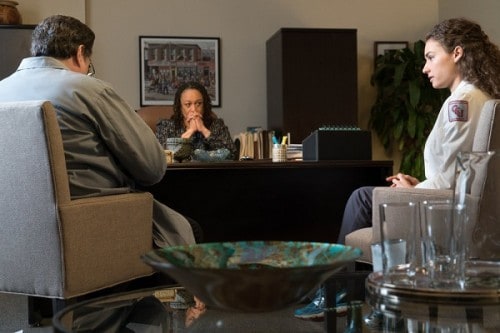 More and more it seems that the doctors of Chicago Med have to make hard decisions in regards to their patients' care. Dr. Charles remarks on how the Hippocratic Oath tells them to first do no harm, and everyone has to figure out if that means taking action or not.
Dr. Halstead has to face his lawsuit head on. He's a good doctor, and he does a lot of good work, but let's face it, he screwed up big time. It doesn't seem like he grasps the enormity of the situation. He still tries to connect with the patient and check on how she is doing in the clinical trial, as if her doing well would make up for the back that he went against her wishes and broke the law. This does not make Goodwin happy at all, and she promises that one more wrong move and she'll recommend Dr. Halstead be terminated from the hospital regardless of whether he is found guilty or not.
Luckily he is preoccupied with a patient for the majority of the episode. He and Dr. Manning treat a young girl with a rare type of flu. Her parents never had her vaccinated, so now they have to distribute preventative vaccinations to the rest of the little girl's school. At first it's just as a precaution, but one of the teachers presents with the symptoms and Manning is forced to do mouth-to-mouth to save her life. Halstead is furious that she was put in that position, so he shoots his mouth off to the parents. The only good thing to come out of this is that his words push Manning to tell him that she might be ready someday for them to be together.
Rhodes treats a patient with flesh-eating bacteria. Given that there is nothing that can really be done once the condition spreads, there's very little the doctors can do to help. After a conversation with the patient, Reese realizes that his regular doctor missed the diagnosis. April helps Reese get ahold of a list of the doctor's patients who have come in to the hospital, and sure enough this is not the first diagnosis he has missed in the last few months. Ms. Goodwin sees that Reese has a point, so she is forced to start an official investigation which results in him losing his hospital privileges. The doctor is an old friend of Dr. Charles, so this hits him pretty hard. Dr. Charles's friend is just very overworked in his private practice. It's easy for Reese to say that this doctor was irresponsible, but she is still young and doesn't know what years of struggling with this job does to a person.
Dr. Choi treats a patient with an LVAD who wants the device taken out because it has caused him to land in the hospital with repeated ulcers. Choi and Rhodes refuse to remove the LVAD because the patient will die, so he removes the batteries himself. Rhodes goes to Dr. Downey for help, and his patient is without options, Downey tells him to let the patient choose his own way out. Choi completely disagrees with this, but since Rhodes is not doing anything illegal, he has no cause to stop it.
April is horrified when she realizes her brother Noah gave a patient a medicine he was allergic to. She is even more upset that Noah brushes it off since the patient is fine. Instead of writing him up, April gives him one chance to redeem himself. After watching things play out with Dr. Charles's friend, she realizes she can't afford to give Noah a free pass. He's either going to work hard and become a great doctor, or he's going to fail.
Hit the comments for thoughts on this episode of Chicago Med.
Chicago Med Season 1 Episode 11 Review: "Intervention"
Summary
As the title suggests, the doctors at Chicago Med have to learn to listen to, and for, their patients.