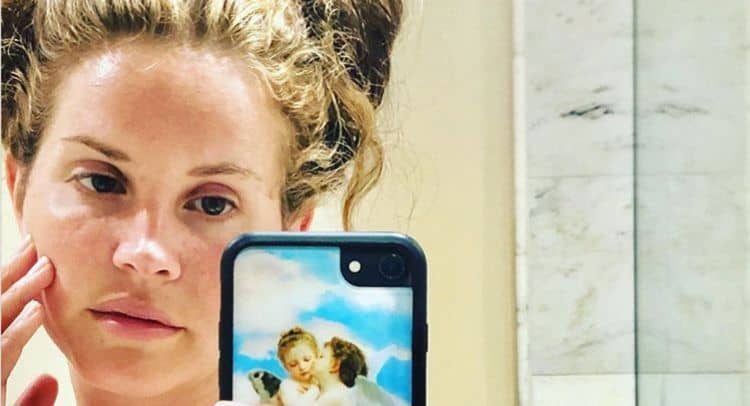 The incomparable Lana Del Rey with her haunting and poignant songs is a tough cookie when it comes to casting a fantasy film draft pick. However, Hollywood has a plethora of incredibly talented actresses who have more skills than most fans know or think about. We dug deep and searched out our top five incredible, lovely singers with more talent than you can shake a stick at to do Lana imaginary silver screen justice. The only problem with this list is that we're feeling a little disappointed that we might have to choose just one. Plus no one has written a Lana Del Ray film yet as far as we know. Someone should get on board with this project already, though it would be a nightmare job for any casting agent to finalize the one best pick. Here they are, our top five favorites to play Lana Del Rey.
1. Selena Gomez
We loved her as a tween witch of Waverly Place on the Disney Channel. After watching Jupiter Ascending, we're totally smitten with the dark-haired beauty that Selena Gomez grew into. Like so many child Disney stars, Selena was meant for great things. Disney knew it, casting directors knew it and so did record execs. When it comes to being a double whammy, everyone can see that this actress has serious musical talent as well. That makes her a natural first pick for our list. Selena is not afraid to show her darker, more moody side, and we love her for it. It's easy to get pigeonholed as a pop star when you cut your teeth at the Magic Kingdom, but Selena never let that happen. She's an ideal brooding singer for any film about the life and music of Lana.
2. Kristen Bell
We know some people won't immediately see it, but Kristen Bell is a top pick for the darkly sultry, no-holds-barred brilliance of Lana Del Rey as well. Sure, she'd have to trade in her iconic blonde locks for a darker 'do,' but we think she could pull it off without any trouble. Fans who are just discovering the bombastic and outspoken blonde as a women's rights advocate or playing opposite a stellar cast on Netflix's The Good Place are in for a surprise. She can sing, as well. If you want to see this vibrant virtu at her best, you need only look back as far as Veronica Mars. Sadly that show wasn't as beloved as it deserved, which is saying something given the massive fan base. The trouble was that she played a teenager in high school. So many assumed it was another teen drama and missed out on what is arguably one of the best detective dramas of the era. Moreover, Kristen cut her teeth on Broadway. Plus she's already taking on the whole world, so a movie about the spectacularly talented Lana Del Rey is practically a cakewalk for an actress of her talent. We'd be sick with envy if we didn't love her so much!
3. Demi Lovato
Demi is another actress with a somewhat surprising history. Her first role was on Barney and Friends. However, despite her soft start, she's grown to be quite the force of nature. If you're following her career at all, then you know how she shut down the Taylor Swift feud with some kind words and a sensible dismissal. Demi reminded Swift that women have enough troubles in life without fighting each other. As a multi-platinum Grammy nominee, there's no question about whether she can handle the musical talent portion of any movie that she might star in. In fact, we kind of want to see what would happen if Lana Del Rey and Demi Lovato ended up having coffee, or a few drinks together in a recording studio. We know she can handle the heartbreak heavy lyrics after seeing her "Tell Me If You Love Me." Full disclosure, we just want Demi and Lana to put their heads together on any project ever, but a movie would be spectacular.
4. Emilia Clarke
Yes, we just suggested the Mother of Dragons as an on-screen version of the soulful woman The Ringer calls "The Benevolent Spirit Guide of Our Times. Perhaps some fans have trouble seeing Danerys Targarian as a hauntingly beautiful singer, but it's not that much of a stretch. Emelia Clarke is gorgeous at everything she does. Singing is no exception. Emilia's voice even reminds us of Norman F*ing Rockwell a bit in its tone and timbre. Plus we already know she can pull off the darker chocolate browns and auburn hair favored by Lana as well as he pulls off the silvery blonde of Danerys.
5. Juliette Lewis
If we're being totally honest, we agree with IMDB that Juliette Lewis is one of the most versatile actors of her generation. We know she's not in her 30s like Lana, but we don't think it matters much. Juliette can sing and was in a band for a while. She can act circles around most people, and she's unafraid to put it all on the line and playthings to the absolute hilt. Furthermore, Juliette is already known for her offbeat characters (no pun intended). Meanwhile, Lana Del Rey is undoubtedly marching to the beat of her own drum. It's a superb match. We'd be hard-pressed to pick another actress who can so easily and seamlessly slide into someone else's skin. From her Oscar Nomination in Cape Fear all the way through Breaking News In Yuba County (which is in post-production now) we've enjoyed every bit of her career. We'd love to see her take on Lana Del Rey.
Final Thoughts
One of the toughest parts of our job is picking favorites in a scenario like this. There are just too many stellar choices, and any of these ladies could make Lana proud and hit every note while they were at it. Lana cares about things like politics and love, the environment, and more. Every one of these actresses and songbirds has loaned their voice to important causes and done their part to help bring awareness in different ways. Who would you cast if you had to choose just one perfect Lana? Let us know in the comments below.