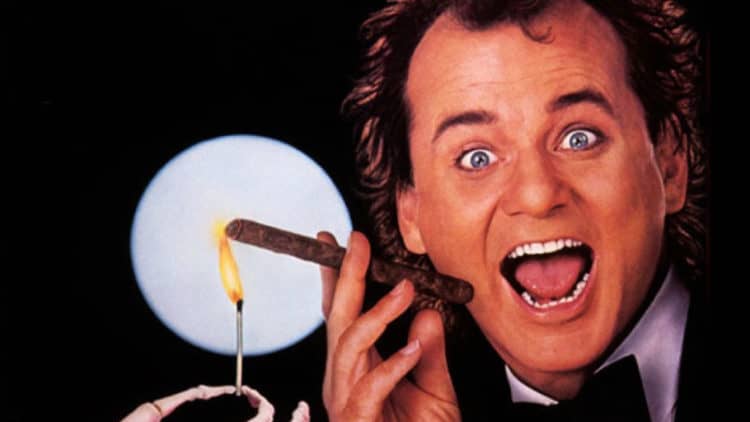 The holidays wouldn't be the same with the usual movie favorites, and Charles Dickens' A Christmas Carol has always been a favorite for many. Ebenezer Scrooge is one unforgettable holiday character, and we've seen him played by some talented actors in the past. Perhaps the most popular rendition is the film from 1984 in which George C. Scott played Scrooge. Perhaps it's time for a remake of the film, and we've listed a few names that we believe would be perfect as the modern version of the miserly character. Here are five of our favorite Hollywood actors that should play Ebenezer Scrooge in the next A Christmas Carol film.
1. Tom Hanks
Hanks has already given us a few holiday classics including the animation, The Polar Express. He's got the right touch when it comes to making seasonal films, and he's also got the knack for making the best family films. He's also one of the most talented actors of our generation, and we can totally picture him as Scrooge any day. Given that he's now in his 60s, he's about close in age as the character should be. He can play the grump at any given day, but we'll always imagine Hanks as a likeable character even when he's playing a character difficult to like. Tom Hanks hasn't slowed down with making films, and he continues to bring out blockbusters even to this day. His latest film, A Beautiful Day in the Neighborhood, allowed him to portray Mister Rogers. No one else would be right for that role. And while we think there could be other actors that can play Ebenezer Scrooge, Tom Hanks would just be the closest to perfect for that role.
2. Anthony Hopkins
We're jumping just about 20 years in age, and pursuing the legendary Anthony Hopkins for the role of Scrooge. We get it. Hopkins isn't much of the family movie type. When we think of Sir Hopkins, we're usually thinking of Dr. Hannibal Lecter or as Dr. Robert Ford from Westworld.Interestingly enough, Hopkins has portrayed Charles Dickens in a 1970 film from a while ago, The Great Inimitable Charles Dickens. He would already have context to play Ebenezer Scrooge–not that he would need much to get the role right. Sir Anthony Hopkins happens to be one of the most gifted actors to have ever been in the industry. It would be a departure from his usual roles, but it would be interesting to see Hopkins play Scrooge in a darker kind of film. He's always leaned towards darker roles, and nothing should stop us from having a darker Christmas Carol film. If that were ever to happen, Sir Anthony Hopkins would be the perfect Ebenezer Scrooge actor.
3. Robert Downey Jr.
It's difficult to imagine Robert Downey Jr. these days in any role apart from being an Avenger–most specifically as Iron Man. Downey completely reinvented himself as a superhero and in turn reinvented the superhero genre altogether in a span of a decade. Downey has also had other remarkable roles in the past; but if he were to move forward, he would need something totally unforgettable. While he may be young to play the role of a traditional Scrooge, we're imagining Robert Downey Jr. as a different kind of Scrooge. We're picturing him in a reboot of the classic in a tale that's made for more modern times. Downey is the kind of actor that could really pull anything off, but we'd like to see him in somewhat of a more comic role–something that he hasn't really committed to before. He's got the family genre down pat, so a holiday comedy should be cakewalk. Of course, the storyline would have to be the right one because we can't imagine Downey signing on to just anything. It's just a dream waiting to happen for many of us.
4. Harrison Ford
While he doesn't do as many films today, Harrison Ford has done some of the most memorable and incredible films in the past. He'll forever be Han Solo to many of us and Indiana Jones to the rest. He'll also be forever remembered as Rick Deckard in Blade Runner, Jack Ryan in a couple of Tom Clancy films, and as the POTUS in Air Force One. Adding Ebenezer Scrooge to that list seems to just make sense. Ford has this angry look that only he could pull off. It would be the perfect accompaniment to the character role. When it comes to Harrison Ford, we picture him as playing the traditional Ebenezer Scrooge. With a little bit of imagination, Harrison Ford with a black top hat and black coat is totally believable. While he might look good for his age now, he might need to be aged a bit in order to play the role of Scrooge. If someone could make this film happen with Ford in it, it would be just incredible.
5. Russell Crowe
He's not exactly family movie material, but he's got to be one of our most favorite actors to watch today. Russell Crowe has shown us how well he could transform into any movie character, and he's also just a natural talent. He's given us some remarkable roles in the past, and he's got the awards to show for them. Russell Crowe is a one-of-a-kind actor, and that's exactly why we'd like to see him play Ebenezer Scrooge soon. Since he's more of the serious actor type, we can imagine him in a more serious Scrooge role. If given the chance, Crowe would undoubtedly give us the best possible version of the character, and that's more than any of us could ever hope for. A Christmas Caro lis the ultimate holiday movie; and if Crowe ever gets the chance to wow us in that role, our holidays may just be a little bit merrier and brighter.