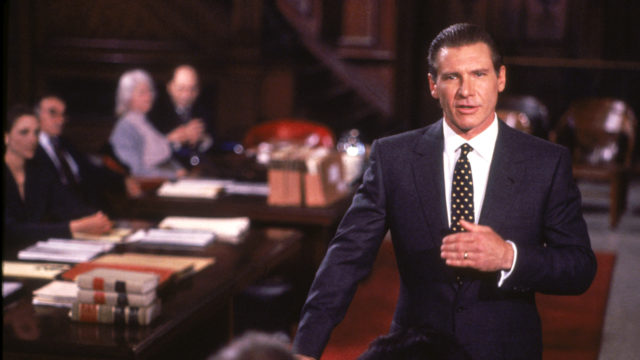 American actor Harrison Ford is best known for his role as Indiana Jones in the cult "Indiana Jones" films. He also gained stardom as Han Sol in "Star Wars." His name will be remembered for these iconic figures that catapulted his career. He's starring in a variety of films which were perhaps not as big at the box office, but fans can tell you that when he stars or even appears in a film it becomes a "must see." Harrison Ford has never been limited to any particular genre. He can be funny, serious or show us his well-known look of surprise and confusion, but he's a big draw at the box office to this day, whatever the genre.
Here are Harrison Ford's best acting performances outside of Han and Indy.
President James Marshall in "Air Force One"
Ford stars opposite Gary Oldman who plays a Russian terrorist in this action thriller. An older and more mature version of Indiana Jones as a politician who cleans up nicely is what comes to mind. Ford is a patriot as well as loyal husband and father. He executes the role of the Commander-in-Chief flawlessly. He brilliantly finds a way to take his plane back from the terrorists who have hijacked Air Force One and are holding the passengers as hostages. This film is packed with action and daring escapes.
Dr. Richard Kimble in "The Fugitive"
Kimble is accused of the murder of his wife and wrongly convicted due to circumstantial evidence. He escapes custody and flees to find the murderer with the few clues that he has and to clear his name. In this film, Ford plays opposite Tommy Lee Jones, the Federal Marshall who is dispatched to hunt him down and bring him to justice.
Jack Ryan in "Patriot Games" and "Clear and Present Danger"
Ford is brilliant in his portrayal of the Tom Clancy character Jack Ryan. Ford plays a CIA agent who goes up against a barrage of terrorists. His CIA skills come in handy as he interrupts their terrorist plots, but he pays the price when they come after his family. These films are action/drama/thrillers and Ford is at his best in delivering excellence in performance with high level analytical skills, snap problem solving and taking care of business.
Tom O'Meara in "The Devil's Own"
Tom is a police officer who allows a house guest from Ireland to stay in his home with he and his family. The young man played by Brad Pitt is actually an IRA terrorist. He coverly conducts his nefarious business until O'Meara discovers his true identity. The film is packed with action, suspense and drama.
Norman Spencer in "What Lies Beneath"
Harrison plays Norman who is a talented and brilliant college professor with a terrible secret. He stars opposite of Michele Pfeiffer who plays his wife. She is just regaining her memory after a near fatal car crash. She has an obsession with the small town of Adamant. What she discovers as her memory returns is chilling. We get to see Harrison Ford turn from the hero we all know and love to a creepy villain.
Quinn Harris in "Six Days and Seven Nights"
This film highlights Ford's talent for romance and comedy. He's as rough and ready as ever, but falling in love definitely softens him around the edges. Ford is a pilot in the film and in real life. His co-star Anne Heche gets into an argument with him and reminds him that she's "flown twice with him and crashed half of the time."
Henry Turner in "Regarding Henry"
Henry Turner is a despicable and ruthless trial lawyer whose life is turned upside down when he is shot in the head during a robbery. He survives the injury with significant brain damage and must re-learn how to speak, walk, and function normally. He has also lost most of the memory of his personal life, and must adjust to life with the family that he does not remember. To the surprise of his wife and daughter, Henry becomes a loving and affectionate man. This is perhaps Ford's best role.
John Book in Witness
After witnessing a brutal murder, young Amish boy Samuel (Lukas Haas) and his mother Rachel (Kelly McGillis) seek protection from police officer John Book (Harrison Ford). When Book uncovers evidence of police corruption involving narcotics lieutenant James McFee (Danny Glover), Book must take Rachel and Samuel, and flee to the Amish countryside where Rachel grew up. There, immersed in Amish culture and tradition, Book and Rachel begin a cautious romance.
Rick Deckard in Blade Runner
A blade runner must pursue and try to terminate four replicants who stole a ship in space and have returned to Earth to find their creator.
Tell us what's wrong with this post? How could we improve it? :)
Let us improve this post!