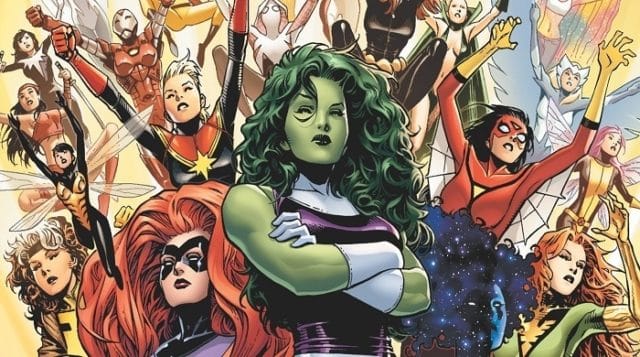 Following a recent interview with Karen Gillan (Nebula in Guardians of the Galaxy) about Marvel and its movies, she has set the internet on fire with talks of an all women Marvel superhero flick. While the idea was generally well received by the development department for the brand, it is in no way any sort of confirmation that a project like this would happen. Though in paraphrasing Gillan's own words, with the abundant success of DC's Wonder Woman, it seems like this is something that audiences would be genuinely excited to see. If this were to ever happen, who should be picked to be featured in the film? What heroines make the cut?
Captain Marvel
There are already talks of just putting out a movie to feature this character, as she is so deeply rooted in Marvel story canon that fans of comic books could instantly get behind her backstory as well as her abilities to fight the forces of evil. She might not be as widely recognized as Wonder Woman, but Captain Marvel could certainly bring in some audiences.
She Hulk
She Hulk is a more advanced version of Bruce Banner's beast. She is smart and cunning, acting as a lawyer when she isn't fighting crimes. She, unlike Bruce, chooses to stay in monster form (though she isn't quite the monstrosity that Hulk is). She has all of the strength of Hulk with the same brain that drives Bruce, so she would make an excellent addition to an all-woman cast.
Scarlet Witch
She has already been featured through Avengers films and will reprise her role through the latest installment due out in 2018. With her ability to alter time and reality, she is easily one of the greatest heroes to ever make an appearance in the Marvel Universe. She is already considered to be an active member of certain Avengers factions, lending to the possibility that she could be an easy choice for such a film.
Gamora
The same could be said about Gamora. She has been featured in each of the Guardians of the Galaxy films (alongside her on-screen sister Nebula played by Karen Gillan). Gamora has a great backstory that will add depth to any plot if writers can find a reason why she would have wanted to separate herself from the Guardians for a length of time. Her stealth and training could make an interesting combination with the brawn and explosiveness of She-Hulk. With her inclusion in The Infinity Gauntlet, Gamora will come into contact with The Scarlet Witch, Black Widow and has already had canon with the empath Mantis.
Wasp
Wasp is a very interesting character who fits very well into the storylines for Ant-Man, but a lot of people who are not avid comic book readers are not aware of her solo successes. With the inclusion of Ant-Man into Captain America: Civil War, the possibility of Wasp making an appearance in the joining of Marvel's forces to fight Thanos might also be a possibility. If nothing else, she could offer the same attributes of Ant-Man, along with being tech savvy and having the ability to fly.