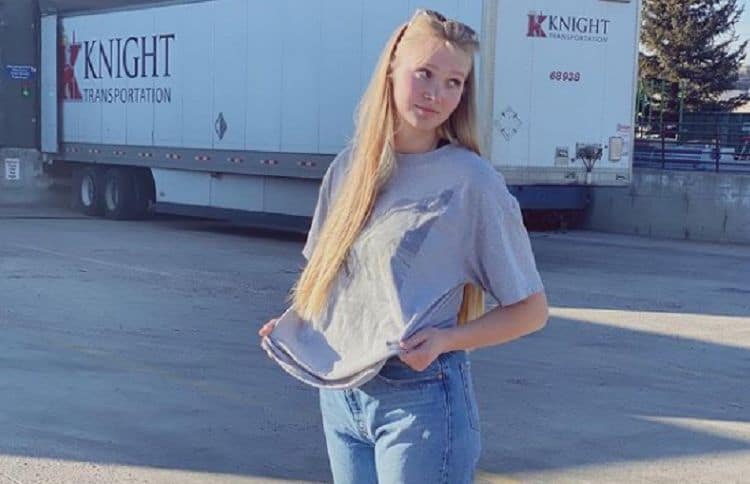 Ysabel Brown was introduced to reality TV fans more than a decade ago when Sister Wives premiered on TLC. In the years since the show's debut, viewers have watched Ysabel grow up and they've also followed her journey with scoliosis. Ysabel was diagnosed with an especially bad case of the condition when she was younger, and it only worsened as she continued to grow. Recently, she was featured in several blogs after undergoing a surgery to correct the curvature in her spine. Now, feeling better than ever, Ysabel is ready to stand tall (literally and figuratively) and live life to the fullest. Here are 10 things you didn't know about Ysabel Brown.
1. Her Surgery Wasn't Covered By Insurance
Anyone who has ever had to deal with health insurance companies knows that it can be a nightmare trying to figure out what's covered and what isn't. Unfortunately for Ysabel, her scoliosis surgery wasn't covered. In order to cover the costs, her mother, Christine, reached out to Sister Wives fans on social media and asked them to contribute. Several fans raised questions about whether or not she really needed the money.
2. She Enjoys Traveling
Ysabel has led a pretty sheltered life for the most part, but that doesn't mean she hasn't gotten the chance to get out and explore the world. She loves being able to visit new places and has been fortunate to live in and travel to different parts of the United States.
3. She's All About Positivity
After spending so many years in the spotlight, Ysabel knows first hand just how negative the world can be. Despite all of the judgemental comments she's probably had to deal with, Ysabel always tries to see the bright side of things. Not only does she like to keep a positive attitude herself, but she also likes to spread it to others.
4. She Loves Music
Music is one of the few things that has the ability to connect people from all backgrounds. Ysabel loves listening to music and she loves sharing her favorite songs with her followers on social media. Although she has had a very religious upbringing, she loves a wide variety of music.
5. She Enjoys Reading
Some people can't stand the thought of sitting still long enough to read a book, but Ysabel is quite the opposite. She is the kind of person who always looks forward to learning new things and reading is one of her favorite ways to do that. She enjoys all sorts of different books.
6. She Loves Spending Time Outside
Sitting in the house all day isn't really Ysabel's idea of a good time. When the weather is nice, she likes to step outside and appreciate all of the beauty that nature has to offer. She has been lucky to live in two states that are known for their picturesque landscaping.
7. She's Ready To Enter The Workforce
Just because Ysabel is a reality TV star doesn't mean she's above working a regular job. Like most other teenagers, she's ready to start working and earning some money of her own. In January of 2021, she shared that she was looking for a job but it's unclear whether or not she ended up finding one.
8. She Hasn't Revealed Her College Plans
Ysabel is 17-years-old and officially in her senior year of high school. At this stage in the game many kids have already figured out what they plan to do after graduation. As far as we know, however, Ysabel hasn't shared her plans for college. This information will likely be part of her storyline in the upcoming season of Sister Wives.
9. She May Have Leaked A Family Secret
The Browns may be a reality TV family, but that doesn't mean there aren't things they like to keep to themselves. In May 2020, it appeared that Ysabel had accidentally spilled the beans when she alluded to the fact that Kody was still taking turns rotating days between his four wives. On the surface, this may seem like a harmless comment, but anyone who has been following the show knows that Kody and his wife, Meri, have been on the outs for quite some time. If it's true that she's still part of the rotation it could mean that they've reconciled.
10. She Has A Large Social Media Following
Ysabel isn't technically a main cast member on Sister Wives, but that hasn't stopped her from getting a lot of attention. She currently has nearly 55,000 followers on Instagram. Surprisingly, however, she hasn't done any brand partnerships yet but that could be a possibility in the future.