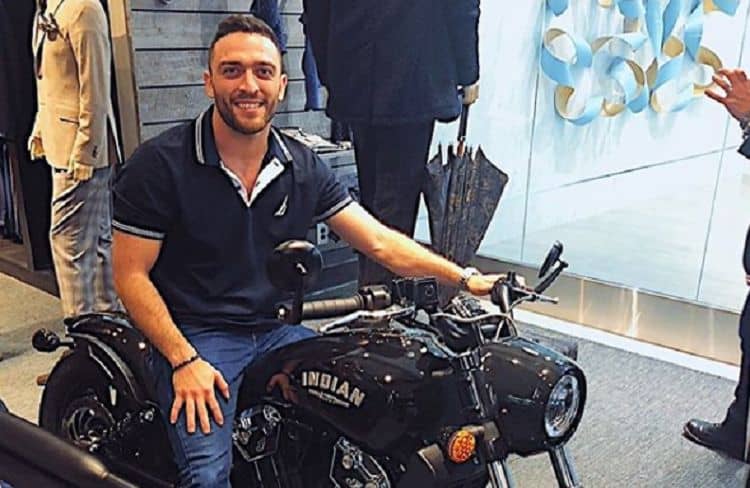 Picture this: you are standing at the altar in front of your family waiting to wed the woman of your dreams, but she says, "I don't." That was the embarrassment that Jessica Batten put Mark Anthony Cuevas through on "Love Is Blind." Luckily, the humiliation happened over one and a half years ago, and Mark has moved on, but the experience remains etched in his memory. Let's take you through some of the facts you may not know about the reality star.
1. He believes he is mature enough for his age
At the age of 24, most men are usually ready to have the time of their lives by partying since by then, they do not have responsibilities. However, Mark felt he was prepared to be a married man because he had enjoyed his youth already. Consequently, when Jessica asked if he was prepared to have children in the next two years, Mark assured her that he was ready for that phase of his life.
2. He can be stupid in love
Fans of "Love Is Blind" have seen how far Mark is willing to go just because he is in love. As reported by Meaww, some thought that he had cooked up an ideal relationship with Jessica while ignoring the messages she sent both verbally and through her body language. Some fans felt that he was being excessively sweet, which forced Jessica to stay with him despite her concern for their age difference. In the end, his wishes were not fulfilled, and maybe now, he has become wise enough to know that you cannot force a person to be with you by playing nice.
3. He wanted to be a footballer
While in a D-3 high school, Mark played football and became passionate about it so much that he referred to it as the first love of his life. He, therefore, continued pursuing it in LaGrande College going as far as transferring to Georgia State, but the concussions became too many to think of a career in football. He had suffered about five concussions, one of which was so severe that he had to be hospitalized. When the head trauma was coupled with the knee injuries, Mark knew it was time to start looking for an alternative.
4. He found solace in fitness after quitting football
Since he was a child, Mark had found refuge in playing football; therefore, when the concussions became too much that he had to abandon the sport, it was quite a hard blow. However, when he started fitness training, he realized that he had found his fallback plan. Speaking to Uproxx, the reality star said that just like with football, fitness enables him to see the results of his efforts, so he has been a fitness trainer for three years.
5. He was accused of having been in a relationship while on the show
The premise of "Love Is Blind" is to have single men and women find their soulmates, so it would not make sense if someone went on the show while dating another person. Still, that is the accusation that was laid against Mark; according to some sources, Mark had been secretly dating someone whole on the show. However, he clarified that he only started dating the said women after splitting up with Jessica.
6. He might have a thing for older women
Love does not care about the age of the lovebirds as long as they make each other happy. Ten years might be considered to be a considerable age gap, especially when it is the woman who is older than the man. Nevertheless, Mark does not get intimidated by older women; truth be told, he fell in love with Jessica immediately he spoke with her and was ready to be her husband despite the ten-year age difference. It was not the first time he had his eyes on an older woman because, in high school, Mark went to prom with a senior, yet he was a sophomore.
7. He preferred the speed dating on the show
Going out on a first date with that person you have been drooling over for months can be nerve-racking; you start wondering if your breath is okay or if you dressed right. That pressure is what Mark felt he avoided when he experienced the show's speed dating. He spent seven minutes with each of the 15 women, and his only concern was if there was a connection with any of them. For him, that was a heavy burden lifted off his shoulders.
8. Lessons he learned from the show
Everything you go through has something to teach; like they say you either win or learn. For Mark, he may have lost the girl, but he found out that he had not been knowing all his dates at a much deeper level as he should have. He, therefore, told Oprah Magazine he has learned that he needs to ask the tough questions and he must be willing to be vulnerable. Mark added that it enabled him to become a better communicator.
9. His mantra
Mark's mother keeps telling him that if you love something, you have to let it go and if it comes back, then it was yours in the first place. The saying is what made Mark take back Jessica; she was interested in Matt and even broke up with Mark but then asked to be forgiven and for Mark to take her back. He must have, therefore, thought that she wanted to be with him, and it was meant to be, but being stood up at the altar proved his mantra wrong.
10. He went to the show with a football
When Mark was told to bring something that represented him, all he could think of was a football; hence he brought it with him to the show. It came in handy when killing time because the cast was not supposed to be on their phones, and there was no television; therefore, they had to find a way to entertain themselves. At first, they drank a bit more than they usually do in their routine lives, but once they settled in, everyone held on to what made sense to them; for some, it was music, and for Mark, it was football. Despite it not being fully-inflated, the cast threw it around to release their tension.