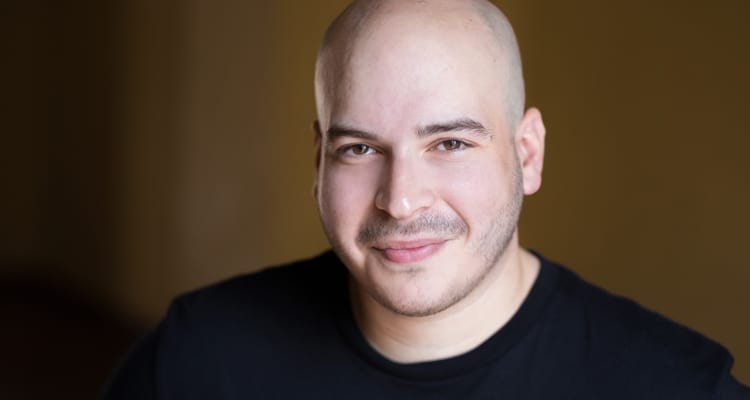 Gilluis Perez is an actor who has worked in the entertainment industry for a while. In that time he has starred in different films and landed co-star roles in shows like "The Baker and The Beauty" on ABC Network, "The Oath on Crackle," and a recurring role in the hit Netflix series "Nicky Jam: El Ganador." New actor Gilluis Perez is one of the freshest faces we've seen. It's always great to learn more about an actor, where they come from, and their interests. Below you can find 10 Things You Didn't Know About Gilluis Perez.
1. Gilluis is from Puerto Rico
Gilluis Perez was born and raised in Ponce, Puerto Rico. He lived with his mom, sister, and grandmother. During his childhood, his mother would take him every weekend to the movie theaters, that is where his passion for storytelling really began. Even though he never contemplated being an actor, he developed a playfulness with his imagination.
2. He is Chino in the Netflix series "Nicky Jam: El Ganador."
Gilluis landed the role of Chino on the hit series "Nicky Jam: El Ganador" on Netflix, based on Latin superstar Nicky Jam's life story. The character of Chino is impulsive, thrilling, and aggressive. The character fit into the culture lived during the early 2000s in the context of the show. The show made history the first TV series that followed a Puerto Rican storyline, with most of the cast being from Puerto Rico.
3. Gilluis is an award-winning writer and producer.
In addition to being an actor, Gilluis is also a writer and producer, having written an award-winning film. He co-directed and starred in the film "Sin Filo," for which he won the audience award in 2013 for the Puerto Rico Queer Film Festival and was nominated for the Cinefiesta Film Festival in 2014. He won the PRQFilm Festival twice in a row.
4. He sets a high bar for his work.
Gilluis set the bar pretty high for himself when he started looking up to stars like Javier Bardem and Benicio Del Toro, also Puerto Rican. There are very few actors on the level of these stars. Another celebrity idol is Daniel Day-Lewis. If Gilluis is looking up to these Hollywood icons to inspire his career, we're excited to see what he'll be doing in the future.
5. Gilluis loves Disney films.
It's safe to say that Gilluis was just like any of us when he was young. He loved "Rugrats" and grew up watching Disney films. He also spent a lot of time learning dialogues from movies like "Toy Story," "Tarzan," "Pocahontas," "Mulan," and "Aladdin." He believes that everyone, regardless of their age during the '90s and 2000s, loved those classics. People still re-watch these films, including the younger generations as well. He dreamed of working for Pixar as a kid.
6. His sister is also in the TV industry.
The love for entertainment runs in the blood of the Perez family. While Gilluis may be talented in performing arts, his sister is thriving in the local TV industry. Adana Perez produces for one of the top daytime TV news show in Puerto Rico.
7. Gilluis listens to music to relax.
When you're an up-and-coming actor like Gilluis, you need to be able to source your energy from somewhere. His career is just beginning to take off, and he's already experiencing what it's like to be busy during the pilot season and working from location to location. Gilluis listens to music to relax; he loves Flamenco music, Salsa music, and Classical scores. He loves Rosalia, Camaron De La Isla, and Bad Bunny. His grandmother made him listen to Trios, and his grandfather was a friend of a music singer named Felipe Rodriguez. Gilluis doesn't drink coffee and goes to his craft for energy.
8. He loves dancing.
Now that we know Gilluis's musical taste, we have to assume he loves dancing, right? The Puerto Rican actor danced since he was a child, but in college, he decided to train in Ballets De San Juan for a little while. Gilluis is proud of his heritage, but he loves exploring other skills that he could apply to his roles. He is always looking for something new to learn or that he might be curious about. When he was a kid, his mother introduced him to Flamenco music, and since then, he was interested in trying it out until he did in New York, where he danced in a dance studio while doing his MFA.
9. Gilluis is bilingual.
Given his background, it makes sense that Gilluis would be bilingual in Spanish, which is his first language. Perez auditioned to train in acclaimed Actors Studio Drama School, and it was his first time ever acting in the English language. While in school, he worked with top celebrity acting coaches Susan Aston, Elizabeth Kemp, and Corinne Chateau. He got accepted to earn an MFA in acting and is a part of the legacy of alumni along with Bradley Cooper, Marlon Brando, Harvey Keitel, Al Pacino, the artistic director at the Actors Studio with Ellen Burstyn.
10. His work is currently on Netflix.
Currently, Gilluis has no other projects apart from "Nicky Jam: El Ganador," "The Baker and The Beauty," and "The Oath." Stream them on Netflix if you want to catch him on the small screen.
___
Gilluis Fernando Pérez is a New York City-based actor, born and raised in Ponce, Puerto Rico. He is half Dominican and Puerto Rican. He recently played Chino in the Netflix hit series El Ganador/The Winner. Gilluis played roles in Award-winning films as Marcos in Revolt, Rene in Sin Filo, and as Guillo in The Least Worst Man for HBO Latino. He landed a role in the upcoming Sony Pictures TV series The Oath for Crackle and roles in the New York Off-Broadway plays Pasadía Familiar at the Clemente Soto Vélez Theater & Habitat. Before turning his attention to acting, Gilluis was an Architecture student. He began his acting work in Telemundo TV series Zona Y and with a theater production of Luis Rafael Sánchez's Award-winning play, La Pasión Según Antígona Pérez in Puerto Rico. Since then, he's worked on the Puerto Rican stage in Regional Theaters and New York stage. Gilluis is an Alumni at The Actors Studio Drama School with an MFA in Acting. At the Actors Studio Drama School, he worked on plays like Our Lady of 121St Street by Stephen Adly Guirgis, Art by Yasmina Reza, Almost an Evening by the Coen Brothers, Rabbit Hole by David Lindsay Abaire and The Feast by Corey Finley.
Tell us what's wrong with this post? How could we improve it? :)
Let us improve this post!