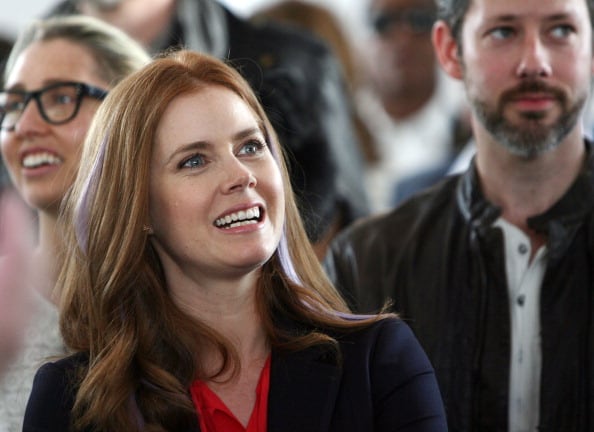 The Office is one of the most memorable and greatest comedies to appear on NBC in the last decade. The network struggled to find a footing in the comedy arena after hit shows like Seinfeld and Friends signed off in 1998 and 2004, respectively. Then, in 2005, a little show called The Office debuted and stuck around for nine glorious seasons. You would think that a series that has every episode set inside an office would not have many guest stars, but you would be wrong. Here is a look at our favorite guest stars to make an appearance in at least one of the 201 awesome episodes of The Office. While doing research, we realized that we had actually forgotten that some of these notable names and familiar faces showed up on The Office during its run. One of them is an Oscar nominee, one is an Saturday Night Live alum, and two star on another NBC comedy.
Amy Adams as Katy, the Hot Purse Girl
Before Amy Adams was nominated for five Academy Awards, the actress appeared on The Office for three episodes in seasons one and two. She first arrived at Dunder Mifflin to sell purses to the staff, but she ended up catching the eye of Jim, who was secretly in love with Pam, but could not have her because she was engaged to Roy. Her last appearance would be "Booze Cruise," which many fans would cite as a top episode of the series. Since appearing on The Office, Adams career has moved from the small screen to the big screen. She will be playing Lois Lane in the film Batman v Superman: Dawn of Justice due out in 2016.
Ken Jeong as Bill, Michael's Improv Partner
All The Office fans know that Michael Scott was very into improvisation, but you may have forgotten that his partner in class in the season two episode, "E-mail Surveillance," was played by Ken Jeong. Prior to his appearance on the comedy, Jeong had popped on several episodes of MADtv, Crossing Jordan, and Grounded for Life. Like Adams, Jeong has had a successful career in film since his appearance on The Office. He has played Mr. Chow in every The Hangover movie and was featured in Tranformers: Dark of the Moon. He will continue his role as Chang on Community as it heads over to Yahoo! for a sixth season and will be playing Brittany's dad on Glee this season.
Kevin McHale as The Delivery Kid
Speaking of Glee, did you know that Kevin McHale, who stars as Artie on the FOX musical series appeared on The Office as well? The actor was the delivery boy in the season four episode entitled "Launch Party." Dunder Mifflin is launching their Infinity website and Angela is hosting a satellite party at the Scranton branch. McHale is the delivery boy who drops off pizza to the branch. He ends up being held hostage when he will not accept a coupon, but is later let go by the episode's conclusion. McHale will continue playing Artie in the sixth and final season of Glee and is rumored to be starring in the 2016 comedy They Might be Kennedys.
Yvette Nicole Brown as Paris, a Staples Worker
And speaking of Community too, Yvette Nicole Brown, who plays the lovely Shirley Bennett on the comedy series, also appeared on an episode of The Office. She is featured in the season three episode "The Return." Dwight is forced to get a job at Staples. He is shown taking a break during his shift, and Brown's character Paris is seen eating in the break room as well. Not surprisingly, Paris did not get along with Dwight. She asserted that she did not like his big head or his beady little eyes. Brown recently appeared in the USA comedy Benched and will be in the pilot episode of the CBS comedy The Odd Couple, starring Matthew Perry and Thomas Lennon.
Tim Meadows as Christian, a Potential Client
Tim Meadows spent ten seasons playing The Ladies Man, Tiger Woods, Oprah, and countless other characters on the late night sketch comedy show Saturday Night Live. Additionally, he appeared in the hit comedy Mean Girls playing Mr. Duvall. In 2005, Meadows guest starred on The Office in the season two episode, "The Client." Michael and Jan are trying to take on Christian as a client. He and Michael quickly form a bond over lunch at Chili's. Jan becomes angered when Michael does not discuss business during the entire meal, but her mind is changed when Christian agrees to give Dunder Mifflin his business. Meadows is currently starring on the NBC comedy Marry Me alongside the very funny Casey Wilson and Ken Marino.
Rich Sommer as Alex, Pam's Art School Classmate
Rich Sommer made his two episode appearance on The Office in 2008, which is the same year that the second season of Mad Men, where he plays Harry Crane, began airing on AMC. Sommer played Alex, a classmate of Pam's when she briefly attended art school. It was clear that Alex had a crush on Pam, even Jim noticed. Pam did get drunk with him and her other classmates, but nothing ever happened with him. Jim and Pam would later be married and we would never hear about Alex again. The final season of Mad Men will begin airing this month.
Timothy Olyphant as Danny Corday, A Rival Paper Salesman
Timothy Olyphant had just finished his stint on Damages when he made his two episode appearance on The Office during the series' seventh season. Olyphant played Danny Corday, who was stealing Dunder Mifflin clients. In order to catch him in the act, they decided to put together a sting and send Meredith in to uncover all the secrets. Instead, she ends up seducing him and Danny finds out what is happening. In the second episode Jim and Pam try to find out why Danny never called her back when they went out on a date together four years prior. He admits that he thought Pam was too boring and did not see a future with her. Olyphant must have made an impression on Mindy Kaling as she had him guest star on her series The Mindy Project in a 2013 episode. Olyphant will be starring on the sixth season of Justified premiering later this month.
Who was your favorite guest star to appear on The Office. Let us know in the comments section below.
Photo by David Buchan/Getty Images
Tell us what's wrong with this post? How could we improve it? :)
Let us improve this post!