The Office finale aired last night, and took an hour and fifteen minutes to say goodbye to its enormous cast of character. The writers worked hard to make sure everyone got some form of a happy ending, which is all most fans wanted for their favorite characters. I thought I'd do a quick little rundown of where everyone ended up in life, the finale taking place a year after the previous episode. Nearly everyone got a chance to say goodbye and live happily ever after in some form or another, which is exactly how it should have been. Here goes: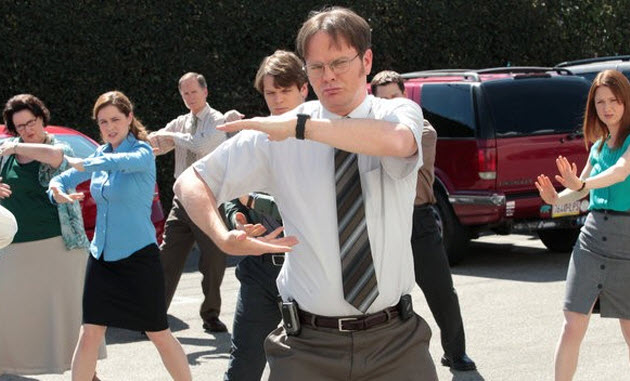 Dwight became manager of Dunder Mifflin Scranton, and married Angela, also finding out that Phillip is actually his son
Jim was Dwight's best man, and was surprised by Pam who was secretly trying to sell their house so they could move to Austin where Jim would rejoin Athlead (now Athleap)
Michael showed up unexpectedly, taking over best man duties from Jim much to Dwight's delight. He's married to Holly and has kids. He comments that seeing everyone together is like your children growing up and marrying each other, which he loves.
Kelly is dating a pediatrician and Ryan was dating a girl who abandoned him and her baby with another guy. Kelly and Ryan end up running off together after Ryan gives his baby a (mild) allergic reaction.
Nellie takes over Ryan's abandoned child, and will take it back to Poland to raise herself, as she's always wanted to adopt a child.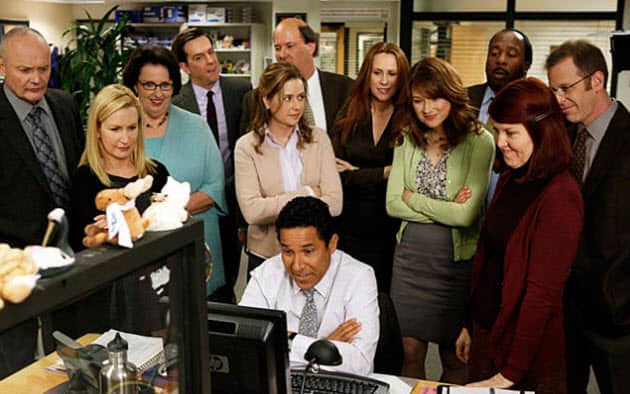 Toby was fired from Dunder Mifflin, but moved away to write a novel. When he comes back he's treated like one of the gang, much to his delight.
Kevin was also fired at long last for be terrible at his job. He now owns a bar and made up with Dwight ahead of the wedding.
Oscar is godfather to Dwight and Angela's baby, and is running for State Senate. David Wallace says he'd love to contribute to his campaign.
Stanley has retired, gotten divorced and is living his dream in Florida carving wooden birds.
He makes one for Phyllis, who is still with Bob Vance, and helps carry Angela down the aisle at the wedding.
Daryl now works for Athleap in Austin, and is doing quite well apparently as he's picked up from the airport in a limo. He's about to start working with Jim again once he and Pam make the move.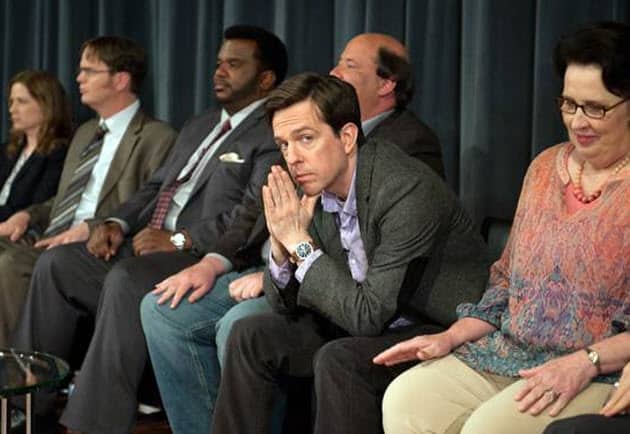 Andy got famous for having a terrible reality show audition and became an internet meme. He was invited to Cornell as a joke to speak at commencement, but did a great job and now works at the admissions office there.
Erin was reunited with her birthparents at a panel for the office documentary. She's still dating Pete.
Clark really didn't do or say anything all night. I figured he would have had some scene with Jan, who was also missing, but I guess not.
Meredith's son is now a stripper, and she's super proud of him. It's also revealed she spent seven years getting a PhD in child psychology
Creed is revealed to have been in a folk band way back when (true in real life), and also is a fugitive drug dealer and exotic animal trader. He's arrested, but not before performing a touching son on the guitar.
Did I miss anyone? Is there anything you would change about this finale? I thought it was pretty stellar, and a fine goodbye for all the characters we've grown to love after the next nine years.
Tell us what's wrong with this post? How could we improve it? :)
Let us improve this post!