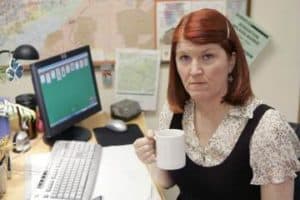 By far the weakest episode of a very strong season, "China" didn't deliver too many laughs and suffered from trying a bit too hard.
While the idea of Michael (Steve Carell) proving himself to be smarter than the "smug gay Mexican" (Oscar Nunez) is a clever conceit, the debate didn't bring very many laughs or show us anything new. I love episodes that feature Oscar this strongly, but we didn't really learn anything new about either character that we didn't already know before.
Pam (Jenna Fischer) and Dwight's (Rainn Wilson) stand off over the state of the building's toilet paper and tampons should have been the night's highlight, but there just wasn't much there that delivered. We knew Pam would win out eventually, and it was kind of disappointing that there wasn't a real office building to pose a possible move.
The entire episode seemed like trying to squeeze jokes out of very familiar territory, which is rare in a season that has done such a terrific job getting big laughs out of deeper character development. Even the text messages between Andy (Ed Helms) and Darryl (Craig Robinson) were short on the funny, which was perhaps the biggest surprise.
In such a long season, it's inevitable that one or two episodes will fall flat. Let's hope the series has gotten the worst out of the way as we keep moving towards Michael's last episodes.
Grade: C-