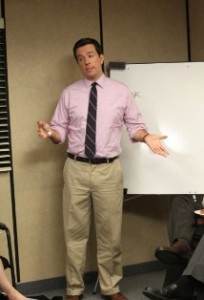 Leave it to the writers of The Office to make herpes the topic of the funniest episode of the season. The jokes were so fast and furious in 7.04, with so many more hits than misses, that I can't remember a funnier episode in recent memory, save perhaps Pam & Jim's wedding.
Meredith (Kate Flannery) and Creed (Creed Bratton) had perhaps the two funniest lines of the night: "Because it's on my genitals, genius." and "The feeling of pure risk." The best humor comes when it's tied perfectly to character and this is where The Office continues to shine.
Even though we didn't get to see Holly (Amy Ryan) in the episode, she served as the focal point as Michael (Steve Carell) came to terms with his rose-colored versions of his past relationships. (How great was the scene in the park where he started talking to the elderly woman thinking it was Pam's (Jenna Fischer) mom). It wasn't just hard for Michael to hear Holly tell him that he was making a bigger deal out of their relationship than it really was, it was hard for us as the audience. Like Michael, we can see that these two are meant to be together. It seems like every episode so far this season, Michael isn't just stumbling over himself without learning from his most current disasters…he's actually starting to come to terms with his flaws and what he really wants.
Andy (Ed Helms) meanwhile continues to struggle with letting Erin (Ellie Kemper) go with his blessing. His abstinence question was perhaps one of the most painful moments we've ever seen in this whole debacle. His attempts to recover by putting a condom on a pencil ("pencil dick") was as funny as it was hard to watch. One wonders how long they can keep this up though. At some point soon we'll need to see something change or move forward between Andy and Erin or else it risks growing tiresome.
There were many other fantastic moments in "Sex Ed" but here were a few more of my favorites:
– Jan (Melora Hardin) greeting her child by singing a totally creepy rhyming song as Michael tells her he has herpes. I love that Jan just gets crazier and crazier.
– Darryl (Craig Robinson) giving generic advice to Andy: "My advice is to stop crying." Darryl is my second choice to take over as manager when Michael leaves (Creed remains number one especially after his "risk" line tonight).
– The grilling of Oscar (Oscar Nunez) by Michael and Dwight (Rainn Wilson) after the last commercial break when they interrogated him to uncover all of his past sexual discretions was both gloriously politically incorrect and hysterical. Fence with a hole in it. Oh my.
All of us tend to romanticize our past relationships, quickly forgetting why they didn't work in the first place. Not only did 7.04 do such a fantastic job of bringing this universal truth to light in a fantastically absurd way, it continued the character growth that we've been seeing from Michael thus far this season.
Grade: A
Tell us what's wrong with this post? How could we improve it? :)
Let us improve this post!