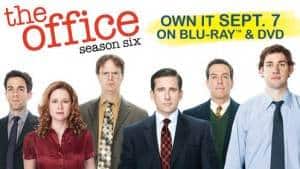 We've got a sneak peek at some of the newest Universal DVD releases for you now, starting with Season Six of The Office! What's going on at Dunder Mifflin this season?
The Show
It took awhile for me to figure out why the UK Office was funny (excepting a stapler-in-Jello gag), and likewise, it took me awhile to warm up to the US version. However, I finally watched it regularly when one of my favorite actors, Idris Elba, appeared for a few episodes in Season Five, and I started to get it. The show's deadpan, sometimes offbeat humor isn't for everyone and certainly isn't obvious, but when it's good, it's great.
To me, The Office is kind of like Monty Python's Flying Circus: you either get it or you don't. It's either the most hilarious thing you've ever seen, or you have no idea what you just saw. Not everything in the show works, but when it does, it works very well. For example, take the episode "The Lover" – Michael's brief attempt at being blind in the opening minutes is utterly ridiculous and not that funny, but Jim's later reaction when Michael tells him that he had sex with Pam's mom is hilarious. Pam's reaction to the news is even better.
I have to say I'm stoked for the upcoming season. The show has cast another one of my favorite actors: Justified's Timothy Olyphant, who is also an ace at humor (see: a little-known Canadian film called High Life). This being Steve Carell's final season, even I am curious to see who might replace him or if this will be the show's swan song. Whatever happens, I can say I now understand and appreciate The Office's place in TV comedy history.
The DVDs
I love, love, love the packaging for this release, art-wise. After removing the top cardboard slipcover, I was treated to what looks like the top of a copy machine with various office products dumped on top of it. It's a cute piece of art that reminds me of the later Office Space releases, which came with fake TPS report covers complete with gutted fish on them. This theme continues as you open up the fold-out interior, with other office-related goodies scattered throughout the art. Underneath the discs, which are arranged digipak-style with one resting slightly on top of the other (which makes putting them back a minor pain), someone's been having fun with the copier…
The episode and special features information is right on the inside of the box, when you first open it up, but before you get to the discs. There's brief synopses of each episode, and where the special features are is denoted. The font of the synopses is a bit small, but easier to read than that of The Good Wife, and the packaging is bright and colorful, which helps too.
Technical specs-wise, the DVD version is presented in 1:78:1 widescreen. There's a Dolby Digital 5.1 audio track, and English and Spanish subtitles provided. Audio and video come through crisp and clear. A minor nicety is that this is a widescreen presentation without the black bars that sometimes turn up. It's a small thing, but it's appreciated.
The disc menus themselves are kind of neat, as they're not static, but menus overlaid over various video clips from the season. There's a "play all" episodes function, but no scene selection. Commentaries are accessed through the "bonus" menus.
Some early customer reviews of this release have reported difficulty removing the discs from the Blu-Ray edition. Since I reviewed the DVD edition, I can't testify to that, but those of you who buy TV on Blu should be aware of it.
The Special Features
All of the major special features are on both DVD and Blu-Ray versions of this release, across various discs. They are, in order of appearance (except for the commentaries, which I've bundled together):
Deleted scenes on all five discs
Blooper reel. This consists of the usual amount of people flubbing lines and losing their composure. It's standard fare for a gag reel, but not laugh-out-loud funny.
Commentary on the episodes "Niagara," "Murder," "Secret Santa," and "The Delivery." Cast and crew are on these commentaries. For example, "Murder" features EP Greg Daniels and actress Ellie Kemper, and was a decent listen. Mindy Kaling and Jenna Fischer appear on commentaries for "Secret Santa" and "The Delivery" respectively.
Welcome to Sabre company video. This is a hilarious little video featuring Christian Slater playing himself, and I don't know how he keeps a straight face when saying things like "tasted a rainbow." It's almost as good as the Buy More videos on the Chuck sets, but sadly, it's also very short.
Extended cut of "Secret Santa".
Original digital short, "The Podcast." This is just like an episode of the show, only shorter. It revolves around Gabe (Zach Woods) trying to impres corporate by recording his own podcast, and the mayhem that ensues. It's a fun watch especially for those of you who are bloggers yourselves.
Promos for the show that aired around the Winter Olympics. Worth a watch, if only because Michael thinks curling is called "curdling," but not much replay value.
An episode of season 2 of Parks & Recreation, "Hunting Trip"
There are some Blu-Ray exclusives, which appear to be merely of a technical nature. There's BD-Live functionality which allows viewers to watch Season 7 after it airs (which you could presumably also do on NBC.com), and pocket Blu inclusion, which lets fans access some content from the release on their mobile device. If you're just buying this on DVD, however, you're not missing any actual content.
The press release shows two additional commentaries (on "The Promotion" and "The Lover") and one additional extended episode, but strangely, they're not on the actual DVD release. The press release says they were intended for both Blu-Ray and DVD, so I can only assume that they were dropped.
The Bottom Line
Whether or not The Office is on its final days, I enjoyed Season Six as a light, tongue-in-cheek way to spend some time. The packaging is neat, and the special features aren't bad, but it's a bit of a letdown to see that the best one is way too short and that there were others that apparently didn't make the cut. Office fans can rest assured the show has a good release here nonetheless, and new fans should feel free to dive in, as the show doesn't require an encyclopedia of knowledge to be enjoyed. Now, onto Season Seven…