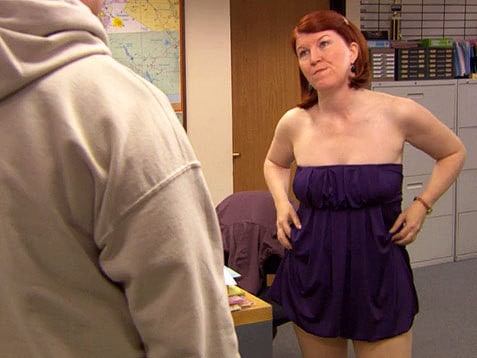 There has been talk recently about bringing The Office back. With the success of Will & Grace and Roseanne, it is no surprise that NBC would be interested in reprising one of their most successful comedies from the last decade. The supporting cast of The Office made this series a must watch. One of the funniest of those characters was boozy Meredith Palmer. Here are out five favorite moments featuring this classic redhead.
1. Getting Hit by a Car
It must have been difficult having a camera follow you around all day at work. At times, it may even distract you from your daily habits like driving to work. Michael is talking about how he is looking forward to a new year when BAM: he hits poor Meredith right in the parking lot at Dunder Mifflin. Had The Office been real, Michael may have been in serious trouble.
2. Casual Friday
Most employees love Casual Friday. The gang on The Office were not any different. After Michael returns to Dunder Mifflin after leaving to create The Michael Scott Paper Company, he brings back Casual Friday. Most of the staff takes part, including Meredith. She takes things a little too far in the dress she chooses to wear. She showed off a little more than what her co-workers would have liked to see.
3. Flashing Michael
Any The Office fan knows that Meredith Palmer likes her alcohol. Sometimes, drinking can cause her to get a little bit crazy. During the second season of the series, the gang has an office Christmas party and things start to get wild when alcohol is brought into the mix. The gang does not want the party to end and head to Poor Richard's for more drinks. Before they head out, Meredith flashes Michael. He takes a picture to remember the occasion.
4. Going Bat Crazy
The Office crew was just chugging away selling that paper one day when all of a sudden their lives changed after a bat entered their work space. Most of the employees were able to leave the premises. However, Meredith was trapped in the bathroom and couldn't leave. When she does decide to break loose, Dwight goes after the bat and captures it! Meredith wasn't so excited when he caught the animal when it was on her head.
5. Rehab!
Michael always wants the best for his employees. At the annual Christmas party he decides that Meredith is an alcoholic. In true The Office fashion, Michael decides to take matters into his own hands and drives Meredith to the nearest rehabilitation center. The end result is true slapstick comedy. Kudos to Steve Carell and Kate Flannery on bringing us this awesome Meredith Palmer moment.
What is your favorite Meredith Palmer moment from The Office? Let us know in the comments section below.
Photo by NBC
Tell us what's wrong with this post? How could we improve it? :)
Let us improve this post!