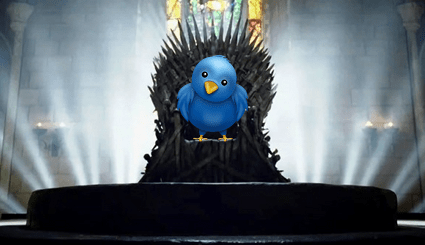 There's a weird Game of Thrones subculture that you might not know about. There's a group of people — a surprisingly large group of people — that gets on Twitter and pretends to be characters from A Song of Ice and Fire (and, subsequently, Game of Thrones). If you dig through Twitter, you can find quite a few of them, ranging from main characters like Eddard Stark all the way to more peripheral characters like Greatjon Umber. They call themselves #FakeWesteros, and once you start following them, it's difficult to stop.
I've picked out my five favorite #FakeWesteros twitter feeds, after a lot of digging. I probably missed quite a few (they seem to get more numerous the deeper you get). Check out my favorites, post your favorites, and let's give #FakeWesteros the attention it deserves.
Who It's Supposed to Be: Sandor "The Hound" Clegane
Why They're Great: The username is an absolute work of genius, giving a sort of angsty teenaged poetry to the scarred, threatening character. It says so much by saying so little; I automatically assume that the Hound secretly has the emotional frailty of a teen girl. The tweets are less immediately brilliant (though occasional Arrested Development references are nice), but the username propelled @SuddenlySandor to the top 5 spot, easily.
Best Tweet: "…I've come late to the realization that I work for assh*les."

Who It's Supposed to Be: Ned Stark, post-execution
Why They're Great: It's one of the more creative Game of Thrones fan accounts out there; the point of view of Ned Stark's head, which he lost in the episode "Baelor." Now, the head rests atop a spike at the Red Keep, as Sansa saw in "Fire and Blood." While as of this writing, the account's only had six tweets, the perspective is new and has great potential that's only been partially realized.
Best Tweet: "Good evening Westeros. I can see so many of you from up here."3. @Joffrey2012
Who It's Supposed to Be: Joffrey Baratheon
Why They're Great: If you like a touch of political snark in your #FakeWesteros, @Joffrey2012 is the right feed for you. A "Republican candidate for President of the United States," @Joffrey2012 pokes fun at the right by throwing in some pretty deadpan references to current political situations like the Rupert Murdoch scandal and the debt ceiling crisis.
Best Tweet: "Vote for me! I'm a rich job creator! I'm hiring executioners by the boatload. The poor ain't gonna behead themselves."


Who It's Supposed to Be: Jon Snow
Why They're Great: Hipster caricatures are quite common on the Internet nowadays, but it's still always great to see them applied to new settings. This Twitter feed shows Ned Stark's son — he calls himself Jonny Snow — rattling on about his Night's Watch-themed haikus and his new band. Also, the profile picture is cheaply done but strangely hilarious.
Best Tweet: "The fact that the Iron Throne is made of swords is just symbolic of our phallo-centric, misogynistic society. It's actually quite ironic."

Who It's Supposed to Be: Gregor "The Mountain" Clegane
Why They're Great: Fans of the show might not be aware from his brief, horse-decapitating appearance, but Gregor Clegane is one nasty guy. He's guilty of infanticide, rape, a combination of both, and much more. He's the most evil character in the saga thus far. But this Twitter account imagines that he also likes to party. And his third-person, violent, very NSFW partying antics (in all caps) are often laugh-out-loud funny.
Best Tweets: "GREGOR'S THE LIFE OF THE PARTY ONLY BECAUSE AFTERWARDS HE'S THE ONLY ONE LEFT ALIVE."
"GREGOR IS DRUNK OFF HIS ASS, WHERE'S HIS HORSE, TIME FOR SOME NAKED JOUSTING."
"GREGOR DOESN'T JUST RAISE THE ROOF, HE ALSO RAZES THE WHOLE DAMNED VILLAGE."