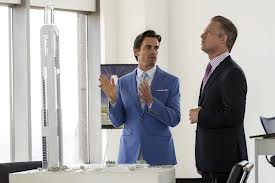 If I learned anything during tonight's brand new episode of White Collar, it's to look more closely at my house key. It just might contain a map of the city. What? Crazy right?! That's what Neal and Peter revealed to us tonight. Before I get into the whole key/map plot line…let's talk Elizabeth Burke. She peeks her toes over to the "dark side" tonight when she asked Neal to lie to Peter. Not only does she want Neal to lie, she wants him to ensure that Peter will explore this key mystery without him. Ouch Elizabeth. Neal says so himself, "I can't lie to Peter". She gets him with the power of the bromance. Peter and Neal share such a rare "love" for one another. He would lie to Peter all day long if it keeps Peter safe. I cannot wait to see how that Neal/Peter discussion is going to go because Neal's lies always come out before the season's end.
It's a race between Team Burke/Jones and Team Caffrey/Mozzie. It seems to me that Diana and Elizabeth are both women without islands, at least for now. Elizabeth thinks that Peter knows nothing about what Neal is doing. Um, hello? Elizabeth! Did you just meet your husband? Allow me to introduce you to Peter Burke; top notch FBI agent, the only man who can see past the charms of Neal Caffrey, and oh yeah; "Hot Deepak Chopra".
Okay, but was I the only one who kind of enjoyed the whole Mozzie and Jones meeting of the minds tonight? It is definitely something that should be done more often in this show. Mozzie told Jones that the keymaster would offer up a riddle before answering any questions, but he was not quite prepared for that. Mozzie might be the brains of most of Neal's cockamamie schemes, but this time he nearly messes it up. Pratt is all settled in for his shave, Diana (aka Deidre) just convinced him to release the death grip he had on his phone and then Mozzie calls. Really Mozzie? The Peoples' Awareness of Near Earth Objects? Asteroids? Thankfully Mozzie used his paranoid, conspiracy theorist rants to get Pratt off the phone. "Think about that while you're sipping your cocoa tonight".
It seems that with Hughes not being on the FBI's Christmas card list anymore, things are going to get messy for Neal, Peter and the rest of the White Collar gang. This guy, Terrence Pratt, seems to be a major player. He will not go down without a fight and he wants to play dirty. Hopefully, Peter will be back at work very soon after the crash landing he had. He is going to need full function in both arms before digging deeper into this Key to the City business.