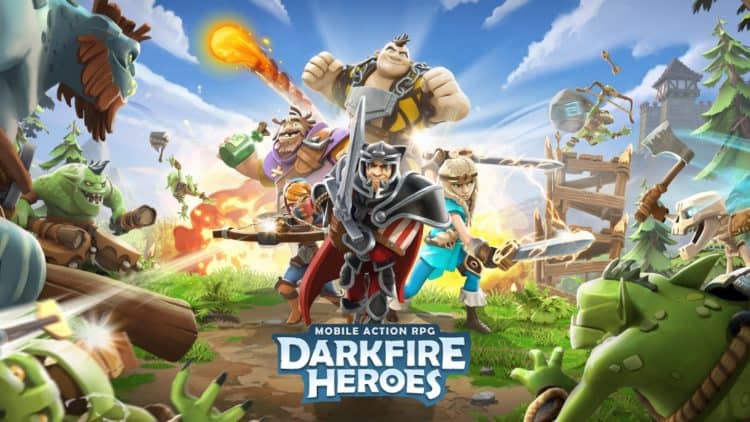 After a successful soft launch period in select regions, Darkfire Heroes is now available to download for free worldwide! Darkfire Heroes is a brand new mobile game for both Android and iOS, published by Rovio Entertainment, the developers of the massive Angry Birds franchise. While Angry Birds might be a fairly household name at this point, this game isn't quite at that level just yet, so what exactly is it? Why should you and your friends join in on the Darkfire Heroes launch and get ahead of the curve before Darkfire Heroes becomes the next Angry Birds? Well, that's exactly what I'm here to tell you! So, let's talk about everything you need to know about the brand new mobile game, Darkfire Heroes!
Who is Rovio Entertainment?
Rovio Entertainment is well-known for their famous (or infamous, depending on who you are) "Angry Birds" franchise of games including, but not limited to: Angry Birds 2, Angry Birds Friends, Angry Birds Dream Blast – Bird Bubble Puzzle, Angry Birds POP Bubble Shooter, and so many more. While Rovio Entertainment isn't exactly new to mobile gaming, Darkfire Heroes marks the very first game coming from the Rovio Copenhagen studio, which was acquired in June 2020, where it joined Rovio's four other game studios. Darkfire Heroes also marks the first Rovio release under its new CEO, Alex Pelletier-Normand, since he took over at the beginning of 2021 after serving as Head of Games at Rovio. Here's what he had to say about the acquisition: ""We were thrilled to bring Rovio Copenhagen onboard last year because of their commitment to making deep, accessible RPGs and finding what makes that genre tick – a strategy that is right at home among Rovio's game studios," said Pelletier-Normand. "That strategy comes through in Darkfire Heroes, which shows the passion and skill of the Copenhagen team and what they've learned making games together for the better part of a decade." Oh, did I mention that they also produced The Angry Birds Movie in 2016, and the sequel The Angry Birds Movie 2 in 2019? They did that too.
How do you play Darkfire Heroes?
Darkfire Heroes is a brand new mobile action RPG that is currently available on Android and iOS devices and it is completely free. "Darkfire Heroes is a strategic team-based RPG set in a rich fantasy world. Players must assemble a powerful team of heroes to take on hordes of baddies. There is a collection of over 60 heroes at launch, each with their own unique style, abilities, and attacks. Choose the right heroes to take into battle, outfit them with powerful gear, and unleash powerful spells against enemies. There's a substantial campaign for those looking for a single-player experience, but also a PvP arena for players that crave a bit of competition." So, regardless of the type of player you are, it looks like Darkfire Heroes has you covered with a solid campaign as well as competitive player vs player content, that will satisfy all players. While the game may have just released globally a few days ago, the game has been in development and had a soft launch well before this: "The team has worked hard continually refining Darkfire Heroes since the start of the soft launch to make the game it is today, and we are really happy to see it receive so much support from players," said Rune Vendler, head of the 23-person Copenhagen studio. "Darkfire Heroes is new territory for Rovio, but it plays well off the core synergies we're building across all our studios here. We're excited to see how fans engage with everything this fun, accessible RPG has to offer.'' So, the question may still stand: how do you play Darkfire Heroes? Well, the answer is simple: you play how you want to play. If you want to engage yourself in the campaign that Rovio has developed, you are absolutely free to do so, but if you're more of a competitive player who appreciates player vs player arena combat, and would rather fight to the death with another human being in order to prove who is superior….well, then you've got that option as well.
Darkfire Heroes is officially out now on both Android and iOS and you don't have to pay a single penny to play! Just download the game from either the Google Play Store or the App Store and get to playing! If you're a fan of Angry Birds, then I'm sure that you'll find some similarities between the two mobile games, and are sure to have a blast.
Tell us what's wrong with this post? How could we improve it? :)
Let us improve this post!