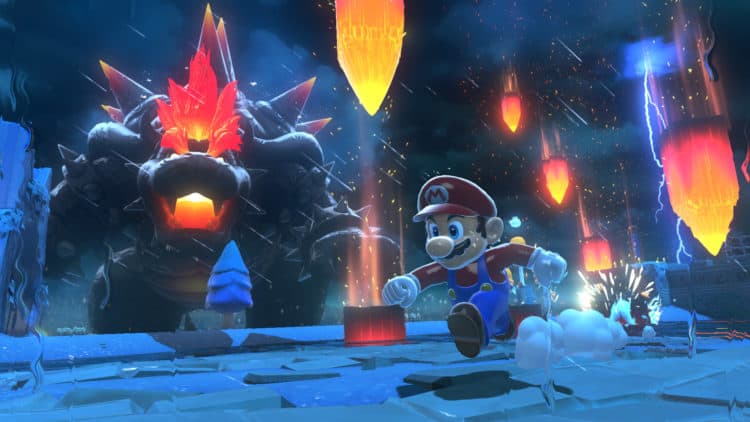 Nintendo has released a brand-new game, Bowser's Fury, with new features that add a taste of ownership to fans. It captures a massive showdown that fans will ask more of in a bid to celebrate 35 Years of Super Mario Bros. For snapshot lovers, it's time to horn your camera skills.  The game allows you to tilt your phone in any direction, snap as you go, quite interesting, short, and fan-friendly. And there are a lot of cats; you will get to know them later. Your task is to search, look, and discover hidden treasures and gems. As you play, collect stickers and use them on the objects around you to color your world. There's no limit on how many stickers you collect. So, if you want a more challenging game, this brand-new game offers you an adventurous world. Players can see the inaccessible part of the map with a dynamic path that is not easy to navigate, creating a stimulating effect.
The Games Story
Collect as many coins to access the temple, where you get a massive bell that converts you into a giant Cat Mario (able to fight Bowser easily). Bowser gets new abilities if attacked and puts a destructive battle, something new to the gaming world. It keeps you on your toes and alert on the next move to make to defeat him. With a dark theme comes a meaty adventure with a lovely island full of cats. Bowser's Fury is a game that combines mechanical and straightforward themes. You grasp what to expect until you unlock the next level.
How to Get the Best Camera Experience
With excellent camera skills, you go to Switch's directional pad and press the down buttons. A 360-degree rotation (modern feel) is set to give you an incredible experience. Once your screen freezes, you will manage to rotate, zoom, tilt, and move the pictures.  The good news is you can start to play right away from the main menu. Color filters will be available, blurred images (Pixelated), sketches, allowing you several options to marinade the pictures before collecting your stickers. Stickers are available for ordering throughout the game. While playing, try and have fun by making Mario as exaggerated than usual as you wish. Snapchat Mode saves all your pictures in Nintendo switch, then uses QR sharing to download them to your phone or share on social media. Quite something?
Have You Identified all the Cats and Cat Shines in Bowser's Fury Game?
What completes a game than looking for hidden items? Harness your search skills; you got work to do. There are plenty of Cat Shines found in Bowser's Fury. Mario has a role, to look for all the Cat Shines in the game, a devotion to collectibles.  Twelve light-houses islands in the game facilitate the collection of the Cat Shines. Each island has a Mario flag hoisted at the top only if you manage to get all the 5 Cat Shines. One Cat Shine acts as Bowser Block, and another collects the five collectibles hidden on the island.  When a lighthouse indicates two shines, it's time for players to leave and go back to the island before they are caught.
Look for more Cat Shines outside lighthouses on tiny rocks, underwater, some when wearing a specific costume, or seek the assistance of watery friend Plessie. You can also wait until you defeat Fury Bowser in the Lucky Isle to discover other shines. Collect them in any order. Some Cat Shines features include a cat face in the middle, and Mario needs to collect five of them to make a Giga Bell which takes a cat form. Approximately 100 Cat Shines are available in Bowser's Fury. Some are easy to discover, while others require you to extend your playtime and hunt every single Cat Shine. That will be rewarding, breathtaking, and an extensive experience. If you love looking for collectibles, you will this experience rewarding and not lacking. There are quite several Cat Shines. But just how many? Keep searching for every corner and cavity.
What Makes Bowsers Fury Surprising?
Thrill, fun, adventures, collectibles, snap mode, and the 12 islands give why you need not miss this game. Fury Bowser works alongside Bowsers junior in a world full of challenges and cats. Each item on the island is a cat, including the monsters, trees, bushes, cat imagery, and even the architecture is all Cat. Should you call it a Cat Affair? Whenever you collect a Cat Shine, the whole lighthouse shines, lighting up the map. But don't be too excited since Bowser will terrorize you if you get caught. Remain alert throughout as Bowser will appear from anywhere in the game during your adventure. For a few minutes, you're safe to roam the island before Bowser tries killing you with frame breath and fireballs with his wild chase. You have an option to hide behind structures if Mario doesn't have enough shines to fight him and watch him disappear. And he doesn't announce his return.
Make sure you don't give in to intimidation. Huh? Bowser will serve you right there. But as the game continues, it becomes better as you learn how to attack him, and thus, no need to crack under pressure. Don't forget Bowser is not a threat; he is a regular nuisance who will pop out and be in the way. If you indicate a win against him, he will stalk you as you try to finalize the last Cat Shines to unlock your final victory. Bowser can be too much.
Unlocking 100 cats is not an easy task. You will have to watch your back, put in a Bowser's fight to get 50 cats out of the 100 cats to unlock the final battle. Bowser fury is not just an ordinary game. It's packed with fun puzzles, with fantastic island to unlock, and a world full of adventures. Add Bowser's Fury to your collection, and you won't go wrong.