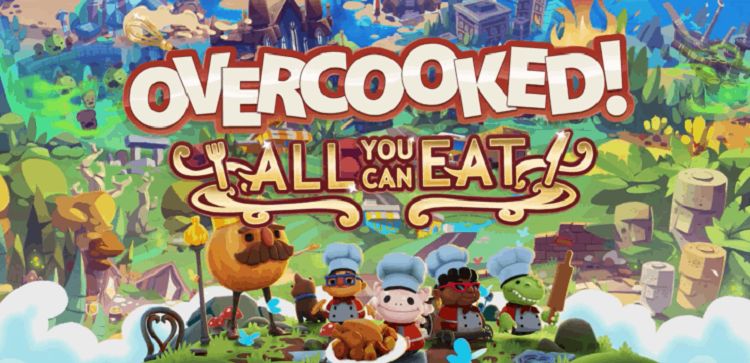 Team17, developers of the Overcooked series, released an all-inclusive complete edition of Overcooked that includes both Overcooked (rebuilt entirely in the Overcooked 2 engine), Overcooked 2, as well as a whole list of new features and loads of additional content to feed your appetite (see what I did there?) I received a review key for Overcooked: All You Can Eat for the Nintendo Switch, in order to tell you what I think about the remastered collection of these fantastically competitive games, so let's get to talking about what you need to know about Overcooked: All You Can Eat! While I did receive a code to review this game for free, this is in no way sponsored, and you will be receiving my honest opinions about the game.
Overcooked: All You Can Eat
So, let's talk about Overcooked (the first one) for a second. Team17 has entirely rebuilt Overcooked in the Overcooked 2 engine, which means that you'll be able to play with your friends online and face the chaotic kitchens from the original game. The biggest change made with Overcooked: All You Can Eat is that it now supports cross-platform multiplayer, so you can play with any of your friends whether you're on PlayStation 4, PlayStation 5, Nintendo Switch, PC, Xbox One, or an Xbox Series X|S system, you can play together free of restrictions. It's great to see that so many games nowadays are pushing this to be the norm for multiplayer games, and it really allows for an entirely new sense of freedom in video games (hopefully we'll start to see the end of the console war soon enough!) Outside of that, Overcooked: All You Can Eat features both Overcooked and Overcooked 2, as well as every single bit of additional content that has been released for both games, and have been entirely remastered from the ground up. This edition of the game includes:
Over 200 levels of culinary chaos
Seven new levels
Three new chefs
60 FPS gameplay in stunning 4K resolution (not on Nintendo Switch)
Faster loading times
Brand new trophies and achievements
The collection also features new accessibility options and a brand new assist mode to help "any budding master chef experience the heat of the kitchen." This assist mode includes options like:
The ability to slow the timeouts on recipes
Increase the duration of rounds
The option to skip levels
As far as accessibility functions go, these include:
A scalable user interface
Dyslexic-friendly text
Color blindness options
It's great to see that there are plenty of helpful options for players that may need them, especially these incredibly useful accessibility options for people with Dyslexia and players who are color blind, or may just want to play the game with a different color scheme. I know that I'm definitely in need of this assist mode, because there's no way that I can keep up with the speed at which each round moves – I mean, I can barely get a tomato soup recipe completed without burning the soup, or forgetting to wash the dishes.
What do I Think?
Overcooked All You Can Eat is definitely a blast to play with friends, however, the fun gets to be pretty stale when you're in the kitchen all by yourself. Playing Overcooked single-player is definitely not the way to go, and I just can't seem to have much fun with it. Maybe it's just because I can't get my brain to move quickly enough to swap back and forth between chefs to cut different ingredients and then cook them all at the same time, but I just can't do it. It's definitely a game in which you need more than one person in the kitchen, or else you're just not going to have a good time. In terms of visuals, I love the way that Overcooked All You Can Eat is presented, and I think that the art style is very fun and light-hearted, and who can complain about a game with a flippin' Muppets crossover? That's right, you can even play as the Swedish Chef from The Muppets in Overcooked All You Can Eat. If you're looking for a party game to play with a couple of friends, or maybe you need something to occupy a few kids for a night, or if you're looking to find your inner Gordon Ramsey, Overcooked All You Can Eat is definitely a fun game, but I should warn you that while it is a co-operative game, there will still be lots of yelling (just like a real kitchen!) This game might honestly destroy some friendships, because one of you didn't get a tomato fast enough.
Overcooked All You Can Eat is available for $39.99 on PlayStation, Xbox, PC, and Nintendo Switch.
Tell us what's wrong with this post? How could we improve it? :)
Let us improve this post!