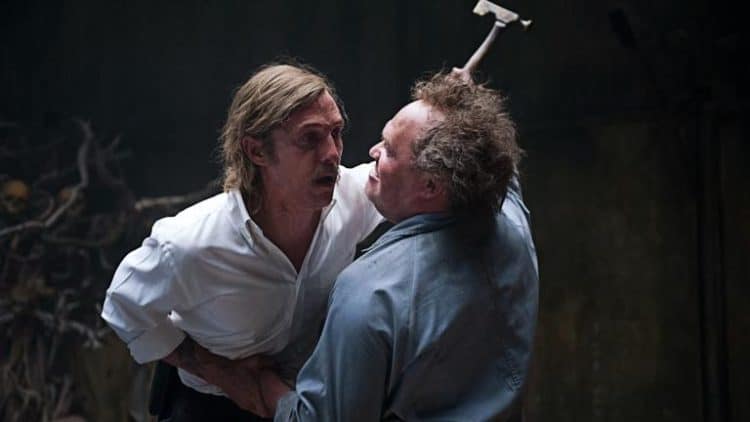 When True Detective debuted on HBO in 2014, viewers were instantly drawn to the crime drama. Not only did viewers really enjoy the series, but it received high praise from critics as well. The show is gritty and suspenseful and it goes places that many other shows have been afraid to. Although the series hasn't officially been renewed for a fourth season, it seems very likely that we'll get at least one more. As always, viewers can expect that True Detective will keep them excited and intrigued by every episode. However, the fourth season will likely mark some major changes for True Detective. If you're a fan of the show and you want to know what you can expect from the next installment, keep reading to find out what we've heard about the fourth season of True Detective.
What We Know About Season Four
The Plot
If you're like most people, the plot is probably one of the first things you want to know about True Detective season four. This is especially true because season three was a tough act to follow. Unfortunately, there haven't been any specific details in that department. In fact, some of the information that has been released has been a little confusing. After season three, the show's writer and creator, Nic Pizzolatto, seemed to be on the fence about the fourth season.
Pizzolatto also made it clear that he isn't a fan of the anthology style. He told Entertainment Weekly, "I dream of making a TV show where you have recurring characters and don't have to reinvent the wheel every time. After one of these I always feel so depleted. However, he did express that he already had an idea in the works that he was ready to explore."
He also shared that he felt like True Detective had run its course. During an interview with Esquire, he said, "I'm a little undecided right now. There's a couple other projects that I have directly in my headlights and I feel good about this as a trilogy. I do have a pretty serious crazy idea for another season. But I think maybe I'll let it percolate for a while and focus on these couple other things for now." Things took an even more interesting turn with Pizzolatto signed a first-look deal with FX in 2020.
New Writers
Losing Pizzolatto was definitely a blow for True Detective. However, HBO has indicated that the fourth season will likely move forward without him. Instead, he has been replaced by a team of writers. According to Indie Wire, HBO's Chief Content Officer, Casey Bloys, said, "It's safe to say we're working with a couple of writers to find the right tone and take. It's definitely an area that could be very interesting and I think it would be interesting with a new voice. Quality is what's going to guide us, so if we end up with scripts that we don't feel are representative or are not at a high enough quality, we're not going to do something just to do it."
Pushing ahead with new writers could be the best or worst thing to ever happen to the series. On one hand, it'll be nice to get some new perspectives in the writer's room. On the flip side, though, new writers could completely change the tone of the show.
The Cast
At the moment, there hasn't been any concrete information about any potential cast members for the upcoming season. If the season does move forward, however, it seems likely that it will involve an entirely new cast. However, there are quite a few people who are hoping that some familiar faces find their way back to the show. For example, Matthew McConaughey and Woody Harrelson did a stellar job during season one and I don't think anyone would really object to seeing them again.
Either way, however, True Detective has never had any issues casting talented actors so there's a good chance whoever makes the cut will be great.
The Premiere Date
As of now, no premiere date has been discussed. If the show does come back, it definitely won't happen in 2021. Even though True Detective is a great show, it can be hard for projects to keep their momentum going when there's a big gap between seasons. It's already been almost two years since season two was released, and HBO won't have much longer to capitalize on the show's popularity. With so many new shows coming out all of the time, many people have an out-of-sight/out-of-mind mentality. At this point, all we can do is hope that production moves forward and we eventually get some new content.
Tell us what's wrong with this post? How could we improve it? :)
Let us improve this post!