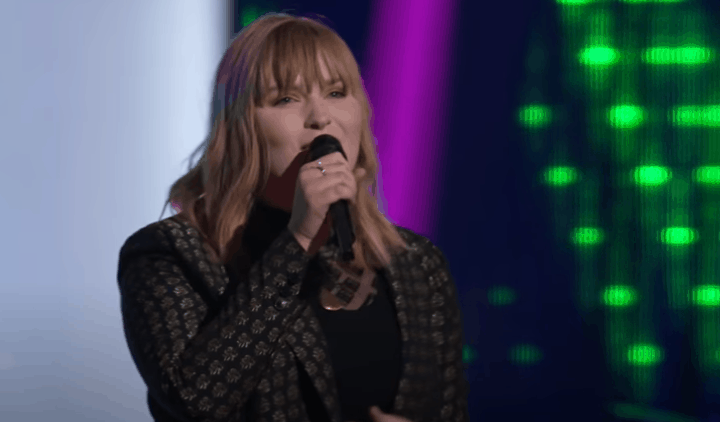 Season 19 of The Voice might just be one of the most competitive we've ever seen and North Carolina based singer Emmalee is more than ready to rise to the occasion. During her blind audition, Emmalee got Kelly Clarkson and John Legend to spin around in their chairs with her performance of the classic Whitney Houston song "How Will I Know". Both judges were impressed with the quality of her voice and felt that she had potential to take her talents all the way to the next level. Although it wasn't an easy decision to make, Emmalee decided to join Kelly's teamKeep reading for 10 things you didn't know about The Voice contestant, Emmalee.
1. She Started Singing When She Was Around 5-Years-Old
Music has been a big part of Emmalee's life for almost as long as she can remember. She started singing when she was five and began honing her talents at church. It didn't take long for everyone around her to realize that she had a very special gift. A few years later, she started playing piano and guitar.
2. The Voice Isn't Her First Singing Competition
As far as we can tell, The Voice is the first time that Emmalee has been on a major TV show, but it isn't the first time she's entered a singing competition. According to IdolChatteryd, Emmalee won the Nashville Rising Star competition in 2016 when she was only 15-years-old. At the time, she was performing under her real name, Emma Feldmen.
3. She's Also A Song Writer
Emmalee may have performed a Whitney Houston song for her blind audition, but that doesn't mean she only sings covers. She is also a songwriter who has been writing her own songs for the last several years. Through writing, she gets the chance to express herself on an even deeper level.
4. She Grew Up In Tennessee
Emmalee is originally from North Carolina, but she actually grew up in Clarksville, TN after moving there when she was 8-years-old. Clarksville is located less than an hour outside of Nashville which means that Emmalee has been able to draw lots of inspiration from the legendary city with a rich music history.
5. She Likes To Read
Emmalee loves what she does and she spends a lot of time working on her music. Still, Emmalee appreciates her free time and one of her favorite ways to spend it is by curling up with a good book. Not only is reading a great way to learn new things, but it's also a nice way to relax and recharge after a long day.
6. She's Already Released Music
Contestants come to The Voice at different places in their musical journey. Although Emmalee has never had a record deal like some people on the show, she's already gotten to the point in her career where she's released original music. She has released several songs on popular streaming platforms.
7. She May Have Auditioned For The Voice In The Past
This is the first time Emmalee has been on The Voice, but it may not be the first time she's auditioned. In an Instagram post she said, " I saw about a month ago that open call auditions for the Voice were coming to Nashville, and even though I said I'd never audition again, I just have this feeling I should." This suggests that she may have made previous attempts to get on the show.
8. Her Faith Is Very Important To Her
Emmalee was raised in a Christian household and her faith continues to play a big role in her life. She keeps God at the center of all of her decisions and her beliefs are also a key component in her song writing. Since Emmalee typically writes and performs faith based music, it'll be interesting to see how she navigates The Voice which has a much more pop focus.
9. She Has A YouTube Channel
When you're trying to break into the music industry, it's important to make yourself as visible as possible. This is exactly what Emmalee aims to do with her social media presence. In addition to being active on Instagram, she also has a YouTube channel where she posts videos of herself singing. At the moment, her channel has more than 5,000 total views.
10. She Hopes To Spread Love With Her Music
Like any other artist, Emmalee hopes that her music entertains her listeners. However, that isn't the only thing she hopes to achieve. More than anything, Emmalee hopes that she can use her music to spread love and positivity to all the people who hear it.