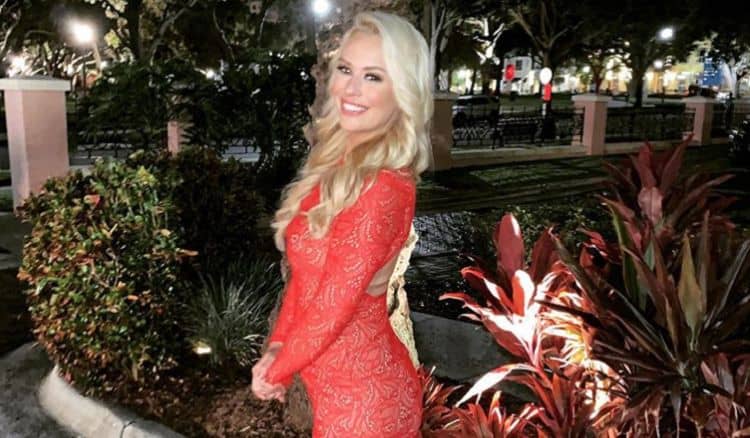 Britt McHenry, a popular host on the Fox Nation streaming service, recently hit the news when details of her lawsuit against Fox News, its parent company and several of its employees emerged. McHenry alleges that after she complained to the network of her former co-host George "Tyrus" Murdoch's campaign of sexual harassment, the network failed to investigate and later tool retaliatory action against her. Although both Fox and Murdoch have hit back at the claims, McHenry's allegations are just one in a series of sexual misconduct claims involving the network in recent times. Whether McHenry's battle will prove successful, only time will tell. In the meantime, sate your curiosity with these 10 little known facts about the popular host.
1. She played soccer with Ashlyn Harris
After graduating from Satellite High School in 2004, McHenry enrolled in an English degree at Stetson University. During her time at the university, McHenry played on the women's soccer team, where her teammates included US Women's National Team goalie, Ashlyn Harris. "To this day, she's the most naturally gifted athlete I've ever seen. Ask her to randomly play any sport, you'll see," McHenry has said of her former teammate to Jeff Pearlman.
2. She was suspended for ranting at an attendant
In 2015, McHenry was suspended from her duties at ESPN for one week after a video surfaced of her ranting at a parking lot attendant. The leaked footage showed McHenry making derogatory remarks about the woman's job, education and looks after becoming upset about her car being towed. "I'm in the news, sweetheart, I will sue this place," McHenry said in the video. "I'm on television, and you're in a trailer, honey." "Maybe if I was missing some teeth, they would hire me, huh?" In one last parting shot, McHenry quipped "lose some weight, baby girl."
3. She lost her vision after the public turned against her
After the video of McHenry's verbal tirade against a parking attendant was leaked, it caused such a huge public backlash that the reporter feared for her life. Such was the toll on her mental and physical health, she began to lose her vision, something a retinal specialist later diagnosed as CSR, a condition that often arises from extreme trauma or stress. "Neither medication nor time helped alleviate the problem. I had no choice but to start a series of injections directly into my eye to try to regain my vision and prevent further damage," she recalled to Marie Claire. "The first time I watched the needle approach my eye (yes, you're awake for this!), I broke down, halting the process until I could regain my composure. I was a wreck, not so much because of the injection, but because of what had brought me to that point."
4. She's claimed ESPN laid her off because of her conservative views
On April 27, 2017, McHenry announced she was being let go from ESPN. Her departure was part of a mass layoff at the network, with 100 people (including Ed Werder, Jayson Stark, and Jay Crawford) receiving their marching orders. The network cited plans for a new focus on the ESPN App with a "multi-screen approach around big events" as the reason for the cutback, but the reporter clearly had thoughts of her own. "I mean I've been openly Conservative…look how that ended up," she observed in a since-deleted tweet.
5. She's been accused of playing a character
When McHenry left ESPN, it wasn't just friends she left behind. Some former colleagues, seeing McHenry's transition from sports pundit to conservative politico, were quick to raise their eyebrows, with Jemele Hill, in particular, causing a stir when she told the Washington Post "It just seems like she's playing a character." McHenry clearly didn't take kindly to Hill's comment, telling the Philadelphia Inquirer "When I saw that in the article I just was a little in disbelief over it because we've only met once… How would she know what versions of me there are when you only met me once in the SportsCenter newsroom? It's not like Jemele and I never tried to be friends. We didn't interact. So that was upsetting, knowing the truth."
6. She's a former model
During her college years, McHenry subsidized her student loan by taking modeling jobs, even managing to get signed by the international talent agency, Wilhelmina Models. The reporter dropped modeling when she started her career in reporting but remains thankful for the opportunity it presented. "Thanks to Wilhelmina, I never had to work another day at the T-Shirt and Sandal Factory Outlet in Key Largo or enlist in another real "character building" summer job, much to my parent's chagrin," she told Jeff Pearlman.
7. She feuded with Kevin Durant over Trump
In 2017, McHenry took to Twitter to blast celebrities who refuse visits to the White House. "If the issue (fairly) is divisiveness in the USA, then use celebrity & platform to come together," McHenry tweeted. "Great leaders meet, not shun invitations to WH." Kevin Durant clearly disagreed, retorting with the comment "boo hoo. Sad story…..keep tellin me more." "Ok let's discuss how a successful man such as yourself can show unity meeting w/ WH just 20 min from PG County," McHenry responded. "Your presence can inspire." Durant, clearly not about to let the matter lie, responded with "By doing the opposite I am inspiring more people."
8. She's been labeled 'jerk of the week'
In 2018, McHenry came under fire after criticizing Eagles defender Chris Long's decision to donate his base salary to charity. Not only was her twitter tirade greeted with derision by the New York Daily News (who went on to label her "jerk of the week"), she also incited the wrath of her mom, who just so happens to be a lifelong Eagles fan. "She was upset with me," McHenry told the Philadelphia Inquirer. "Don't say anything about anyone of the Eagles' players or coaches. That's the rule with my mom."
9. She's called Fox News a sanctuary for sexual harassers
Murdoch isn't the only one at Fox to come under fire from McHenry: she's also accused the network of condoning his behavior, and the behavior of others like him, by failing to take appropriate measures to stamp it out. "Fox News publicly says it now has 'zero tolerance' for sexual harassment. This is a dangerous lie," her lawsuit claims. "In practice, Fox News remains a sanctuary for sexual harassers, coddling and enabling men who abuse female employees."
10. She's not the first to put Fox under fire
McHenry's allegations against George Murdoch may be the latest to rock Fox, but they're certainly not the first. The network has come under fire from numerous quarters over recent years, with several female employees stepping up to accuse their male colleagues of inappropriate behavior. In one of the most prominent scandals, former anchor Gretchen Carlson took the network's founding chief executive Roger Ailes to court after she claimed he'd subjected her to a campaign of harassment. After Megyn Kelly, another popular presenter, joined Carlson in her allegations, Ailes resigned in 2016. A year later, presenter Bill O'Reilly also tendered his resignation following a series of harassment allegations made against him.