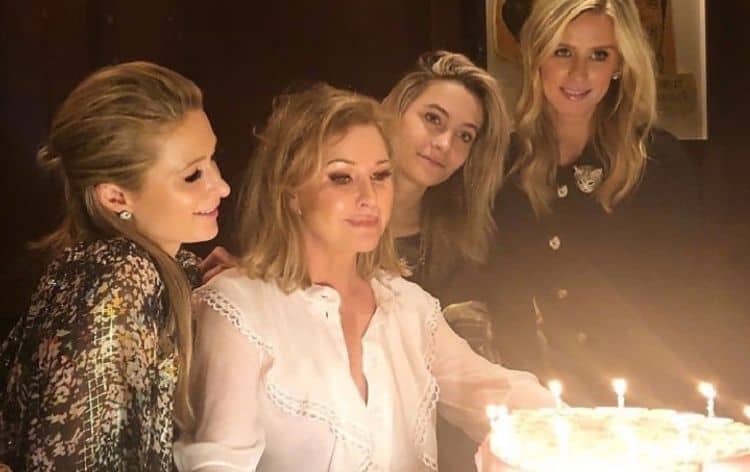 If there's anybody who knows that it's like to be a real house wife, it's Kathy Hilton. After all, she married into Hilton Hotel royalty more than 40 years ago, and her daughter, Paris, is one of the most well-known socialites in recent history. With that being said, it seems like her joining the cast of The Real Housewives of Beverly Hills was inevitable. Unfortunately, however, fans don't seem to see it that way. Since it was announced that she would be a cast member on the 11th season of the show, lots of fans have expressed their disappointment. Once the show airs, they will probably get over it, but only time will tell if Kathy proves to be a solid addition. Keep reading for 10 things you didn't know about Kathy Hilton.
1. She's Related To Kim And Kyle Richards
For years, Kathy Richard has already had a connection to RHOBH that some people may not be aware of. She is the older half sister of Kim and Kyle Richards who have appeared on the show for several years now. Kyle continues to be a main cast member on the show while Kim last appeared as a guest.
2. She Was An Actress
Kathy is certainly no stranger to being in front of the camera. In addition to having made several reality TV appearances over the years, Kathy was once an aspiring actress. Between 1970 and 1979, she made more than a dozen on screen appearances in TV shows and movies.
3. She Has Shown Her Support For Black Lives Matter
2020 has been a year full of things that have driven wedges between people. Needless to say, it has resulted in lots of people being afraid to share their opinions on certain topics. Kathy, however, hasn't let that fear stop her from showing her support for the Black Lives Matter Movement and the fight to end racism.
4. She's A New York Native
Kathy may be all about that Beverly Hills lifestyle now, but she is actually from the east coast. She was born in New York City and lived there during her early years before her family relocated to California. She attended high school at a private school in the Los Angeles area.
5. She Was Close Friends With Michael Jackson
Michael Jackson is arguably one of the most famous entertainers to ever live, but to Kathy Hilton, he was much more than that. Kathy and Michael were very close friends for many years. During an interview with Piers Morgan, Kathy discussed her friendship with Michael and said, "We met when I was 13 and he was 14 and developed a friendship and a bond throughout the years…we always kept in touch. And then when I moved to New York and he would come, and we'd always go to his concerts." She added, "And, you know, we started with — we used to make prank phone calls together. And we were little kids. We had a really great time. And then he came and visited when Paris was born."
6. She's A Business Woman
It's easy to look at Kathy and assume that being married to a rich man is the only thing she's accomplished. In reality, however, Kathy has done a lot. She's started several businesses throughout the years including a signature skincare line and a dress collection.
7. She's Been Disappointed Of Paris In The Past
Paris Hilton has been in the spotlight for most of her life, and unfortunately, the attention she's gotten hasn't always been positive. As a mother, that hasn't always been an easy thing for Kathy to deal with. During an interview she said, "I've definitely been disappointed. But I'm very proud of her [Paris] now. With all that she's gone through, I think it's made her really strong."
8.She Hopes Being On TV Will Show A Different Side Of Her Life
There are countless people who already feel like they know Kathy Hilton, but the truth is they probably don't know her at all. Being on the show will give Kathy the chance to show a different side of herself and give the world a glimpse into her every day life.
9. She Loves Being A Grandmother
On top of being a proud mother of four, Kathy is also a proud grandmother who has three grandchildren. While some people are embarrassed to admit they're grandparents because they see it as a sign of old age, Kathy is enjoying the role and she loves spending time with her grandchildren.
10. In The Past She Has Says She Wouldn't Do RHOBH
Kathy's decision to join RHOBH is somewhat of a shock because it contradicts things she's said in the past. During an interview with Haute Living in 2012, Kathy said, "I'm not a TV person or a movie person." She then followed up by saying that she didn't think she'd want to do the show.