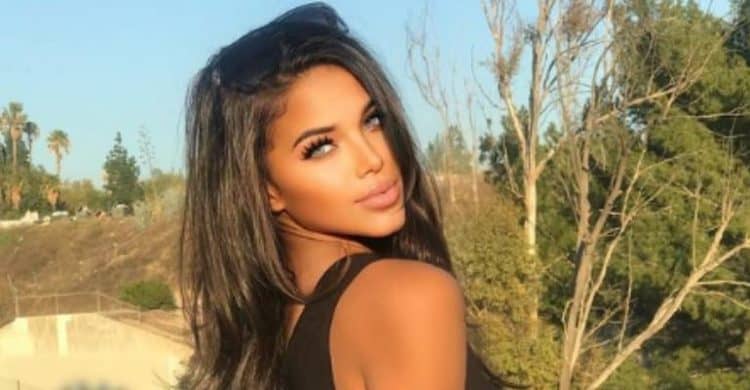 If the name Sydney Chase doesn't mean anything to you, perhaps it's better to mention the name Tristan Thompson. He plays for the Boston Celtics in the NBA, though many people will openly tell you they did not know his name (or that he played for the NBA) until he began dating reality television star Khloe Kardashian. The two welcomed a baby, they had a lot of drama, they broke up, and they got back together again, and the world collectively wants to see her move on from this guy who has allegedly cheated on her numerous times, including just days before she gave birth to their daughter, True. Now he's being accused of having yet another affair with a woman by the name of Sydney Chase despite the fact that he and Kardashian are back together. Who is this woman? Let's find out.
1. She's an Instagram Model
When she is not busy talking to the press about her time with Kardashian's on-again, off-again boyfriend, she is an Instagram model. She works with brands to promote their lines by taking photos of herself wearing their clothing, modeling their accessories, and more. She has fewer than 30,000 followers.
2. She's Got a Very Graphic Story
She claims that Khloe Kardashian's daughter's father hit her up in January 2021 asking her to hang out. She asked him if he is single, he said yes, and they hooked up repeatedly. They went out, they hung out, and they spoke many times over the course of what sounds like a few months. Chase said the moment she found out he was in a relationship, she cut him off.
3. She Apologized to Tristan Thompson
Not for sharing their intimate hookup or telling the world he cheated on his girlfriend, but for talking about his personal anatomy. When she was asked in an interview by a close friend how his private parts were, she gave a very detailed answer about his specific body part. For that, she did apologize. She realized she crossed a line with that.
4. She is On OnlyFans
It turns out that she is a woman who has some interest in numerous income streams. She's looking to make money any way she can, and using OnlyFans is one way she can do that. She set up her account and began marketing herself on the platform only days before coming out and making her relationship with Thompson known to the world.
5. She's Joined a Long List of "Other Women,"
With Sydney Chase's claims that she hooked up with Thompson this year on several occasions, she joins an ever-growing list of women who have come forward to announce that they, too, had an intimate relationship with Kardashian's boyfriend while they were together. He allegedly cheated on Kardashian with the likes of Lani Blair – the woman he was with while Kardashian was preparing to give birth to their daughter – in addition to Larsa Pippen, Sabrina Parr, and Jordyn Woods. Woods is formerly best friends with Kylie Jenner. Pippen is the ex-wife of Scotti Pippen and former best friends with Kim Kardashian (and she's also been seen out and about getting cozy with another married basketball player in spring 2021), and Parr is the ex of Khloe Kardashian's former husband, Lamar Odom. Essentially, it sounds to us that no one is really a good friend to this family and Thompson has an issue.
6. She is Young
Chase is young. She is only 23 at the moment, and she is clearly old enough to know what she got herself into. She did say that she asked the NBA player if he was single and he said yes. She must not pay much attention to the news since it's been public knowledge that Thompson and Kardashian have been reunited for some time. There's even been speculation that the couple is engaged.
7. She Claims Their Last Contact Was the Day After His Daughter's Birthday
April 12 is the day following True's birthday, and Chase claims it's the last time that he contacted her. Meanwhile, he was off celebrating with his daughter and his daughter's mother – his alleged girlfriend at the time – while messaging this young woman.
8. Her Captions are Suggestive
Chase's Instagram captions are highly suggestive. During the time she was allegedly having an affair with Thompson, she used captions that more often than not could be read into a lot. "I'm just imposing that you give it to me and just me only," and "I'm rich alone but when I'm with you I'm richer as f**k," and "I know it's not your first but it's better than you're last," as well as "Something you don't want to lose," and "Do bout anything to please ya," and they go on. After the alleged April 12 split, however, her captions changed dramatically. "Do me a favor, don't say you did me any favors," and "They say they love me, I know better than that," which makes the world wonder if she's sending messages?
9. She Doesn't Share Too Much
This might sound silly considering her Instagram timeline is filled with barely-dressed photos of herself sharing a lot of herself, but she doesn't share too much personal information about her life online except for this scandal. Otherwise, she keeps to herself.
10. You can Listen to Her Podcast Interview
She and her friends recorded a podcast for Adam22's No Jumper. The podcast was from April 22, and it's here in which she opens up about her affair with Thompson for the world to hear.
Tell us what's wrong with this post? How could we improve it? :)
Let us improve this post!