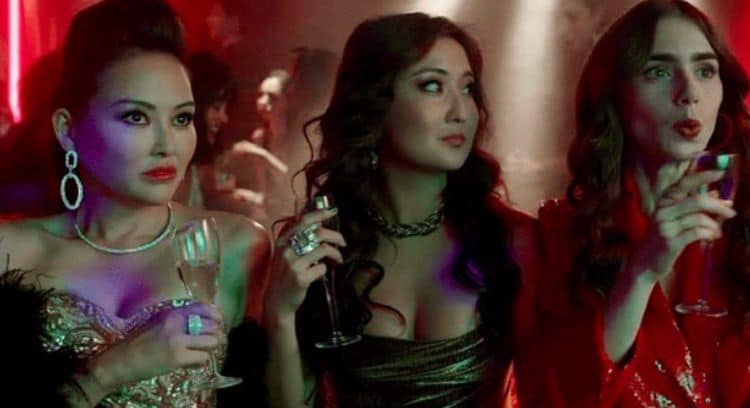 Elizabeth Tan is only 31-years-old, but she has been acting professionally for almost a decade and a half. She made her first on screen appearance in 2007 in the TV series Hotel Babylon . Over the course of her career, she has earned almost three dozen on screen credits, and it's easy to see why. Elizabeth is a natural who has the ability to take on a wide range of characters. One of her most recent appearances has been in the Netflix series, Emily in Paris, however, most of her work has been on projects in the UK where she is from. With an already impressive list of appearances on her resume, we have a strong feeling that Elizabeth is nowhere near done. Continue reading for 10 things you didn't know about Elizabeth Tan.
1. She Loves Rock Climbing
Elizabeth is the adventurous type who doesn't mind a good adrenaline rush from time to time. When she has time off from work, one of her favorite things to do is go rock climbing. What's ironic about her love for rock climbing is that she is actually afraid of heights, however, the activity has helped her face this fear.
2. She Loves To Do Improv Comedy
Even though she hasn't done a lot of comedic roles throughout her career, Elizabeth is a huge comedy lover who has even done some improv. She has gotten her improv training from the legendary Groundlings Theater in Los Angeles which has also been the training grounds for lots of successful entertainers including Will Ferrell and Melissa McCarthy.
3. She's Always Loved To Entertain
Elizabeth doesn't come from a family with a background in the entertainment industry, but acting is something that still seems to be in her blood. She's loved entertaining people since she was a little kid, and it didn't take the people around her long to see that she had a special talent.
4. She's Building A Strong Social Media Presence
Having a strong social media presence has become somewhat of a requirement in the entertainment industry, especially for people who are still making a name for themselves. At the moment, Elizabeth has nearly 21,000 followers on Instagram. Unlike lots of other celebrities, however, Elizabeth only uses Instagram to share content related to her career and she doesn't share any personal details on social media.
5. She's Grateful For The Opportunity To Provide Representation
As an East Asian woman, Elizabeth didn't grow up seeing lots of people who looked like her on TV. She told 1883 Magazine, "I'd love to see more East Asian characters like that… Like you pointed out, it's really important for young people to see themselves on screen because it's very isolating when you tell your family 'I would love to be an actress,' but there are no examples of people who look like you on-screen. No matter what race you are, [that experience] can be very disheartening and discouraging." Now that she is in the position of a professional actress, she is grateful that she can be that representation for younger generations.
6. She Has Chinese Ancestry
Elizabeth was born and raised in England, but her family's roots trace back to China. During an interview with Metro she said, "my family is Chinese with a sprinkling of Japanese. I have family in Hong Kong, Singapore and Malaysia and also a couple of cousins in China."
7. She Does Her Best To Stay Positive
Being an actress may seem like one of the most glamorous jobs in the world, but in reality it comes with lots of ups and downs. Even the most talented actors hear the word no more often than they hear the word yes, and it can be hard to push through the rejection. Despite all of that, Elizabeth always does her best to maintain a positive and see the bright side of every situation.
8. She's Really Into Fashion
Elizabeth may not be a model, but she certainly looks like one. Not only is she naturally stunning, but her love for fashion and her great sense of style allow her to turn heads every time she steps out in public. Elizabeth loves putting together outfits and she knows just how to coordinate the best looks.
9. She's Trained In Martial Arts
Entertaining isn't the only thing Elizabeth has been passionate about throughout her life. She began studying martial arts when she was a child and continued into adulthood. Not only is martial arts a great method for self defense, but it's also a good way to exercise the body and the mind.
10. She Has Production Experience
Like many other actors, Elizabeth has also been able to get some behind the scenes experience under her belt. According to her page on IMDB, she has two producer credits for her role as an executive producer in the documentary Dark Corner and the short film Blink.