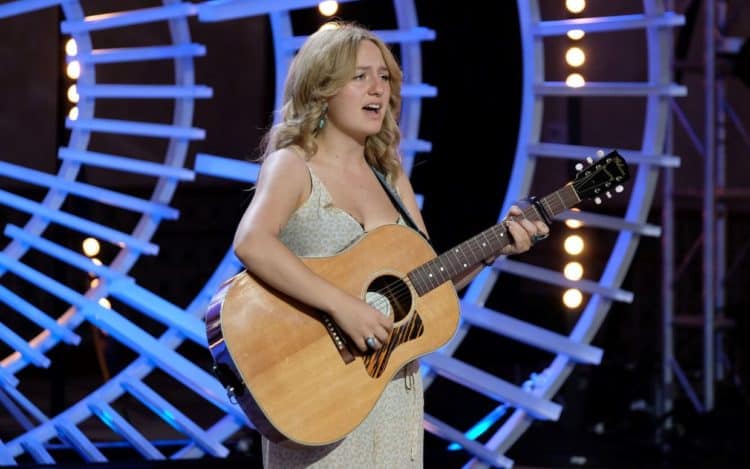 It's American Idol season, which means only one thing. It's time for the world to learn more about a group of young people they've never heard of before than they ever thought imaginable. Althea Grace is one of those young people. She's a singer by nature – something she's loved her entire life – and she's making her own dreams come true right now. She auditioned, she made it to Hollywood, and she's living her own dream come true. Let's find out everything we can about this talented young woman before she becomes a household name.
1. She's From Algonquin
She's a born and raised Algonquin girl. She would spend her time growing up playing music, singing, and then eventually heading into the nearby city to perform her own music. She'd find places where she could play with other guitar players, and she'd do her thing.
2. She's a Mom
She's got a daughter of her own. Her little girl is Lennon. Yes, she named her after the Beatle. She, herself, is named after a Grateful Dead song. Her own parents loved music, and they passed along that love of music to their daughter. She's done it with her own life, too.
3. She's Been Through a Lot
It's been a year since her little girl, Lennon, become exceptionally ill. Doctors did not know if the then one-year-old little girl would survive. She was in need of a liver transplant, and it was very touch and go for some time. It was during that time she wrote a song about being present in every moment and enjoying every moment you have with your loved ones because you never know when it's the last.
4. She's Got a Lot of Fans
One thing that she's had in her life as a constant is the support of her family. Her grandmother told her when she was only a child that she could be on this show, and that she could make her own dream come true. They would watch Idol together back then, and now she's on the show herself. She's so happy to have the support of her family, and she cannot imagine not having that.
5. She's A Talent Winner
She's always been a performer. She was only 13 when she was able to take home the title of "McHenry County Fair Talent Show Winner," and it was a big moment for her. She performed in front of everyone at the fair, and she beat everyone else who wanted to do the same.
6. She's Still Young
Althea Grace has lived a very exciting and emotional life, but she's only 21. She's been through more at this stage in her life than many adults have been through who are twice her age. From having a baby as a teenager to having a moment where she thought her baby might not make it to becoming a singer to being sent to Hollywood; it's a lot of living for one young woman.
7. Her Daughter's Journey Was Terrible
Little Lennon was only 11 months old when she was diagnosed with liver failure. Her mother was told she had a few days to live. The baby was in a coma, she was on life support and dialysis, and her own doctor didn't think she could save the baby's life. It took six days for a donor liver to be found. It was a miracle.
8. She Needs To Work On Her Confidence
While in her audition, Lionel Richie was impressed. However, he did tell the young mom that she needs to work on being more confident in herself. She needs to work on being sure she belongs there and really believe it. She has the support of everyone she loves, but now she needs to find a way to support herself.
9. She's Very Close to her Grandmother
While she is close to both of her parents, she is especially close to her grandmother. The two always had a standing date when she was growing up to go to her grandmother's house and watch the people of "Idol," perform. They loved those days, and it was then that her grandmother told her she could do this and that she could be someone.
10. Grace is Not Her Last Name
Althea Grace is her first name and her middle name. Her last name is Roggenbuck, but she doesn't use it. We get it. It's not a name that rolls easily off the tongue, and she doesn't want to have to deal with helping people learn to spell it or say it. Althea Grace is a lovely name, though, so it works well for her.