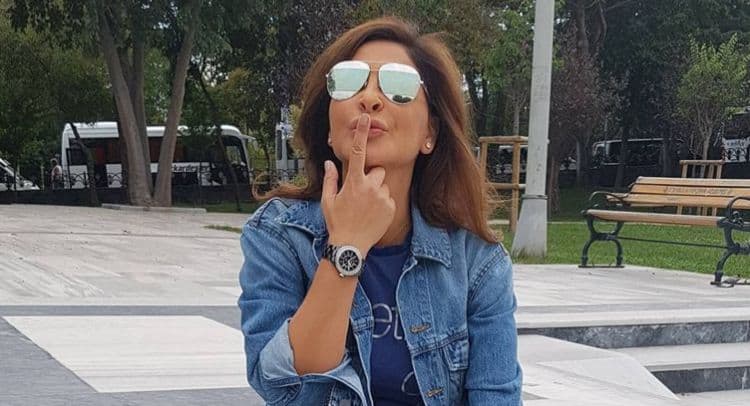 Music is one of the only things that have the ability to genuinely impact people all over the world and that's exactly what Elissar Zakaria Khoury has done throughout her career. The talented Lebanese songstress has been in the industry for almost 30 years ad during that time she has built a fan base that includes millions of people. Her beautiful voice combined with her natural star power has proven to be the perfect ingredients for success. Now that she's at a place in her career where she's already accomplished a lot, Elissar knows she has nothing left to prove. Keep reading to learn 10 things you didn't know about Elissar Zakaria Khoury.
1. She Comes From A Big Family
Elissar was born and raised in Lebanon to a Syrian mother and a Lebanese father. She has three brothers and two sisters. However, she spent most of her youth at boarding school so she didn't spend much time with her family other than going home for holidays.
2. She Studied Political Science
Since Elissar has had such a successful career as a singer, most would assume that her studies were focused on the arts. That isn't true, though. She studied at the Lebanese University where she earned a degree in political science. However, it doesn't appear that she ever worked in the field.
3. She's A Christian
Some people in the entertainment industry are hesitant about sharing their religious beliefs, but not Elissar. Islam is the most common religion in Lebanon, but the country also has a very big Christian community which Elissar is a part of. She is very proud of her beliefs and her religion plays an important role in her life.
4. She Is Retiring From Music
Music is the kind of field that lots of people never retire from. In fact, there are countless artists who have continued performing up until their death. That likely won't be the case for Elissar, however. In the summer of 2019, Elissar took to social media to share that she planned on retiring from music after her next album. That album, Sahbit Raey, was released the following year. Even though she says she's done with music, there are lots of people who are hoping she eventually makes a comeback.
5. She Is A Strong Supporter Of Women's Rights
The Middle East is a place that is known for being very conservative, and women in the area don't typically have much freedom as women in other parts of the world may be used to. Elissar has always been adamant about using her platform to speak up for women's rights.
6. She's Passionate About Breast Cancer Awareness
No matter how rich or successful a person is, health is something that can't be bought. Elissar learned this first-hand several years ago when she was diagnosed with breast cancer. Fortunately, she was able to overcome the illness and she has since become a major advocate for breast cancer awareness.
7. She Loves Fashion
Not only has Elissar become famous for sounding good, but she's equally as famous for looking good. Every time she steps out in public, Elissar always looks stunning and she's made it very clear that fashion is important to her. Her outfits have become one of her favorite ways of expressing herself and she has a great sense of style.
8. She's Won Some Impressive Awards
When it's all said and done, even the most beloved entertainers will be remembered for the number of accolades they earned in their careers. Elissar is fortunate that she hasn't had any trouble in that department. She has won several awards over the years, but most notably, she was the first Lebanese singer to earn a World Music Award for Best Selling Middle Eastern Artist.
9. She's A Private Person
With all of the time that Elissar has spent in the entertainment industry, she understands the importance of keeping some things away from the public eye. She has been very careful about what she's shared over the years and she has done a good job of maintaining a high level of privacy when it comes to certain topics.
10. She's Thankful For All Of Her Fans
No celebrity would exist without the love and support of their loyal fans, and this is something Elissar has never taken for granted. She has been blessed with a solid fan base and she is thankful for the way they've supported her career over the years. She often uses her social media presence to send messages thanking them for sticking by her all of the years.
Tell us what's wrong with this post? How could we improve it? :)
Let us improve this post!