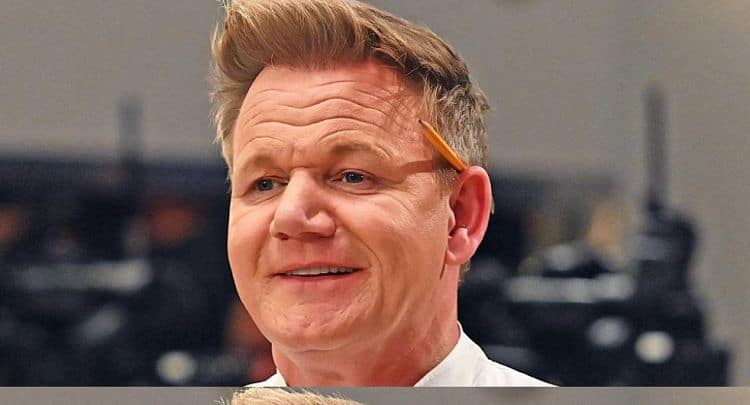 For the last 15 years, Hell Kitchen has entertained millions of people. Apparently, there's something people really love about watching people cook in high-pressure situations while being yelled at on national TV. The battle between the chefs might be the main competition on the show, but it's not the only one. Apparently, getting the opportunity to be one of the diners on the show is also very challenging. Whether or not it's worth it will depend solely on how bad you want to have the experience. If you're interested in knowing more about the process, we've got all the details you need. Keep reading to find out what it's like to eat at the Hell's Kitchen restaurant during filming.
Is The Restaurant On Hell's Kitchen Real?
Before we get down to business, it's important to note that the restaurant you see on Hell's Kitchen isn't actually a restaurant. Of course, it looks and functions like one for the sake of the show, but it's nothing more than a sound stage. Thanks to the magic of TV, the viewers at home see what appears to be a full restaurant. In person, however, that isn't the case. This is important to keep in mind for those who are interested in being a part of the show so they aren't disappointed when they get to the set. According to Mashed, the 'restaurant' also doesn't have a bathroom, but there are restroom facilities nearby.
How Can You Eat In The Hell's Kitchen Restaurant?
Even if you don't personally have any interest in eating on Hell's Kitchen, you've probably wondered how people get the opportunity. Unfortunately, however, it's not an easy thing to do due to a number of factors. First, Hell's Kitchen isn't filmed in the way that you'd probably assume. The show actually films two seasons at once, which means that it only films for eight weeks every other year or so. This significantly limits the window of time a person would need to be available for filming.
Since we've already established that the restaurant you see on the show isn't real, this also means that the diners aren't real. Instead, they're technically actors. This means that one of the easiest ways to get on the show is to work with a casting agency that helps cast extras for shows. For a lot of people, this step alone is enough to be discouraging. Fortunately, that isn't the only way to get on the show.
People can also try their luck by catching an open casting call for the opportunity, although these are very rare. If you choose to go this route, you'll have to stay on top of searching for casting calls. However, since Hell's Kitchen is such a popular show, these spots tend to fill up fast so the chances of actually getting chosen are pretty slim.
What Is The Dining Experience Like On Hell's Kitchen?
According to a Reddit user named HollaWho, "I went to a taping. They keep the free beer flowing the whole time and its like a 4 hour thing. They'll even pay for your cab home. I had a great time, plus the food was delicious." This user also added, "The kitchen is kind of off in the corner. But you know when they're filming Ramsey going off because the producers, who walk around dressed as servers, will head over there. You can't really tell what he's yelling about but it was fun to watch." Another user in the thread mentioned that Gordon Ramsay comes around to each table, but this claim has been disputed by other sources.
A TV Guide writer who got the opportunity to dine on the show also shared his experience. She stated, "It feels like a real restaurant and is a surprisingly normal dining experience as soon as I ignored the cameras and occasional celebrities dining near me." She also noted that she had to sign a confidentiality agreement and turn in her electronic devices while filming. One thing that wasn't mentioned is whether the show pays for travel and lodging, but the answer is probably no.
All in all, the restaurant on the show may not be real, but anyone who dines there can still expect to have a great experience. If you're a big fan of the show, you may want to consider doing what you can to land one of the coveted seats at the table. Not only will you get to enjoy some good food, but you might also end up on TV if the crew thinks one of your reactions is camera-worthy.
Tell us what's wrong with this post? How could we improve it? :)
Let us improve this post!