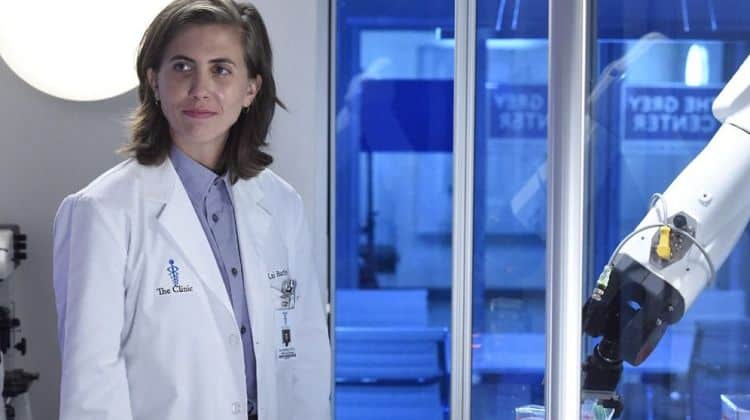 It was many, many years ago that the ABC Network decided to bring the show "Grey's Anatomy," to television, and it's still on the air. While the show has had its fair share of ups and downs, it's remained a fan favorite for well over 15 years, and it keeps bringing the heat. From hot doctors to steamy hookups to the hilarious writing and the witty repoire, it's a show that keeps on giving. Many characters have been on the show for a long time. Some are new, and many have come and gone and come back for more. There are probably more famous guest stars and famous faces on this show than anywhere eels, and we want to know more about E.R. Fightmaster, the person who acts as the character Kai on this hit show. Who is E.R. Fightmaster?
1. Fightmaster is Non-Binary
Essentially, this means that Fightmaster does not live as a man or a woman. Fightmaster just exists and does not have any feeling either way toward either gender, and that is a personal choice.
2. Fightmaster is from the Midwest
While we don't know where Fightmaster was born and raised, we do know that Ohio was home for a long time. More specifically, this actor calls Cincinnati home. It's a great place to grow up, and it is a big enough city that there are many opportunities for any child who wants to go into just about any type of career, sport, club, etc.
3. Fightmaster Graduated College
Fightmaster is a college graduate with a degree in Women and Gender Studies. The college of choice for Fightmaster was DePaul University. After spending several years here studying and focusing, graduation and the entrance into the real world were both a welcome treat for the actor.
4. Fightmaster is a Comedian
In addition to acting and going to college, this is one person with a funny bone. Fightmaster belonged to "The Second City Touring Company," as well as Boom Chicago, which is a comedy troupe. Comedians are a fan favorite, and this role as a serious doctor seems to be a bit off the beaten path for this actor.
5. Fightmaster is in a Band
In addition to being educated, funny, and a talented actor, did you know Fightmaster is also in a band? That's right. The band is called TWIN, and the band also has one more member. His name is Mike Aviles. They have a single that they've released. They call it "Santa Clarita," and it was only just released about a month ago.
6. Fightmaster is A Musician
Well, of course; Fightmaster is in a band, so it only makes sense that Fightmaster is a musician, right? Well, we merely mean that Fightmaster is not just a singer in a band. E.R. also capable of playing a few instruments. Anyone who knows anything about music knows this is nothing short of a difficult task, but E.R. can play both the guitar and the piano. We are not sure if this is a result of lessons or a self-taught situation.
7. The Character is Also Non-Binary
Fightmaster portrays a doctor by the name of Dr. Kai Bartley, and the show has made it very clear to fans that the doctor is non-binary just like the actor. The show has asked fans to be careful to tweet accordingly using the preferred pronouns of the fictional character so as not to offend the fictional character or those who identify the same.
E.R. Fightmaster is excited because this is a history-making moment on the show. Grey's is in the 18th season, and it is the first time the show has ever cast a non-binary actor in a role. It's also the first time that the show has cast someone who is playing a non-binary character, too.
9. Things Could be Interesting for Dr. Shepherd
Dr. Amelia Shepherd has been around a long time now, and we all know and love her. She's been through so many things, been with so many men, and she's had some epic romances in her life. However, there seems to be a rumor going around that there are some sparks flying between herself and the new doctor in town. Could she fall for a non-binary character?
10. Fightmaster is Having Fun
At the end of the day, this is a job that Fightmaster is seriously loving. It's fun, it's invigorating, and it's one that this actor is happy to have.