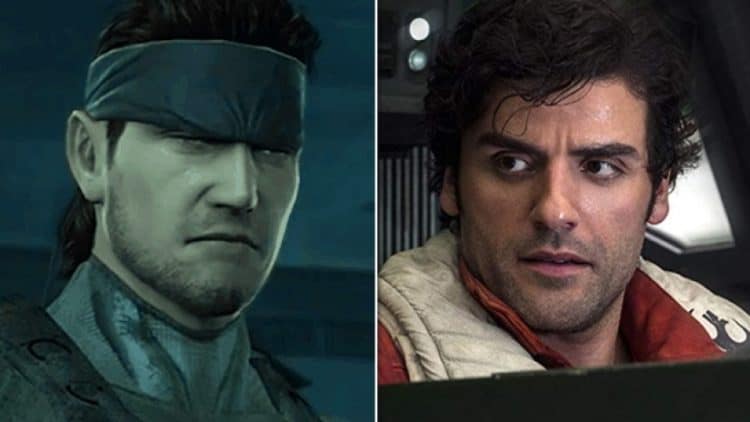 If you're a fan of wonky eyed super spy Solid Snake, you probably know the PlayStation franchise that made him famous is soon to get the movie treatment. Yes, that's right. Solid Snake is coming to a silver screen near you. Long term fans, however, can be forgiven for holding back their excitement. This isn't the first time a Metal Gear Solid movie has been promised. In fact, many fans have started to write the project off as another game adaption that'll never get off the ground.
That is, until Oscar Isaac — Hollywood heartthrob and all round cool guy — threw his hat into the ring this week and asked for the lead role. Despite a packed schedule (he's due to appear in Star Wars: Episode IX, Netflix's Triple Frontier and the Dune reboot), Isaac has made it clear he'd love to don Snake's legendary eyepatch. And in a wonderfully strange turn of events, director Jordan Vogt-Roberts responded by saying he'd already pictured Isaac in the role (and even based a concept drawing on him).
So, to celebrate what may turn out to be an epic movie partnership, we had a go at dream casting an original Metal Gear Solid movie.
Sniper Wolf — Milla Jojovich
It's hard to forget your first encounter with Sniper Wolf. She introduces herself by shooting Snake's sidekick Meryl. Later, we find out she's a Special Forces agent with links to Russia (classic spy game fodder). It's why we picked action heroine Milla Jojovich for this role. She's badass in the Resident Evil movies and, being from the Ukraine, she'd nail the accent too.
Decoy Octopus/DARPA Chief — Jeffrey Weight
Fans of WestWorld will understand why we picked Jeffrey Wright to play dastardly shapeshifter Decoy Octopus. Skilled in the art of disguise, Octopus is almost impossible to catch once he's picked out a new identity. And Jeffrey Wright — hot on the heels of playing a robot playing a man who creates robots — can conjure up the perfect blend of quiet deviousness and intrigue.
Master Miller — Josh Holloway
It took until Metal Gear Solid (the third game) for Master Miller to make his mark on the franchise, but he did appear as early as Metal Gear 2. He's the face and voice of your codec and your main source of survival know how. So, in some ways, the role of Miller represents the most important casting choice of all. He needs to look just right and who nails the floppy haired bad boy vibe better than Sawyer from Lost.
Liquid Snake — Nikolaj Coster-Waldau
Even if you don't recognize the name, you definitely know his face. Coster-Waldau is best known as gold handed, sister stroking royal Jamie Lannister in Game of Thrones. We think he could bring some of that sharp wit and cocky attitude to the iconic role of Liquid Snake, Solid Snake's genetic clone. Just like Liquid, Lannister is petulant, prone to violence and not without a stylish outfit or three. He's perfect.
Revolver Ocelot — Viggo Mortensen
Mortensen is another busy actor. He just scooped the biggest award in town after his latest movie Green Book was voted Best Picture at the Oscars. Yet, we still hold out hope he'll accept the role of Revolver Ocelot who is arguably the main villain of the entire Metal Gear Solid franchise. Why, you ask. Have you seen Mortensen in Eastern Promises? We challenge you to find a scarier Russian and Ocelot is one crazy ruski.
Meryl — Amber Heard
And so to Meryl, Snake's confidante, friend and sometime lover. We've picked AquaMan star Amber Heard for this role because she's got beauty and a feisty attitude. Meryl is a soldier through and through so her portrayer needs to be as tough as she is endearing. She's also got to look amazing with red hair and we know Amber's got that down. We think the actress could surprise everybody with a Meryl who is witty, wise and downright gorgeous.
Octacon — Aaron Taylor-Johnson
Do you remember the first time you met Octacon? No? He peed his pants and cowered in a storage locker after catching sight of Gray Fox. Yet, despite this shaky start, the tech guru eventually evolves into a great comrade. For this role, it's important to cast an actor who feels believable as a nerd with potential. A little like Aaron Taylor-Johnson's character in epic superhero movie KickAss. He's likeable, with brooding good looks, and we reckon he'd add heart and warmth to a Metal Gear movie adaptation.
So, there you have it — our dream cast for the upcoming Metal Gear Solid adaptation. With Oscar Isaac at the helm and these guys providing support, there's no limit for how far the franchise could go.