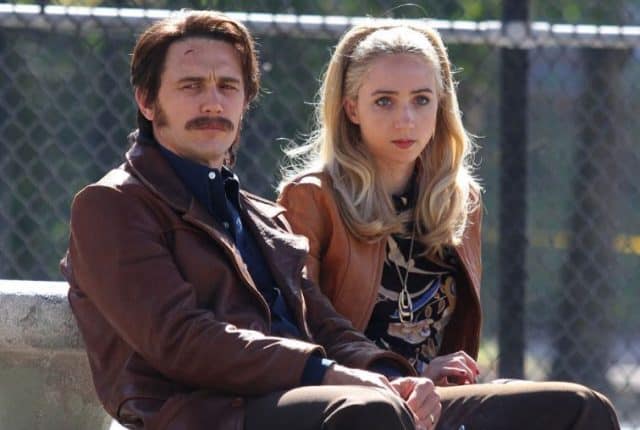 "The Deuce", created by George Pelecanos and David Simons, premiered on September 10 at 9 p.m. ET on HBO with a pretty amazing cast led by the always engaging James Franco [playing twin brothers], as well as the multi-talented Maggie Gyllenhaal [playing the hooker with a heart of gold]. It's so good that it's already been renewed for a second season.
The season 1 finale, which was 75 minutes long, aired on October 29 and was aptly entitled "My Name is Ruby". It refers to an overweight African-American prostitute named Ruby who endures tons of abuse in her trade where she's called "Thunder Thighs" and then ends up dying for actually saying the words "My name is Ruby", which enrages an abusive john who pushes her out of a window, killing her. A sad end to a sad life.
The Rise of the Adult Entertainment Industry
Other characters in the series fared much better, including both Franco's dual characters, Vinnie/Frankie, and Gyllenhaal's character, Candy, who go into the porn business and make it big. The porn industry of the 70s was one of those enigmas that some people found hard to fathom but it flourished nevertheless and made millionaires out of some people who knew how to make the best of it. From "Deep Throat" to "Behind the Green Door" and "Adultery for Fun & Profit", adult movies were going mainstream and making stars out of former unknowns like Linda Lovelace, Marilyn Chambers, and Rainbow Robbins. The budgets got progressively bigger and the production value, acting, and even the music greatly improved. Filmmakers were turning porn into real movies only with sex.
Onward and Upward
And, in "The Deuce", the porn industry gets Candy out of the sex trade and into the studio. It's also Vinnie and Frankie's answer to pushing drinks, running from loan sharks, and working for bad bosses. Early on in the series, we learned how important it was for Vinnie to make it big and put his barman days and poor childhood behind him and Frankie, well, he just needed to make money to dig himself out of some big financial holes. And, they do just that. And, Candy works her way from being in front of the camera to behind the camera as a director. Now, that's progress!
From the Streets to the Studio
So, from the dirty city streets to the red carpet at an X-rated movie premiere, things are definitely looking up for Candy. She gets a taste of the good life and definitely wants more. All in all, "The Deuce" has proven itself to be a period drama that is truly riveting with the porn industry and New York City brothels as its backdrop. It's a world where making big money is of the utmost importance and it shows that the old motorcycle adage, "There's an ass for every seat", rings true in other areas as well, like the sex trade and the porn industry where everybody has their own particular type of kink, customer, or body type and the 70s brings to the screen a medium to suit everyone's tastes.
The Show to Watch
"The Deuce" really chronicles it all very well while also combining numerous disparate and yet somehow connected storylines. Add to that James Franco's amazing performance as twins Frankie and Vinnie, and you've got a genuine hit. Okay, season 1 may not have had such a happy ending, what with a central character falling to her death, but if you want a truly engrossing storyline and some compelling characters, this is definitely the show to watch. The season finale was proof positive of that and the next season promises to be more of the same.