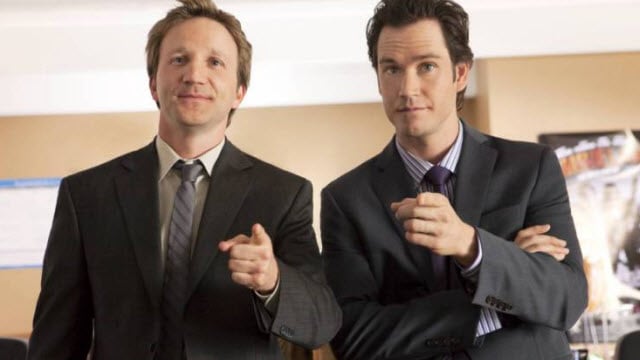 It's been a season of transition in Season 4 of TNT's Franklin & Bash. Infeld Daniels (& King- Season 3) has become Infeld, Daniels, Franklin & Bash. Carmen and Pindar are gone, Ex-DA Ellen Swatello works for them, Damien has jumped ship onto another firm, and Stanton's law license has been suspended. Last week, Franklin & Bash pulled more of their now famous courtroom antics to get Stanton's law license reinstated. So this week's episode established what is rapidly becoming a new norm, for both the firm and the show.
I have been a Franklin & Bash fan since 1.01, and I'm not ashamed to admit that. My favorite part about the series is that it doesn't take itself too seriously. Mark-Paul Gosselaar and Breckin Meyer have excellent chemistry, and every supporting player has found their role with ease. Malcolm McDowell is brilliant in just about everything he does, and Reed Diamond is an excellent arch-nemesis. I have also really gotten on board with this season's additions; namely Toni Trucks (new eager young lawyer Anita Haskins) and Anthony Ordonez (socially inept private investigator Dan Mundy). I'm also a big Fratello/Swanklin shipper, so I'm loving that Swatello (Rhea Seehorn) works for them now.
This week's episode was highlighted by Stanton's return to the firm, Jared's quite obvious feelings for Ellen and guest star Mike Tyson! When Stanton returned, he was less than amused at the way Jared and Peter have been running things. Of course, was he really surprised? No, but he was more worried about the firm's image than anything else. I really like the dynamic that Malcom McDowell brings as Stanton, because he's become more and more like "one of the guys", and when he hangs out with Franklin and Bash, he says a lot of silly things in a British accent. McDowell's quirkiness was highlighted in this episode, and it's part of what makes the series work. And of course, in this episode, he took a punch from Mike Tyson. Respect.
I've also hinted at this in previous paragraphs, but I LOVE the exploration of the Franklin/Swatello relationship. Rhea Seehorn plays Swatello brimming with confidence, but clearly carries a soft spot for Jared, whether she admits it or not. I love the decision to bring her into the fold, and I hope the series continues to explore the relationship.
I was most disappointed that Franklin and Bash's case (that they worked in between the other stuff) didn't bring such a ridiculous outcome. The best parts about Franklin & Bash are the constant witty banter between Jared and Peter, and the courtroom antics. While all of those things were present in this episode, they were decidedly less so, but it worked to shift the focus toward the previous two plot points, which worked in favor of establishing a new norm for the show.
Here are just a few of my favorite quotes from the episode:
"You gonna put that in your harassment log?"- Jared Franklin
Jimmy (the client): "How can someone so beautiful be so evil?"
Jared: "In my experience the two go hand-in-hand"
"I'm calling you a crazy old loon who was too drunk to remember"- Stanton Infeld, to the old friend he punched
Ultimately I'm excited about the remainder of Season 4. I'm glad this show has stuck around this long, and it's a lot of fun. When a series doesn't take itself too seriously and can make you laugh, those are two characteristics not to be underestimated. What did you think? Are you enjoying season 4 thus far? Share your thoughts with us!
[Photo via TNT]