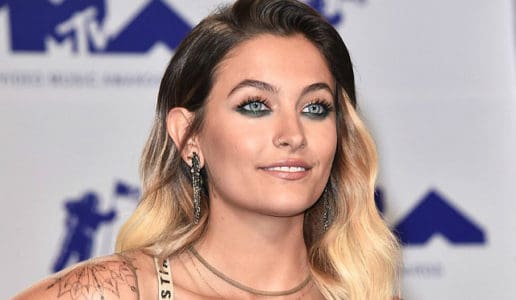 American Horror Story's new spin-off series, 'American Horror Stories,' premiered July 15 on FX on Hulu with a few familiar faces like the King of Pop Michael Jackson's daughter, Paris Jackson. Like its parent series, 'American Horror Stories' is no stranger to hiring a star-studded cast to appear in its horror-themed show. A great example is season 5, AHS: Hotel that featured award-winning singer Lady Gaga who played the role of Elizabeth Johnson, the vampiric owner of Hotel Cortez. Unlike AHS, this 16 episode spin-off series written by Ryan Murphy and Brad Falchuk will feature stand-alone episodes that tell different horror stories.
The two-part premiere episode 'Rubber (Wo)man' featured a young teenager, Scarlett Winslow (Sierra McCormick), who moves into the Murder House from the AHS season 1 with her family. Her dads, Michael Winslow (Matt Bomer) and Troy Winslow (Gavin Creel), are flippers who plan to renovate the house and start a haunted Bed and Breakfast that would make them filthy rich. That all goes down the drain as they realize the ghosts living in Murder House are genuine and dangerous.
Like other celebrities that have been cast in AHS, the 23-year-old brought in a lot of hype after her announcement. The starlet plays a mean rich girl, Maya, who is very popular in the same school as Scarlett. Maya knows about Scarlett's crush on her and uses it later to embarrass her. In an interview with TheWrap, she says she was given sides to audition for Scarlett. When they told her that she would be on the show, they shared not much information about the character. She was only aware of the character's name and that her role was to play a mean girl. How mean was the girl going to be? She wasn't aware of that. After reading the script, she realized how cruel and evil the character she was playing would be. She goes on to say that the experience was terrific.
Paris' character, Maya, ends up inviting Scarlett to a slumber party that ends tragically. She live-streamed their steamy encounter before convincing Scarlett to share her sexual fantasies with the world. Maya takes off back to the Murder House completely humiliated, and plots her revenge on Maya and her friends. Paris added that when it came time to act out this brutal scene, many apologies were said between her and McCormick when cameras weren't rolling.
Boost in Ratings
After the two-part premiere of American Horror Stories, the internet buzzed with praise for Paris Jackson and her acting chops. No doubt Ryan Murphy knew what he was doing by casting the daughter of Late Legend, Michael Jackson, for the role. Paris Jackson has over 3.6 million followers on Instagram and 1.2 million on Twitter who tuned in to catch the premiere event on Thursday. One fan tweeted, "Just watched the first episode of AHStories, and Paris Jackson is such a joy to watch."
She quoted a fan's tweet about her AHS appearance saying, how the thought of getting choked out on the Star was entertaining and urged her fans to keep watching. Her cryptic tweet prompted fans to catch the show and see her performance. The tag #ahstories and #parisjackson were trending on Twitter as fans aired their thoughts on her acting. Her fanbase tuned in to catch her horror acting debut, which boosted ratings for the new show.
All the hype around Jackson's character that ended up as a ghost in the murder house prompted co-creator Ryan Murphy to reveal details on the show's finale. Replying to a fan who wanted the original ghosts to return said, "MANY of them are coming back for episode 7…the finale of STORIES."
Longtime fans of American Horror Story were excited to get the spin-off series that revisited themes from the Murder House in season 1, like the infamous black rubber suit. Fans are in for a treat, though, as Ryan confirmed the cast for upcoming episodes. They included Glee's Kevin McHale, Pose's Dyllon Burnside, Riverdale's Charles Melton, and The Prom's Nico Greetham.
More Fans for the AHS Franchise
Now that fans had had a taste of Paris' acting in American Horror Stories, we can be sure they will stick around for more projects from the anthology series. We expect the show's inclusivity by featuring LGBTQ characters as the main cast will sit well with today's audience, who are all for on-screen representation. Paris Jackson's role has built anticipation for the new season of AHS: Double Feature that is set to premiere on August 20 by showing the creators are still committed to the thriller series. Talks of her appearing in the season 10 installment have built hype around the show with fans. Ryan Murphy's casting of Paris Jackson reignited interest in the franchise from fans unsure they would watch the spin-off series. It also opened up all nine seasons of AHS to a more youthful audience that might not have watched it when it started ten years ago. Jackson led to more anticipation of seeing her godfather and actor, Macaulay Culkin, who was also cast in the upcoming season of AHS.
Ryan announced it through a photo of Culkin with Leslie Grossman on his Instagram (@mrrpmurphy) and captioned it, 'Something Wicked This Way Comes. American Horror Story Season Ten.' The two actors were clad in fur coats as they posed outside in the AHS set at Provincetown, Mass. Maybe fans will get to see both Jackson and Culkin on screen together? We can't wait to find out!. From what we know of AHS' habit of casting their actors in multiple seasons as different characters, we are sure to see Paris Jackson in future American Horror Story episodes. Seeing that Paris' acting in the two-part episode of American Horror Stories was well received by viewers, we expect her impact on the entire AHS franchise to increase as time goes by. New episodes will air every Thursday on FX on Hulu.
Tell us what's wrong with this post? How could we improve it? :)
Let us improve this post!