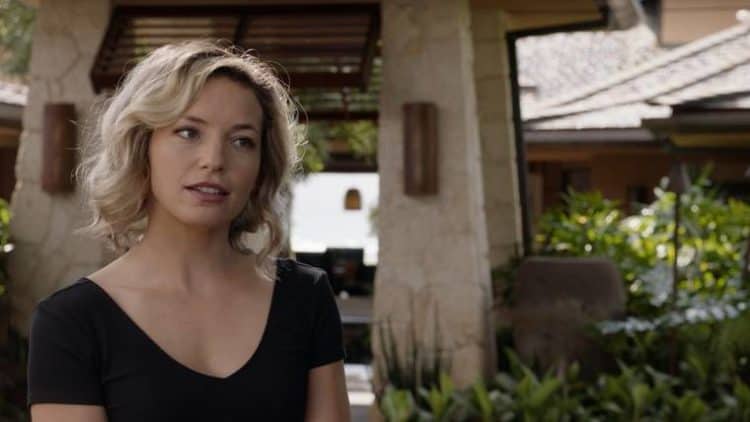 Spending my teenage years growing up in the 1980s, I enjoyed what I considered to be some of the best television programmings in this history of the United States. Don't get me wrong, the 90s were great as well. However, there is something about the 80s. One show that I could not wait to sit down and watch each and every week was Magnum P.I. It was both funny and intriguing. So, you can imagine how stoked I was when I found out that they were doing a reboot of the series – with a new cast of course. One of the stars of the show is the beautiful Perdita Weeks. For many of you, the name does not ring a bell, so we decided to create a list of 10 things you should know about Perdita Weeks.
1. She Is the Younger Sister of Honeysuckle Weeks
Perdita admits that she followed in her older sister's footsteps, getting into acting at the age of 12, but she insists that there is no sibling rivalry between the two of them. She says that she has a strong admiration for the work that her sister has put forth in her own acting career and there is plenty of room for them to thrive in the industry. Perdita believes that having a good example go ahead of her has made her entry into the acting profession much easier.
2. She Had a Role in the Television Version of Titanic
Perdita landed the role of Georgiana in the TV version of the blockbuster film Titanic – a role that she says she absolutely fell into. When she read the script, she felt an immediate liking and kinship to the character of Georgiana. In her mind, acting is not something that is difficult. For instance, her role as Georgiana was simply about her connecting with the character and developing. She says that learning to walk on your hands is difficult.
3. Her Nickname is Pork
Of all of the nicknames a person could have, Pork is nowhere near the top of the list. The truth is that most everyone who knows Perdita calls her Perdy, except for her older sister, Honeysuckle. Honey, as Perdita calls her, has always called Perdita by the name of Pork. The name comes from the fact that Perdita was a fat baby by all standards. Well, she definitely burned off that baby fat, now didn't she.
4. She Is Extremely Spunky
According to the actresses on the account, she is very spunky by nature. It is her own spunkiness that made it easy for her to connect with the character of Georgiana. She admits that she has a certain type of spunkiness that does not cross the line of being uncaring or disrespectful, but she definitely does not fold easily.
5. She Has Had Roles in More than 30 Projects
When counting her roles in television series and films, Perdita has logged quite an impressive resume that totals more than 30 projects. Of course, her latest installment is in the reboot of Magnum P.I., but she has also starred in the TV film Loving, the film the Prince and the Pauper and the television mini-series, Great Expectations. It is amazing that at just 30 years of age, she has a career that spans all the way back to 1993.
6. She is Married to Kit Frederiksen
In 2012, Weeks consummated her love to her boyfriend, Kit Frederiksen – getting married and starting a family. I'm sorry guys, she is off of the market. The two seem to be happily married. One of the challenges of being a full-time Hollywood actor or actress is developing the capacity to manage your career and your personal life, but Perdita seems to have done a great job transitioning into family life. Having an older sister who has done it already didn't hurt.
7. She Has Twin Sons
For most women, the news that they are pregnant and will be giving birth to their first child is something exciting. I am not sure how it is when the news of twins. I am sure that Perdita took in stride. She now has two handsome little boys, Rupert Sebastian Frederiksen, and Carrington Frederiksen. I am not sure why Rupert gets to have a middle name and Carrington doesn't, but it is what it is.
8. Her Role in As Above/So Below Allowed Her to Live in Paris
When you are a native of Brittain, the idea of taking a trip to Paris is not as fascinating as it is for Americans. However, Perdita's role in the movie As Above/So Below required her to live in Paris for a While. In a recent interview, she admitted that though she had been to Paris multiple times by the time she shot the movie, living there on an ongoing basis gave so much insight to the richness and history of the city and the country. She literally grew into her role by absorbing her daily surroundings.
9. She Was Perfect for the Role of Scarlett Marlowe
Scarlett Marlowe is the role that Perdita played in the film, As Above/So Below and it is a role that is very suiting for her. She is sort of the next generation Lauro Croft – the female version of Indiana Jones. I believe that you really have to be adventurous to shoot in the Catacombs for hours each day and not be overwhelmed.
10. She and Honeysuckle Remain Extremely Close
It is one thing to say that you are not in competition with your sister, who happens to work in the same industry as you, but it is an entirely different thing to say that you close as best friends. When listening to both of these sisters, it is clear that family is important to them. Honeysuckle's love affair with her little sisters started the day she was born. Honeysuckle says that she has always adored her little sister and it is obvious that Perdita has always admired her.