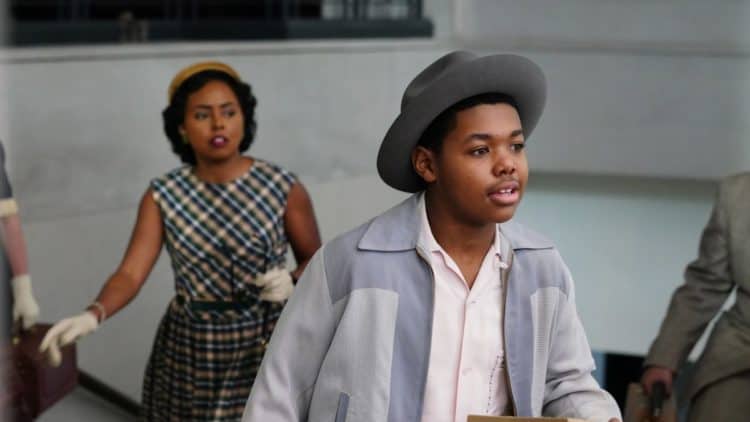 The murder and torture of fourteen-year-old Emmett Till shook the nation in 1955. Although the story has been told more times than we can physically count over the years on various platforms it has never been told like this. Women of the Movement depict a mother's heartbreak, strength and emphasizes the grave reality of racism and segregation. Beware! While watching this series you're likely to experience a range of emotions varying from anger to sadness. Whistling at a white woman. That was the crime that Emmett Till was accused of when he was dragged out of his uncle's home in Money, Mississippi in the middle of the night. During the last moments of his life, he was viciously tortured and then murdered. The limited series on the ABC network recreates Emmett and Mamie Till's story starting from Emmett's birth.
The opening scene shows a very much pregnant Mamie in labor. Mamie might as well be invisible because none of the nurses come to her aid when her water breaks. Ironically, this scene showcases the injustices that people of color have systemically endured in healthcare. Mamie's mother shows up just in time to berate the staff and get her daughter some help. Emmett was born with the umbilical cord wrapped around his neck. The doctors told Mamie that she would be better off institutionalizing him because he would have severe disabilities. But Mamie never gave up on her son not even after his untimely death. Emmett Till grew up to be a sweet, respectful Chicago boy that enjoyed singing. Despite the doctor's claims that he would never be able to function as a normal kid, Emmet grew up to be a sweet and respectful Chicago boy that enjoyed singing with his friends. He was smart and perfectly healthy besides a slight stuttering problem.
Mamie Till Mobley portrayed by Tony Award winner Adrienne Warren is a fiercely protective single mother in this ABC limited series executive produced by heavy hitters like Will Smith, Gina Prince-Bythewood, and Jay Z. As a single mother, there was but so much Mamie could teach her teenage son. So she reluctantly agreed to let Emmett spend the summer in Mississippi with his cousins so that he could learn how to fish, hunt, and work her uncle's cotton fields. Mamie does her best to teach Emmett the etiquette that he needed to use down South. She warned him that Mississippi was nothing like Cook County and that it was important he humbled himself to white people. "Women of the Movement" wasted no time in delving into the harrowing sequence that ultimately led to Emmett's murder. Emmett unknowingly got himself into a load of trouble when he smiled at Carolyn Bryant the white woman working the register at her husband's convenience store. After he bought his candy, he waved goodbye to her. Carolyn went to her truck to retrieve her gun and this is when Emmett allegedly whistled at her as he drove away with his friends.
That night, Carolyn's husband Roy Jenkins and his half-brother J.W Milram barged into Mose Wright's home and pulls Emmett out of bed and drags him into darkness. Mose did his best to try and protect Emmett even begging that they give him a whipping and leave him be since he was just a boy. The next morning when Emmett doesn't return, Uncle Mose has to make a call that no mother should ever receive. When he breaks the news to Mamie that Emmett is missing after being taken by two white men in the night, Mamie fears that her worst njghtmare has come true. Mamie knew that in Mississippi, racism could cost a young black boy his life which is why she was against Emmett spending the summer own South in the first place. She had moved to Chicago when he was a baby because she didn't want to raise her son in that type of environment. Although heartbroken, Mamie does her best to be strong and maintain a positive outlook.
In the second premiere episode, the show toggles back and forth between Mississippi and Chicago. Fortunately, Mamie has her mother by her side, the support of her friends who use their contacts to get the help of the black press and other civil right pioneers to put pressure on Mississippi to find Emmett. Mamie's hope comes crashing down when she receives word that they pulled Emmett's badly mutilated body from the Tallahatchie River. The moment Mamie finds out that her son is dead is beyond heartbreaking. What makes matters worse is that the Money, Mississippi sheriff attempts to cover up Emmett's brutal murder in the following episodes.
Tell us what's wrong with this post? How could we improve it? :)
Let us improve this post!