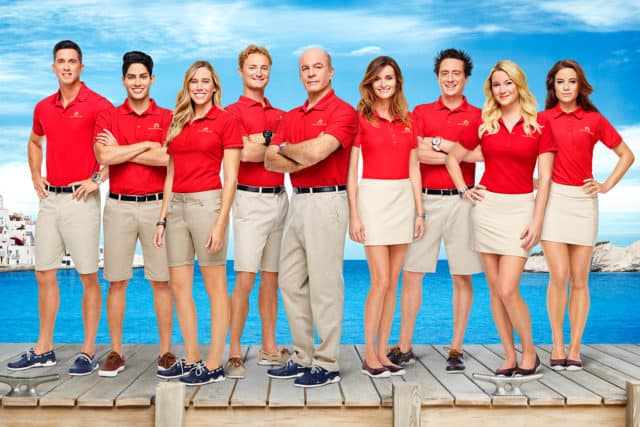 Below Deck: Mediterranean has had the distinction of being one of Bravo TV's fastest growing series. It's viewership is primarily in the 25 to 54 age group. It's a scintillating show about luxurious living on superyachts which are only affordable for the very rich. Featuring indescribably beautiful locations in Greece, Croatia, and top yachting destinations, the demands of guests and the drama which ensues with crew members is riveting television. Along with all the episodic intrigues, there are some juicy tidbits of trivia to enjoy:
Hannah Ferrier thinks the Sirocco is much more beautiful than the Ionian Princess.
When Below Deck: Mediterranean Season 1 premiered in 2016 as a spin-off of the original series, the "Ionian Princess" was the superyacht chosen for the newest group of "yachties" and their exclusive guests.
Hannah told Brienne Walsh, writing for Forbes, that it was so difficult to give the Ionian that illusion that it was nice that they had to "blindfold the guests". Hannah referred to the Sirocco as being inspired a bit by Versace, and actually slightly "gaudy" for her personal taste, because she prefers a more classical styling. The Sirocco charters starting at €200,000 per week plus.
Past superyachts from the original series still are available for charter
The Season 1 Below Deck original series premiered with the superyacht called "Honor", and cost about $200,000 a week to charter. Its real name was Cuor di Leone, which is Italian for "Lion Heart". It's now named "Lumiere", and was purchased for about $15 million. The new owner refurbished the yacht and now charters her in the Caribbean.
The Season 2 superyacht was the Ohana. After the show it was sold for $10.9 million and then renamed the Rhino. It currenter charters in the Virgin and Leeward Islands, Greece and the Eastern Mediterranean.
The Season 3 Below Deck yacht was called "Eros", but charters under the name "Mustang Sally" in Sardinia and Ibiza.
It was much harder to hide from guests on the Sirocco.
Bobby mentioned that there was only one exit. Hannah said that she struggled with that same problem quite a bit through the first season of the show. She noted that the film crew included at least an additional thirty to forty people on and off the yacht each day. That included producers, a control room, guys with microphones and at least 6 to 7 guys in the camera crew. Hannah noted that she could barely squeeze by camera crew guys without having some part of her body touching him, and she hoped that wouldn't lead to a sexual harassment remark.
Bobby Giancola said Danny Zureikat stole his neck pillow after he was thrown off the Ionian Princess.
Danny gave his own Bravo interview in July 2016 and told everyone how stunned he was when Captain Mark fired him. The Captain handed Danny his plane ticket, which put Danny into shock. He said he didn't fight to stay on because he respected the Captain's decision, though he really wanted to be part of the last charter. Danny says the Captain's view of him was influenced by Bobby and Bryan, who he says provoked him constantly. He said they were ultimately the best role models for teaching others what not to become. Danny never mentioned the stolen neck pillow. But, he and the other crew members have spent considerable Twitter time slinging accusations about much worse.
The guests get a discount on their cruise for being on the show.
Bravo describes the Below Deck: Mediterranean guests as "uncompromising and wealthy" passengers. They are an elite group who expect the height of luxury, prefer to be treated as royalty, and are expected to become part of the cast of the show. The series posts an official casting notice, enticing high powered clientele with promises that they will be wined and dined at a discount price. However, the casting notice requires that guests be successful and amazing. A group of 8 people who may be friends, family, couples or co-workers, are invited to charter the superyachts. It costs about $10,000 for each guest. These guests spend about three days on the yacht and two days at a 5-star hotel. The airfare, alcohol, tips and watersports are also included in the price. The guests must also be available to cruise during the show's filming window.
Chef Adam Glick lives in his sprinter van when not living on a yacht.
Adam travels all over during the few weeks he gets the chance. He says that there's a lot of stress working as a yacht chef. He also lives in what he calls the "cedar closets" he calls home when on the yachts. He thinks the best way to get rid of stress is to cruise to new spots while he's away from his work, and his van feels comfortable and natural. The chefs are undoubtedly one of the key crew members on any luxury yacht. It's not surprising that their lives are what many viewers are most curious about. Viewers still ask about Chef Ben, too. Season 1 Chef Ben Robinson is taking a break for unrevealed contractual reasons. He has continued as a holistic nutritionist and chef, and he does have a FaceTime moment with Lauren Cohen which opens room for plenty of speculation.
Tell us what's wrong with this post? How could we improve it? :)
Let us improve this post!