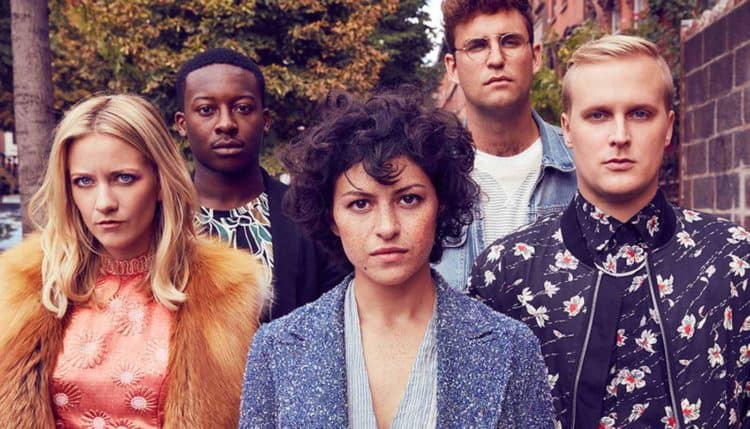 The five seasons of Search Party, which began on TBS before moving to its new home of HBO Max for seasons three through five, has been an incredibly wild ride. What started as a relatively aimless search for a missing acquaintance morphed into many different things, featuring a very public murder trial, an extended hostage situation, and a truly bizarre cult. Part of what makes the show so singular and watchable is its core cast – Alia Shawkat, John Reynolds, Meredith Hagner, and John Early – who are uniquely suited to what their roles demand of them. But, over the course of its run, the show has also employed the talents of many notable and top-tier guest stars whose presence has greatly enhanced the overall effect of the series. Here are some of the most memorable among them.
Ron Livingston as Keith Powell
There was always something sort of off about Keith, a private investigator who didn't turn out to be what he said he was. Whatever the truth may have been, which wasn't apparent at the time, accomplished actor Livingston gave it all his all, taking his part incredibly seriously and making it hard to believe that he hadn't at least convinced himself of his own lies.
Shalita Grant as Cassidy Diamond
While Elliott and Portia may compete for the accolade of "too much," one character managed to overshadow both of them in season three with her flair for the dramatic. That would be Cassidy, the lawyer played by Shalita Grant who definitely didn't have the experience necessary to represent Dory in her trial but also tended to emphasize all the wrong parts of each sentence. Grant's portrayal of Cassidy made her plenty of fun to watch, even if it was nerve-racking to consider Dory's dwindling odds of being acquitted every time Cassidy got up to speak.
Louie Anderson as Bob Lunch
Drew's representation seemed considerably more competent, or at the very least, seasoned. That didn't stop him from occasionally calling him by the wrong name or seeming like he just wasn't up to the task. But Anderson, who won an Emmy for playing Zach Galifianakis' mother on Baskets, delivered one of the funniest moments in this show's history and one that ultimately paved the way for freedom for his clients: indicating that Bob had heard the word "pancaked" instead of "murdered" on the tape. Only Anderson could have uttered and repeated that line with such unenthusiastic certainty.
Michaela Watkins as Polly Danziger
The two defense lawyers are on here, and the trial wouldn't have been as spectacular to watch without legitimate opposing counsel. Michaela Watkins, a great TV player from shows like Casual and Transparent, was charged up to play Polly, who best represented how viewers probably felt, aware that Drew and Dory were very much guilty and astonished that anyone could consider their innocence. Unlike those watching, however, Polly was intent on getting a conviction, going to extraordinary lengths to do so and getting extremely frustrated in the process when events didn't go her way.
Cole Escola as Chip Wreck
Chip was a threat introduced near the end of season three who took center stage in season four, serving as Dory's captor and tormentor. The character, who was apparently inspired by Annie Wilkes from Misery, was terrifying and definitely unstable, but there was an incredible consistency to Escola's performance, always committed to the intention of each moment and whatever it was that Chip believed in that moment, however extreme and impossible.
Chloe Fineman as Charlie Reeny
Could there be a polar opposite to Elliott as perfect as Charlie Reeny? Despite their enormous political differences, the two weren't actually all that different, both always ready to get down and dirty with their insults and talk trash about anything they hated. Pairing the two of them on television was brilliant, and Saturday Night Live actress Fineman was a great choice to play the proud, hateful conservative whose program was aptly titled Right is Right.
Ann Dowd as Paula Jo Bridgewater
Emmy winner Dowd is the kind of actress who makes an impression on any show, from The Leftovers to The Handmaid's Tale and many more. It doesn't seem right that she only appeared in two episodes of this series, but her character, a nosy neighbor with posh preferences and unfortunate allergies, was never destined to survive when she had the misfortune of going over to the house that happened to be occupied by Chip and a captive Dory. Her distinctive refusal to accept her circumstances was quite memorable, even if it led to a bad end for her character.
Susan Sarandon as Lylah
Here's another award winner who only actually appeared in two episodes but who left a much more distinctive mark than that on the show. After watching Chip pretend to be his Aunt Lylah for so long, getting to see the real thing was a treat. Her reaction to the traffic circle and to everything that was going on was amusing, and Sarandon immediately conveyed Lylah's lack of patience for antics that didn't deserve her time or attention.
Jeff Goldblum as Tunnel Quinn
Something about Goldblum's energy and his voice makes him someone who had to appear on this show. He's the only person who could have played the eccentric businessman who made his horrified visitors believed they were journeying to the center of the Earth and who wanted to create something that was entirely theoretical and not physically doable. But Goldblum sold it all as the fascinating idea man, someone who convinced you that he could convince anyone of anything.
Clare McNulty as Chantal Witherbottom
McNulty appears in just over half of the fifty episodes this show aired, but she never feels like a real member of the cast. Her irresponsible decision to ghost everyone leads to many people getting hurt and killed, and she, more even than the four main characters, never learns anything from her mistakes, choosing instead to eagerly latch on to the next bad influence who comes along. It's not an easy thing to play stupid so well, yet McNulty does an extraordinary job, making it a twisted delight to see Chantal every time she appears.
Tell us what's wrong with this post? How could we improve it? :)
Let us improve this post!