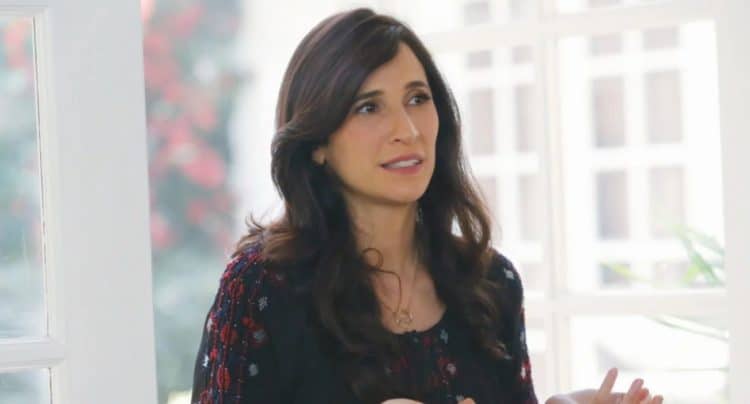 Michaela Watkins isn't your typical actress, in fact, she isn't your typical anything. She has appeared in various comedy films and still, some people might mistake her for someone else. She doesn't look like a glamorous actress and seeing her, you might be tempted to ask who Michaela is? Well, this low-key actress has more to her belt than meets the eye, having appeared in films such as New Girl, The Back-Up Plan, The New Adventure of Old Christine and Transparent among others. With every role she plays no matter how little it is, she still manages to get raves and acclaims even if the movie itself doesn't. She has earned herself the name Hollywood's comedy bandit since she'll always appear in a film and run away with all the laughter.
Who is Michaela Watson then?
Michaela was born and raised in Dewitt, a suburb of Syracuse, New York in a Jewish family. Her mother, Myra Watkins, was a Latin teacher and her father was a mathematician at Syracuse University. She has 2 sisters, Sarah Fitts and Rebeccah Kent. Her parents got divorced when she was 15 and they relocated to Boston after her mother got her marketing degree. She studied acting and theatre at Boston University from where she graduated. She has been acting since then, auditioned for several roles and has managed to build a name for herself. Here are 10 things you didn't know about Michaela Watkins:
1. She began acting at the age of 15
When Watkins was 15 she auditioned for a role in a British play at a community theater in Boston. She eventually got the part and has since then been acting, although her career didn't quite take off as she had expected
2. She was an Improv artist
She was an Improv artist at 'The Groundlings' where she was a regular performer before being discovered by SNL. She credits her decision to join the showbiz industry to Joan Rivers.
3. She was a waitress before all the fame
Before everything else, Michaela Watkins waited tables at a local diner in order to pay her rent. She took up waiting tables during the day and would perform at 'The Groundlings' during the night to cater to her needs among other things.
4. She was 37 when she joined SNL
Michaela Watkins was the oldest woman to ever have been on SNL before Leslie Jones, who was 40, got her stint in the famous 'Improv skit show'. Despite this she was unbothered and she continued providing audiences with original sketches each episode.
5. She actually got fired from SNL
Her stint on SNL lasted for only a season after which she got fired. According to Business Insider, the star was fired because the SNL creator and producer, Lorne Michaels thought that the talented actress deserved her own show instead of performing for other shows. This saw her go back to working at 'The Groundlings', a move which she says was degrading for someone who had just been on SNL. She felt it was a downgrade but still continued to work for her dreams.
6. Her current role is not comedic
She is currently playing Valerie in 'Casual', as a psychiatrist and a mother of 2 children, a daughter, and a son. This character is a huge turn away from her usual comedic roles as the character of Valerie takes on a more serious outlook on life. She is still one to accept the challenge as she has been getting good reviews for her acting.
7. She was the first person to audition for Casual
Yes, Michaela still has to audition for roles. She was actually the first person to audition for a part in 'Casual'. The producer Jason Reitman and the director Zander Lehmann felt she was right for the part but she herself was unsure and told them they have the option to choose someone else. Later on, Reitman, the producer told her that although she had been perfect for the part, the network wanted to go with someone more famous. A year later she got a call from the producer that she had gotten the role to play Valerie.
8. Her character Valerie is one of the very few roles on TV that focuses on a middle-aged woman
The film industry is filled with young actors and actresses and it is quite out of the ordinary if not impossible to find a show that centers on a middle-aged woman. Valerie is a 44-year-old dedicated mother and psychiatrist who is trying hard to get back into the dating scene after her divorce. The show centers around her journey towards self-discovery, work, and motherhood.
9. She is a superheroes and comics buff
Michaela says that she is into everything and anything that involves action figures and superheroes. In fact, she has expressed interest in Marvel characters and she says she wouldn't mind playing a part in a Marvel movie and would relish the idea of her being in a superhero film.
10. She missed the tone of a movie during an audition which cost her a role
We all have a moment when there are a few misunderstandings and Michaela Watkins is no foreigner to misunderstandings. According to Backstage, she got the script and thought it was a comedy script and auditioned for it as one, causing her to miss the part. Later on, while seeing the movie she regrets her audition because she says it was a character that she could have played easily.
Conclusion;
Michaela Watson might not be a young actress but her ambitions are sky limit and she is not stopping anytime soon. She is booked for auditions and roles and despite the cancellation of her series 'The Trophy Wife' and 'Benched', she is still doing well for herself. Her pace might be a tad slower than for most actresses but needless to say Hollywood's underrated star is set for bigger things and we can only hope to see her shine more.