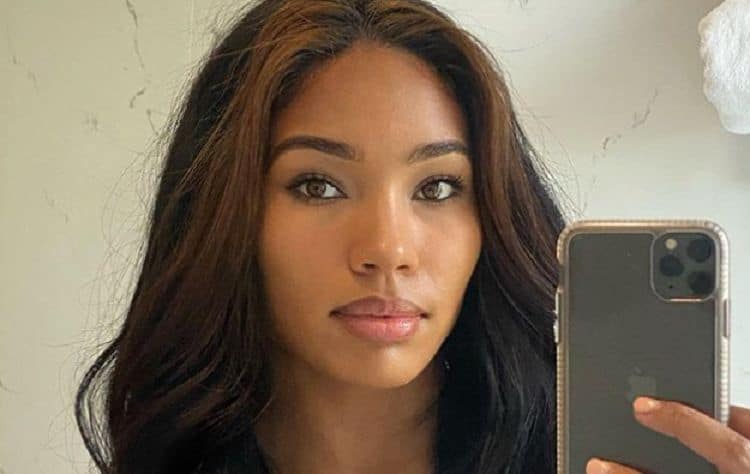 He's famous for his rap skills, but did you know that 50 Cent entered into a new relationship last year that is being talked about all over the place? The woman he began dating goes by the name Cuban Link, which is also the name of a famous rapper. People want to know as much as they can about her, but she is not an easy woman to find. When you look her up, you get information on jewelry or a male rapper, but nothing on the woman allegedly dating the famous rapper. We've done some digging, and we found a few tidbits of information that might make it a bit easier to get to know her – but trust us when we say she's not an easy nut to crack.
1. Her Name is Jamira Haines
This woman is not easy to find. Her nickname is not one she uses precisely on social media or anywhere else. Her real name, however, is Jamira Haines. She's allegedly dating the man who sings "In Da Club," and they have been for about a year now. The news first broke in September 2019. If they're still together, we just don't know.
2. She's a Fitness Instructor
As she works on her dreams and her future, she also works as a fitness instructor. We know she looks great, so it makes sense she would pick a job to get her through school that also allows her an outlet like working out does. She's in great shape, so it's just icing on the cake that she gets to take care of herself for a living.
3. She'd Like to be a Lawyer
When she's done with school and ready to move into the real world that a long-term career offers, she's going to be an attorney. We don't know what kind of attorney, though. All we know is that she is going to be an attorney, and that it's been her dream for a long time.
4. She's from Cuba
Hence the nickname she goes by. She was born in Cuba, but we have no idea if she was raised there. We know her family originated from the island, but we also don't know anything about her childhood or how much time she spent there growing up. Maybe most of her childhood, or maybe her family came to the states when she was a baby. Again, we just don't know.
5. She's Still Young
When she and 50 Cent made things official in late 2019, she was 24. Since we don't know if she had a birthday since or she'd only just turned 24, we assume she's either 24 or 25. She's still young, but she's working hard to make a career for herself and to make sure her future is certain.
6. She Likes Older Men
We can tell you one thing, and that is that Cuban Link has no problem dating older men. Her boyfriend is nearly 20 years older than she is. He was 44 when they announced their new relationship to the press, so age is nothing but a number in her eyes.
7. The Camera Loves Her
Once you can find her social media pages, you will see that the camera loves her. She takes candid shots, posed shots, and selfies regularly, and not one of them makes her look unfortunate. She's quite lovely, and we can say that the camera is clearly her friend.
8. She's Big on Faith
The best way to get to know this lovely aspiring corporate attorney is to peruse her Instagram captions. One thing we've learned by doing this is that she believes in faith. She also believes in the journey so long as you allow your faith to carry you. Everything, in her mind, will work out when the world is ready for it to work out for you.
9. She's Not Worried About What You Think
No one ever shined so bright that they dimmed the light of those around them, and she's not worried about how bright her light shines. She's not going to dim herself or her life to make anyone else feel more comfortable around her. If you aren't shining to your full potential, that is not her problem to worry about.
10. She's Not a Good Cook
She did a spot on Cleo TV in which she definitely made it clear that cooking is not her forte. However, she's not afraid to try something new, so she gives it a chance when she can. We like to think that cooking comes to you when you're ready to learn, but you can't make yourself ready to learn. Does that make any sense?