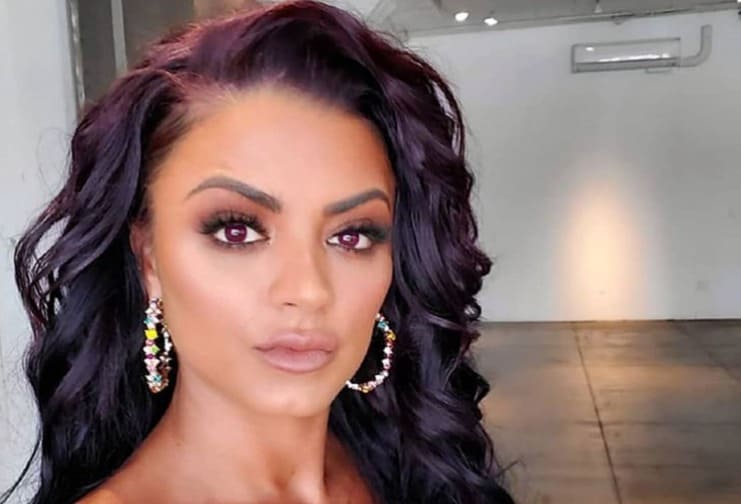 Golnesa Gharachedaghi describes herself as a simple lady who enjoys life to its fullest. The "Shahs of Sunset" star is famous for her beauty, temper, and an affluent lifestyle. She comes from a well off family that overwhelmingly supports her. Her life is full of so much thrill that makes her a perfect fit for the drama-filled reality TV show. You may assume to know her from the show, but GG, as she is popularly known, has a lot more to her that you cannot tell from the screen.
1. She is into the cannabis business
The state of California legalized the recreational use of weed, and it opened investment opportunities for enterprising citizens. Golnesa launched a cannabis business, Wüsah; the business name is from the movie "Bad Boys." It offers a wide range of cannabis-related products such as cold-pressed juices, vape pens, inhaler vapes, and cannabis pre-rolls. The concept behind the creation of Wüsah is that medicinal properties from cannabis help our bodies in fighting ailment; thus, the brand boasts of giving users a little help without getting them high or having side effects. The company was born out of Golnesa's cannabis lifestyle, which she used to treat her rheumatoid arthritis. She openly talks about her cannabis consumption and reveals her found fondness for watermelon and cannabis. Her venture into the cannabis business, as well as the use, has earned her the title "Queen of Cannabis."
2. She got business guidance from co-star Shervin
Golnesa and Shervin Roohparvar are not just starring in "Shahs of Sunset;" they are also close friends. She acknowledges the support she has received from her fellow castmember. Reality tea reveals that in her interview with OK magazine, she admits that Shervin taught her the fundamentals of operating a business. She, therefore, looks up to him and wants her businesses to flourish as Shervin's have.
3. She gets financial support from her father
Most fans know Golnesa for her glamorous lifestyle, but surprisingly she gets financial support from her rich father. Mahmoud Gharachedaghi, Golnesa's dad, is a prominent architect and an executive at GA Architects and Planning. According to Starcasm, Golnesa often bragged about her monthly allowances from her dad, and she had every reason to, considering that she got $7,000 monthly.
4. She owns a hair extension line
Together with her sister, Leila Gharache, Golnesa launched a synthetic hairline called GG extensions. It adds to her long list of business ventures. It is also an indication that she is determined to be independent despite having a rich father.
5. She has an estimated net worth of $12 million
She is no doubt in the list of wealthy Iranian-Americans from Beverly Hills. Her luxurious lifestyle gets most of her fans curious about how much she is worth. For a start, she is from a wealthy family and receives substantial financial support from the family. Additionally, she runs multiple businesses, such as her medicinal cannabis company and her joint venture in hair extension line. Her appearance in the Reality TV show also adds a significant amount to her earnings.
6. She got admitted into a rehabilitation center
She unravels her experience in drug abuse. She explained in one interview about her previous drug abuse history. She started abusing drugs at the age of eleven. During the time she indulged in hard drugs such as cocaine, and cannabis too. Her move to do drugs at such a young age is due to her freedom to attend parties and events where she was introduced to drugs. It took her a while before she could realize the effects they had on her. She hit twenty-three years of age and decided to make a change by seeking rehabilitation. The rehab proved beneficial since she has stopped using them. She, however, continues to use cannabis for medicinal purposes.
7. She got pregnant through IVF
Golnesa Gharachedaghi experienced a tough time before her pregnancy and described the ectopic pregnancy experience as the most traumatizing moment of her life. She had to terminate her first pregnancy through emergency surgery to remove both her fallopian tubes. Her only option to get pregnant after the operation was through IVF. She was lucky on her second attempt because she got a sperm donor and later acquired the good news that an embryo had developed. Who would be your sperm- donor pick? Well, for her, she is quite a fussy person; her concern is appearance. Golnesa mentioned that her choice for a sperm donor would be either Tom Hardy or Colin Farrell, an indication of her obsession with good looks.
8. She desires to have lots of children
Despite her traumatic first experience with pregnancy, she still has the desire to give birth and raise many children. It is evident as she often talks about her most significant motivation for staying in shape is so she can have lots of children. She also wants to have an influence on her children the same way her parents did to her.
9. She has her natural beauty secret
You all know the reality cares so much about her looks seeing how she always looks stunning. If you want to know her beauty secrets, she is not selfish so as not to share. She reveals to The Skinny Confidential that she uses natural and unrefined rose water, and it works wonders and leaves her with beautiful glowing skin.
10. She wants her former husband restrained
Golnesa Gharachedaghi and her estranged former husband Shalom Yeroushalmi have not been the luckiest couple of the reality show. Their rocky marriage has not been one you could wish on anyone since she accuses him of harassment. Golnesa alleges that he bombards her with calls, emails, and text messages. She wants the courts to grant her restraining orders to keep Shalom fifty yards away from her and her two cats after Golnesa found Shalom inching closer to her home on multiple occasions. Besides, she demands that Shalom should not be allowed to communicate with the media about Golnesa and her family. Her requests to the court are pending as she collects enough evidence to prove the relevance of her demands.