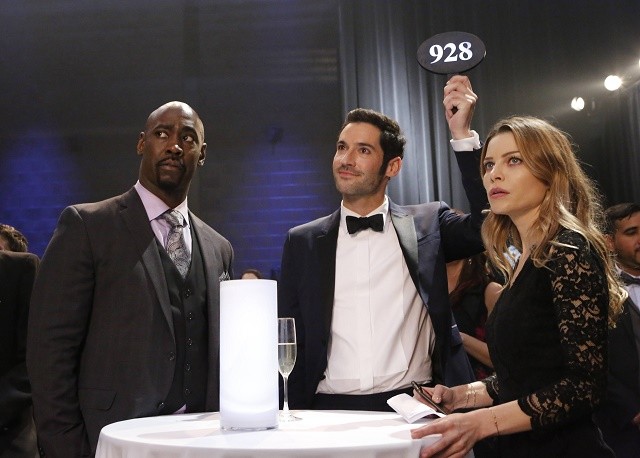 Angelic brothers will reunite in tonight's episode of Lucifer. In the all-new hour, Lucifer will surprisingly team up with Amenadiel in an effort to retrieve his stolen wings at an auction. However, will the two of them be able to work together in harmony, and what will happen when Chloe arrives and crashes their mission?
The three sneak peek videos below from tonight's episode, titled "Wingman," provide us with a better picture of the pair's team dynamic. They also make it clear that, no matter how much he may help him in this week's episode, Amenadiel is still going to do everything in his power to send Lucifer back to hell.
But while the relationship between the two brothers is most definitely interesting, the really intriguing part about "Wingman" is the role that Chloe will play in the episode and how she will react to meeting and interacting with Amenadiel, who Lucifer introduces her to in one of the clips below. Will she finally believe that her partner is actually the Devil, or will Amenadiel's presence not change her mind in any way? Or might she be too preoccupied with her own problems (as it seems like she's dealing with some emotional stuff in one of the sneak peek videos below) to really worry about Lucifer's true identity? We'll have to wait and see.
Lucifer airs Mondays at 9 p.m. on FOX. Check out the three sneak peek videos from "Wignman" below:
In attempt to find the contents of his stolen container, Lucifer enlists the help of an unlikely ally. Meanwhile, Chloe digs deeper into the Palmetto case, uncovering a lead that might finally expose the truth.
[Photo via FOX]