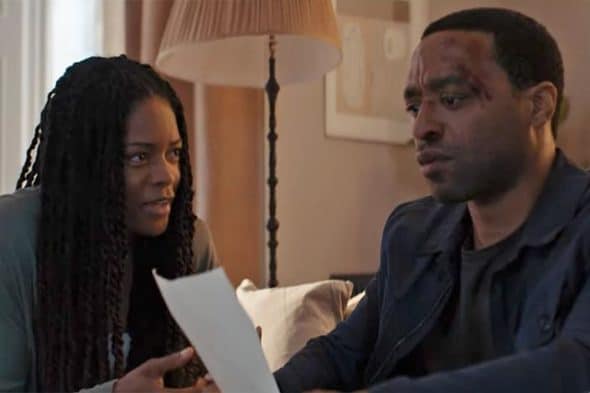 The Walter Tevis sci-fi novel The Man Who Fell To Earth is getting its very own TV series. The book was adapted into a movie in 1976 and 2005. This year, the story is back in front of the camera in an upcoming show set to premiere on Showtime. Here's an official synopsis, according to Rotten Tomatoes: "An alien on a mission crashes in the oil fields of New Mexico with only eight hours to find the one woman on Earth who can save his species." The Man Who Fell To Earth is a production of Paramount Global Distribution Group. It's developed by two prominent sci-fi writers: Alex Kurtzman, a sci-fi veteran who has worked on the Star Trek franchise, Transformers, The Amazing Spider-Man 2, and The Mummy, and Jenny Lumet, who also worked on Star Trek. The show promises an ensemble cast of seasoned performers. Here are the cast members set to appear in the much-anticipated The Man Who Fell To Earth.
Chiwetel Ejiofor
Chiwetel Ejiofor plays the alien in The Man Who Fell To Earth. The multi-awarded actor, whose accolades include a BAFTA Award, a Laurence Olivier Award, an NAACP Image Award, two Primetime Emmy Awards, and nominations for the Oscars, has appeared in some of the most recognizable blockbusters in recent years, including The Boy Who Harnessed The Wind, The Martian, 12 Years a Slave, Salt, Doctor Strange, and Endgame. A proficient movie actor, he rarely appears in TV; his last TV appearance being Red Nose Day Actually. The Man Who Fell To Earth looks to be Ejiofor's biggest TV role in his career. In an interview with the Guardian, Chiwetel talked about how he chooses his roles, which might shed light on why he decided to tackle the role for this TV project. "You can't really play a part that's not in you. You can't write a part that's not in you. You can't direct a film, or anything without having lived that experience in some form. It doesn't have to be very literal, but you need to get under that experience. Anything I approach, I think of primarily in those terms. How do I understand it from my own journey in life? A lot of that falls back into the circumstances that you're in – your race, gender, class. They inform the choices you make and the little area you can illuminate and have a conversation about."
Naomie Harris
Naomie Harris portrays Justin Falls in The Man Who Fell To Earth. An English actress, she appeared in 28 Days Later, Pirates of the Caribbean, Mandela: Long Walk to Freedom, and Venom: Let There Be Carnage. More recently, she's made a name for herself in her appearance in three James Bond films: Skyfall, Spectre, and No Time To Die. She also earned a nomination for the Academy Award for Best Supporting Actress in the movie Moonlight. Currently, she stars in The Third Day, a British-American psychological thriller-horror drama created by Felix Barret and Dennis Kelly for HBO and Sky Atlantic.
Jimmi Simpson
Jimmi Simpson is set to play the character of Spencer Clay in The Man Who Fell To Earth. A familiar TV actor, he's worked on It's Always Sunny in Philadelphia, The Late Show with David Letterman, Psych, Breakout Kings, The Newsroom, House of Cards, and Westworld. He made his film debut on the movie Loser. Since then, he's appeared in movies like Studio 666, Silk Road, Breaking News in Yuba County, and Gravy. He has three upcoming movies, all in post-production: El Tonto, The Georgetown Project, and Shriver.
Clarke Peters
A veteran actor, Clarke Peters will be portraying Josiah Falls in The Man Who Fell To Earth. He's had roles in Endgame, John Wick, Three Billboards Outside Ebbing, Missouri, Harriet, and Da 5 Bloods. Most fans would know him as Lester Freamon in the hit crime drama TV show The Wire.
Rob Delaney
The comedian Rob Delaney plays Hatch Flood in the upcoming series The Man Who Fell To Earth. He's appeared in Deadpool 2, The Hustle, Rocketman, Hobbs & Shaw, Last Christmas, Bombshell, Tom & Jerry, Wrath of Man, The Good House, Ron's Gone Wrong, and Home Sweet Home Alone. Delaney is a very busy guy. He's set to appear in at least five upcoming movies in 2022 and 2023: The Bubble, The School for Good and Evil, Mission: Impossible 7, The Statistical Probability of Love at First Sight, and Argylle.
Sonya Cassidy
Sonya Cassidy plays Edie Flood in the series. She currently plays a lead role in The Last Kingdom, portraying the character of Eadgifu. Previously, she's had main character roles in Lodge 49, The Woman in White, and The Paradise.
Joana Ribeiro
Joana Ribeiro portrays Lisa Dominguez in The Man Who Fell To Earth. The young Portuguese actress had been a staple in Portuguese TV before taking on roles in U.S.-produced projects.
Annelle Olaleye
Child actress Annelle Olaleye plays Molly Falls in The Man Who Fell To Earth. She's previously worked on Ted Lasso and Domina.
Bill Nighy
Last on the list of actors portraying main characters in The Man Who Fell To Earth is veteran British actor Bill Nighy. He plays Thomas Jerome Newton in the series. The actor, known for his versatility, has appeared in serious projects like Underworld, as well as more lighthearted ones like Hot Fuzz. In an interview with The Gentleman's Journal, he talked about his struggles early in his career as an actor, which sheds insight on how he evolved as a performer. "I hated being an actor for the first few years because I was so self-conscious and I didn't have a way of dealing with it. I used to just suffer on stages being paralysed by self-consciousness. I would stand very still and look moody and hope that it passed for some kind of internal monologue or internal drama. They were great times, yeah, but I don't have a great nostalgia for it."
Recurring roles
Actors set to portray recurring characters in the series include Kate Mulgrew, a Star Trek veteran, as well as Harry Potter alum Josh Herdman and Martha Plimpton.Harry Potter
Tell us what's wrong with this post? How could we improve it? :)
Let us improve this post!