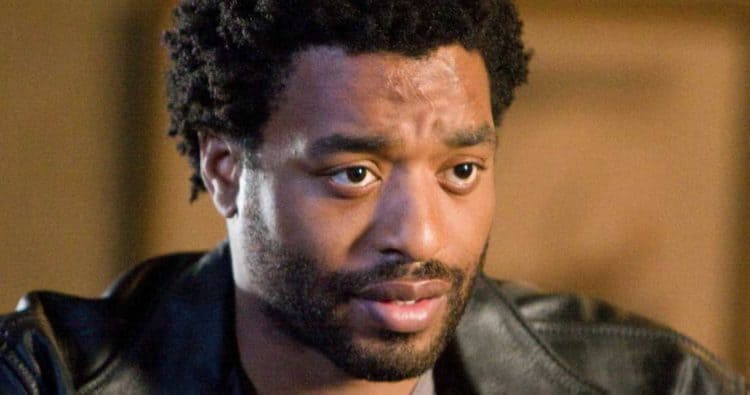 Chiwetel Ejiofor definitely feels like a more classical actor, but he's been able to use his talents in very big way across a broad spectrum of movies and TV shows, as well as stage productions, that have shown just versatile he really is. At times his characters seem a little pretentious and possibly full of themselves, but at others he's seen to be entirely genuine, sincere, and more than a little heroic. The fact that he can play protagonist and antagonist with equal fervor is a quality that a lot of actors do have but only a few can utilize in this fashion. Watching him you get the idea that he can switch from good to bad guy in a matter of seconds without too much effort. A good example would be his role as Baron Mordo in Doctor Strange, as the character fought alongside Strange before finally taking off on his own to become a bad guy.
Here are a few things about Chiwetel you might not have known.
10. He was a little intimidated at first when he was cast for Amistad.
It was a part that he very much wanted to play, but it was also a moment that he describes as somewhat daunting since it was something he'd wanted but didn't expect. It's easy to think that a lot of actors might be intimidated at first when making their debut, as it's a step into the big leagues that some might not be fully ready for.
9. The scars on his forehead are from an automobile accident he was in when he was 11.
Unfortunately his father did not survive this accident but Chiwetel was badly injured and carries the scars today. One might think that he would have looked back a time or two on this accident and wondered what could have been done differently, but it's still an experience that has made him who he is without a doubt.
8. In 2015 he was awarded the CBE.
This is an award that carries a lot of weight with it since it's not just something granted by an academy or by peers, but something that distinguishes someone throughout an entire nation and is an honor that bestows upon those who receive it a truly impressive amount of prestige.
7. He's been a stage actor as well.
This really wasn't that surprising to learn since he seems as though he'd excel pretty much anywhere and his strong and very impassioned performance tends to make one believe that on stage he's just as powerful and just as awe-inspiring when it comes to a performance.
6. He's in his 40s at this time.
Chiwetel isn't an old man but he's not a young buck either since he's been through his fair share of years, films, and experiences. He is at that point in life however where many possibilities are still open to him and the opportunity to take on active and engaging roles is still possible. In fact it would be nice to see him in another MCU movie, or show.
5. He has a net worth of around $12 million.
Again this isn't really too surprising since whether he's been a main character or a supporting character he's brought a lot of expertise to quite a few movies, stage plays, and TV shows. Obviously he's impressed quite a few people and made bank on it, which is the name of the game after all.
4. He admittedly likes to immerse himself in each character he plays.
You could argue that just about every actor worth their name in show business does this, or tries to, but Chiwetel is one of those that manages to actually become the character that he's playing, fully getting into every nuance of the character and making them come to life in a way that convinces much of the audience as to his sincerity.
3. His following on social media isn't as big as you would think.
It could be that he's more prominent on some sites than others but it also seems as though he's not as big on social media as he simply focuses on his career and moving forward without the need to really pander to the audience as much.
2. His roles as the villain are just as convincing as his heroic roles.
Two roles come to mind, and that's Baron Mordo and Victor Sweet from Doctor Strange and Four Brothers respectively. He plays the roles so convincingly that one can almost forget that he's been the protagonist in movies such as 12 Years a Slave and 2012.
1. He played the part of Scar in the new version of The Lion King.
It's hard to pick between him and Jeremy Irons since both performed this role so well, but it would depend on whether a person enjoyed the newer version or the animated movie to really make a difference.
He's a very talented actor, but that's something that many people know at this point.