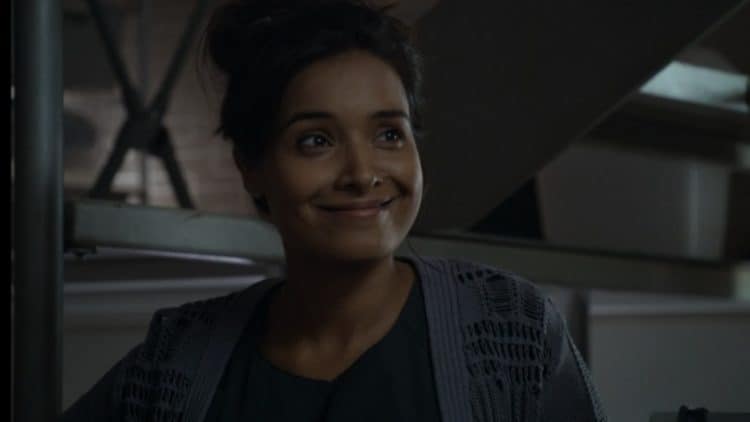 Shelley Conn was born and raised in the United Kingdom, but thanks to her work as an actress she has become well known all around the world. Since making her on-screen debut more than 20 years ago, Shelley has risen through the ranks in both the film and TV worlds. The versatility she's shown throughout her career has allowed her to act across several genres and she's been able to play a variety of characters. Whether she has a starring role or a small guest appearance, Shelley is going to put on a show that will leave a lasting impression on viewers. Keep reading for 10 things you didn't know about Shelley Conn.
1. She Comes From A Diverse Background
Shelley is originally from North London. Her background is comprised of several ethnic groups including Indian, Portuguese, and Burmese. Shelley's father was in the military when she was younger so she and her family spent a lot of time moving around. Her family moved to Basingstoke when she was around 10-years-old which is where she became interested in acting.
2. She Is Always Wanted To Act
From an early age, Shelley knew that acting was something she wanted to do. Shelley told Metro, "…my favourite games were role-playing games and using my imagination. I took part in school plays, started studying the literature side of things and just caught the bug. It just felt right."
3. She Is Not Really Into Social Media
Social media has become a very powerful tool, especially for those in the entertainment industry. Surprisingly, however, Shelley doesn't appear to have much interest in building an online presence. Twitter is the only platform she has a verified account on and she doesn't tweet very often.
4. She Is A Formally Trained Actress
Once Shelley decided that she was serious about wanting to act, she knew that she had to put in the effort to reach her goals. Despite not being very familiar with the process of getting into theatre school, she went on to study at Webber Douglas Academy of Dramatic Art.
5. She Has Been Starstruck By Some People She's Worked With
Shelley might be a star herself, but that hasn't stopped her from feeling starstruck around some other people in the industry. During her interview with Metro she said, "…the first actors I worked with professionally were Hugh Laurie and Joely Richardson. I was totally star-struck.
6. She Has Professional Theater Experience
Many people know Shelley from the work she's done in TV and film, but she also knows how to light up the stage. She has been cast in several professional theatre productions throughout her career and the stage will always have a very special place in her heart. Her ability to act across a variety of mediums has certainly worked in her favor.
7. She Is A Wife And Mother
Shelley has always been fairly private about her personal life, but one thing she hasn't hidden from the public is the fact that she's a wife and mother. She has been married to actor Jonathan Kerrigan for about a decade and the couple has one child together.
8. She Was Once A Children's Entertainer
No matter how talented a person is, the road to becoming a professional actor is never easy. Every actor has stories about random jobs they've held in the past and Shelley is no exception. For a while, she was hired to entertain children at corporate events. She would have to dress in pirate or fairy costumes and keep the children engaged while the adults enjoyed the rest of the party. As you can imagine, this job had lots of challenging moments.
9. She Feels Most Free Doing Film
Shelley has acted in several mediums over the course of her career, and many will be surprised to know that she has felt especially free doing movies. While talking to Exit 6 Film Festival, Shelley said, "I think film offers more artistic freedom for an actor. This is the golden age of television, and creatively it doesn't feel like it's ever been so creative, but I still think it's more of a writer's medium. Generally, I have found there's more artistic opportunity in film and it's a more collaborative experience."
10. She Doesn't Have Plans To Move To The U.S.
Shelley has worked on quite a few American projects throughout the years, but unlike many actors from abroad, she has never settled permanently in the United States. London has always been her home base and she doesn't have any plans to change that in the foreseeable future.
Tell us what's wrong with this post? How could we improve it? :)
Let us improve this post!