Wisteria Lane is about to get explosive and the tables are set for a (hopefully) shocking season finale. The Bolen incident is finally revealed and the final showdown is imminent, but which of our favorite characters will be caught in the crossfire? I am getting ahead of myself. Let's recap!
Not A One Night Stand…
Katherine still looks like a mixed cocktail of puzzled and mortified after her night with Robin. You know the look. It happens during drunken one night stands or desperate ones, but again, I digress. Susan knocks on the door wanting to hang with her old bud (my what a few months can do to your psyche), but Katherine tries to shoo her off before she's exposed and ends up failing as Robin plants a sensual kiss on her in front of Susan. BUSTED!
Katherine then takes her problems to gay experts Bob and Lee, who think that Katherine is not gay after just having a drunken night of passion with Robin. Bob does say that he too was heterosexual for awhile, but didn't feel right until he got with a man. Katherine takes this and decides to confront Robin later. When she does, Robin is hurt that Katherine would think that what they had was attributed to alcohol and a bad spell with men. Robin knows what she felt was real and in the end Katherine relents and admits that the passion was indeed real. And folks, we have our first lesbian Wisteria Lane/Desperate Housewife!
Gentle Mike
Susan blindsides Mike with news that she took some of her money from the strip club and paid off his business loan, which he was nowhere near paying off (9% interest? HA!). Mike acts very unappreciative when I know other men (like me) would have praised the ground Susan walked on for loving us that much. But Mike is what my Dad would call "old school" and what Susan did was a big faux pas to his ego.
To make matters worse, Susan calls Mike Katherine's transition person to her newfound lesbian lifestyle, which doesn't sit well with him. Susan is clueless as ever, which isn't anything new, but she doesn't really let it get to her. Later, Mike tries to show off how macho he can be by trying to 'ravish' Susan, but makes a fool of himself. When Susan asks if this has anything to do about him being Katherine's last man before she became a lesbian (which is an ego blower to some men), Mike says it really has to deal with the business loan and how he felt that Susan should have came to first about it. Susan offers to cancel the check the next day and Mike is a calm bear again.
Golddigger In the Scavo House!!!!
Preston brings home a 'nice' Russian girl named Irina, which we all know soured Lynette's grapes a little, because to her, there is no way in hell Preston pulled a supermodel like that, especially with that smear he calls a mustache on his face, imho. Then Irina makes it her business to announce over dinner every purchase that Preston has made for her while in Paris, which included a high priced t-shirt and a boob job, all totaling close to a $1000 dollars. Lynette has her fuse, now she has to light it. But Preston shocks them even further by announcing that he proposed and wants his grandmother's ring that Lynette promised him when he got married. Lynette doesn't want to give up the heirloom to the golddigging tramp, so she comes up with a plan that is so iron clad that it can't go wrong. She takes the ring to a jeweler's so he can give her a cheaper, fake copy of it, because Irina is an opportunist and will get it appraised as soon as it lands on her finger. Lynette hopes that when Irina sees it that she will run for the hills and never look back. But Irina isn't a dumb broad. She does get the ring appraised and decides that she can't take a 'precious' heirloom from Lynette and suggests that Mama Scavo save it for Penny. Oh and did I mention that she said all of this with venomous subtext for Lynette that easily translates to: "It's SOOOOOO ON!!!!"
The Lost Son
Bree pisses Andrew (and me) off when she reveals that she is making Sam Allen VP of her company. While Andrew is already VP, Bree thinks that Sam's help is invaluable and asks for Andrew to accept the help as well. Frak that B.S.! Bree introduces Sam as one of the new VP's to her employees, but Andrew comes in wrecked and makes a spectacle out of himself, which ended with Sam on the floor, courtesy of Andrew. Bree is embarrassed, but Sam leaves to nurse his arm and bruised ego as well.
Later, Bree brings Sam her infamous muffin basket to his place of residency. He isn't home, but Bree decides to leave the muffins inside anyway and finds Sam's secret, which he validates after she confronts him. What is it? Is he a spy working for whoever is looking for the Bolens? No. A relative of George Williams? Nuh uh.
He's Rex's son!!!!!
SHUT. UP!!!!!!
After seeing this, Bree flees. It isn't until later that we find out the story. Sam was born before Rex married Bree and he tried to take care of Sam, but Sam's mother was a proud woman and asked for Rex to stay away for Sam's sake. Sam admits to driving by and seeing the perfect family that he could never be a part of and Bree is floored and very sympathetic. Maybe she should ask Lynette for advice on this subject since she dealt with the exact same damn thing. But again, I digress. As Bree hugs Sam and welcomes him fully into her life, Andrew watches from his window and if you ask me, this was more Season One and Two Andrew, who is lethally dangerous….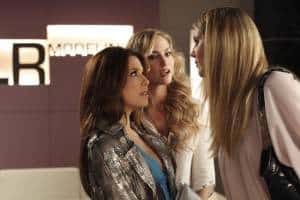 Gaby and Angie's Adventures in New York!!!!!
Gaby is shocked to find out from Angie that not only has Danny went to NYC to find Ana, but that Ana knows of Gaby's treachery as well. She decides to go with Angie and find their loved ones. When she gets there, Gaby reveals to Angie that she used to be a model and when she presses for Angie to reveal her past, Angie clams up. When Gaby reaches NYC, she is shocked when top models Heidi Klum and Paulina Porizkova both give her the cold shoulder based on her behavior before she left NYC with Carlos. According to Gaby's old agent, Luke, Gaby was hell on heels and everyone got sick of her and that Ana is headed te same way. Luke also informed Gaby that the real reason she left the modeling world is because her time was up and that Carlos proposing to her couldn't have came at a better moment, because she was about to be "out" in terms of fashion and popularity. Damn, this woman has more issues/layers than an onion head.
When Gaby finally finds Ana, she warns her niece to salvage her career while she got the chance and don't end up like her.
Meanwhile, Angie finds out that Danny contacted his grandmother and is staying with her. When she goes to her old home, Angie is met with a slap from her mother, Mrs. DeLuca, for keeping Danny aka Tyler away from her all these years. Mrs. DeLuca wants Danny to stay with her since the real person that Patrick Logan is after is Angie and not Danny. But Angie reveals something (that we don't hear) that gets Mrs. DeLuca to change her mind and send Danny on his way, because it's not safe for any of them if he does stay.
While Gaby waits outside, a neighbor of Mrs. DeLuca approaches Gaby and asks about Angie. Gaby, being in the dark, tells the woman Angie's new place of residency. Uh -Oh…
While on the plane back, Gaby gets Angie to trust her and reveal the deep dark secret. It turns out that Angie was a eco-freak who protested against all polluters who harmed the environment. Then she met Patrick Logan who took it to the extreme and got someone killed. It was Nic who got them out and kept them safe from Logan's grasp. She then reveals that Logan is Danny's true father. DUN DUN DUN!!!!!
The show closes out for the night with that nosy ass neighbor of Mrs. DeLuca calling Patrick Logan and spilling the beans… all for a measly $1000.
The Wisteria Lane Ledger
– All I got to say for the Bolen mystery now is this: Enter John Barrowman.
– I hope Lynette lays the smackdown on Irina. While the girl is hot, I don't like golddiggers at ALL!
– So Sam is REX'S SON!!!!! DID NOT see that coming! But like I said, we saw this with Lynette before and God knows that it did not end well with her, so I think that Sam is not just looking for lost time with his brother and sister. And if Andrew has his way, Sam might be meeting his father in front of the Holy Father soon.
– I'm liking where the Kobin storyline is heading. It's sad to know how it will end though…
– Will we ever find out of my theory of the Fairview Strangler is true? I mean that just sort of disappeared…
What did you guys think? Hit me up her or Twitter me @theanticritic! See you next week!!!