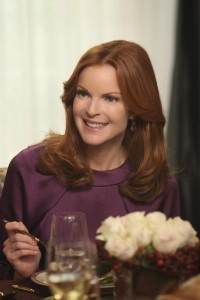 This week on Desperate Housewives, the theme of Thanksgiving took center stage as the holiday sent us spiraling to the much talked about midseason cliffhanger involving Paul Young's devious plan for the residents of Wisteria Lane, as well as the main ladies personal dilemmas also.
***Spoilers For Those Who Haven't Viewed This Week's Episode***
Bree's Thankless Dinner
Keith's parents, Mary (Nancy Travis) and Richard (John Schneider), continue to throw a monkey wrench into the love affair between Bree and Keith, this time by bring their own marital problems into the mix, especially with Keith prepping himself to ask Bree for her hand in marriage. Despite the huge age difference, Keith could be a compatible mate for Bree at this stage in the game. We haven't seen any deranged personality traits that could put Bree or those she loves in danger from the guy, plus he truly cares for who she is as an individual and respects her dearly. With all this being said, the comment from Richard about knowing that Bree was "special" when her first laid eyes on her could be the beginning of the end of this potential perfect union.
The dinner scene between Bree and her guests was basically a delectable side dish in itself. As soon as Mrs. McCluskey (Kathryn Joosten) and Roy (Orson Bean) showed up on Bree's door, I know comedic gold was about to be served on a silver platter. Orson Bean's Roy just knows how to steal a scene and with Kathryn Joosten's Karen McCluskey, the two are unstoppable.
With the impending battle between father and son ahead of us, I wonder if Bree will actually accept Richard's advances? This can only get even more murkier, folks…
Not Without My Daughter – The Continuing Saga
Gaby's dilemma just found the perfect footing for Eva Longoria to hopefully display more of her dramatic chops, which I'm sure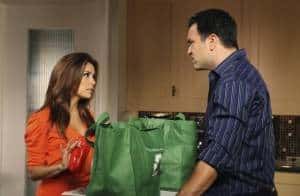 she's able to pull off.
Who would've thought the Sanchez's were illegal immigrants? As soon as Hector (Rolando Molina) couldn't provide his license, I saw the hell Gaby was about to be put through before she even did. But as always, there is a twist to this tale as with Grace (Cecilia Balagot) being an American citizen, Gaby's cooking up a plan, one which could have drastic consequences if overcooked. Plus, Carlos should tone down some of the animosity about the situation, because he's doing nothing more but simply giving Gaby the go ahead with her crazy schemes. More support would help, Solis. Seriously.
Felicia Tillman's Girl Is All Grown Up… To Her Dismay.
Harriet Samson Harris's Felicia Tillman is as creepy as ever. While Felicia was a fan favorite in season one to stop Paul Young, she's taken the task a little bit too far and has crossed into deranged territory. She's not thinking straight and it seems as if she never has, according to Beth's testimony to Paul about her upbringing. Felicia seems to have always been a bitter, controlling woman, which isn't helping her case to Beth about Paul's true nature. Since Beth is exploring all new avenues previously forbidden by the law of her mother, it's going to be a big gray area for her in terms of seeing who's right and wrong in her situation. Hopefully, she will come to her senses soon and not end up as a casualty to either Paul or Felicia's causes.
What's Going On Over There?
While the other women dealt with their major plot lines, Lynette, Susan, and Renee all gave us a little morsel of what they had to serve this week.
It's still unclear whether or not Renee and Tom hooked up before or after Tom married Lynette. It's also unclear if the two met before Lynette and Tom were even an item. Tom was a bit of a man whore back in his day, if earlier cases stand to be true. It would be plausible for Renee and Tom to have had a fling, but without Lynette being in the picture. Let's just hope that they keep their past in the past and keep it moving. Hey, Renee? Keith's father is now available for the picking.
And I just must say that Vanessa Williams can sell sex like no other. I don't care how old she is. Moving on…
This week's Lynette and Susan debacle was only to get Susan onto the lane for the festivities, because let's face it. She's sorely missed on the block by not only the girls, but the fans as well. Although when she gets there finally, Susan will have to face Paul, and if the midseason cliffhanger gossip is any indication, the confrontation is not far. What do you think he has planned for Susan and how long will it last?
Sorry for the late review, readers. It was a crazy weekend. Remember that the new episode of Desperate Housewives will air December 5th!