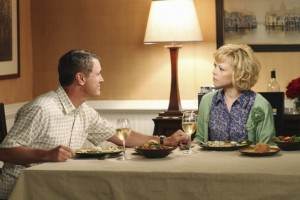 I. Knew. IT!!!
Last night's Desperate Housewives gave us our first November Sweeps bombshell with a slight reveal of what in God's name is Paul Young up to. The ladies on Wisteria Lane were too busy with their own weekly escapades to not realize that hell is coming to Wisteria Lane again and it's not taking any prisoners this time.
Like Mother, Like Daughter (aka I Freaking Knew It!)
I called it. If you've been reading these recaps, then you will know that I've had the inkling that Beth was Felicia Tillman's daughter from gate. Can I say great casting on Emily Bergl as Beth, because she looks as if she could really pass as Harriet Sousman Harris's daughter in real life. It's the eyes, man. The eyes, I tell ya!
So Beth went above and beyond the call of duty to make sure her mother was proud of her by finally having sex with Paul at the drop of a hat once he gave her the ultimatum. As soon as Beth pulled that stunt with Paul's prison buddy, Yeager, I couldn't help but think that would've been something Felicia would've done. Seriously, folks, I mean the woman faked her death to send Paul up the river, so I'm sure Beth learned several tricks or two. Now the question is what exactly does Paul have set up for the residents of Wisteria Lane? At first, I felt as if Paul was going to buy up as much property on the lane and house criminals in them, but that seems a bit lame. Now, what if Paul is buying up a lot of property to set up bombs or something? While that may be extreme, it can help explain why work must be done on Paul's old place, which didn't look as if it needed to be remodeled and resold at market value or something. People (I'm looking at you, Lee) better start asking questions about what the hell is going on before they will be saying grace in the company of angels in the high heavens.
Meet The Parents
Another round of applause for the excellent casting of Nancy Travis as Keith's (Brian Austin Green) mother, Dr. Mary Wagner, who induced a laughing fit during the dinner scene with Bree. While I smelled the scenario a mile away (I read about the casting of Travers and John Schneider as Keith's parents), the dynamic between Mary and Bree was hilarious in my book, but that might be just me.
As for Bree's hot flashes/menopause, it's really thrown a monkey wrench into her relationship with Keith, who was willing to go without having biological kids, but Bree dropped another bombshell on the guy by claiming she doesn't want to have kids period. Keith was pretty damn hurt, but if he just sits with Andrew and Danielle and have them recount the hell they put Bree through, I'm sure he will come to an understanding.
When The Going Gets Tough…
Was it me or did was it a little hard to sympathize with Susan this week? I mean Renee's attitude toward her was mean at it's finest, but I didn't think Lynette should've gotten all that anger directed towards her, because Lynette had no clue Renee had set the call up like that. Plus, it seems that Susan was more upset with being Lynette's nanny than being a soft core porn star, which is a bit ass backwards to me in some regards.
The Great "Flipper"
Taking another break from the "baby switch" story line (albeit oddly, this is sweeps, you know?), Gaby returned to her comedic chops in re-hooking up the resident gay couple Lee and Bob. While I'm glad that Lee and Bob, as well as Mrs. McClusky and Roy, made a return tonight, I would've loved to see some more development in the "baby switch" story line, because I think it would be great for them to end the first half of the season with daughters finding out and having the second half of the season dealing with the aftermath. Who knows? They might ramp up the drama next week. With this show, you do sometimes have to be careful what you wish for…
What were your thoughts?