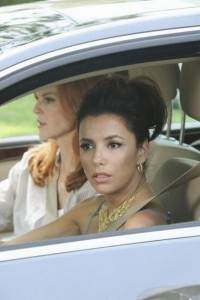 This week, we begin with the ladies (minus Susan) running from something unknown in the woods where they buried Gabrielle's step-father. They split up trying to avoid being caught and when they reconvene, Bree finds something in the ground that freaks her out. We're not yet shown what it is, but it's something that clearly terrifies the Gabrielle and Lynette as well.
We flashback to three days earlier, where Susan brings Zeller a candy corn cupcake in hopes of buttering him up for the intern selection process. Susan should know better than that. Zeller doesn't take the bait, and says the decision will be based on 'talent, experience and who irritates me the least'(well, at least Susan's reaction is an honest one.) Surprisingly, Zeller tells her that he's decided to pick her after all. Meanwhile, Gabrielle checks on Carlos, obviously worried that he's going to fall off the wagon again with his drinking habits. She insists that he attends an AA meeting, which Carlos agrees to, mostly to make her happy.
Things are about to get dicey for Lynette and Tom, as Penny eagerly tells Lynette that Jane will be helping her make her swan Halloween costume. 'I hope I didn't overstep,'Jane tells Lynette, who is baffled by the fact that not only does Tom's new beau have a background in fashion design, she's also teaching her ex how to speak French. Lynette tells Jane thanks for the offer, but she's got Penny's costume under control.
Bree visits Gabrielle to tell her about Ben's plan to build condos over the area where the girls have buried the body, but is interrupted by Juanita who wants her Halloween costume fixed. Bree manages to get the message to Gabrielle in a hilarious manner by relaying it via 'scary story telling'mode. Gabrielle is appropriately freaked out and says that one of them should figure out how to stop the project.
Ben goes to visit Renee, apologizing for being AWOL in the last two weeks. He invites her over for dinner on Halloween night to make up for not being around and she accepts, but only after making him beg (literally.) Susan reports for her new internship duty in her usual over-zealous way, and finds out that Zeller doesn't exactly need her for painting, perse — he needs her to watch his son Jasper for the weekend. Lynette, meanwhile, is working on Penny's costume as Renee comes by admit that she feels differently about Ben than other men she's tried to date. Renee sees Lynette struggling with her costume, and tells her that she knows a designer in New York who can help her out.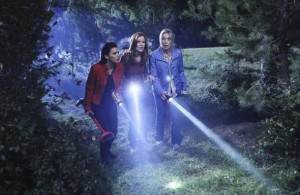 Carlos goes to the AA meeting as promised but when he starts talking about what caused the guilt behind his drinking, he realizes he obviously can't get very far. Frustrated, he leaves and throws away the card as he walks out. Back on the lane, Bree attempts to talk Ben out of building in the woods. Ben refuses saying he already moved the site once from the lake, because of some endangered yellow frogs that made it unsuitable for a construction site. This spurs Bree to figure that if she can plant some of these engendered yellow-spotted frogs at the construction site, Ben will again be forced to move his location site. She takes Gabrielle to the lake to pick up some frogs, which of course doesn't go so well for our favorite socialite who would much rather have a manicure than wade through a lake (she does admit to Carlos'drinking, which is a nice moment for both girls.) As they drive back, Bree accidentally lets one of the frogs loose, causing Gabrielle to freak out and almost crash the car. As a last resort, Bree suggests getting rid of the body for good — the police can't do anything if there's no evidence.
Susan continues her attempts to connect with Jasper, who apparently doesn't have much of a thirst for imagination (much like his father.) Jasper admits he hates Halloween, and Susan convinces him and his father to come trick or treating with her to see what the magic of the holiday is all about. Zeller is understandably less than enthusiastic about the idea, but goes along anyway to try to make his son happy. Susan gets some insight into the relationship between Zeller and Jasper, seeing how much Zeller is pushing away the son that wants to love him.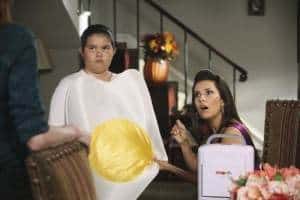 Lynette gets herself into a bit of hot water when at first her costume doesn't show up on time, and then again when Penny puts it on and it turns out to be more of a slut outfit than a kiddie get-up. Jane and Tom come over to pick Penny up, shocked at what Lynette is supposedly proud of making, and Jane admits to Lynette she knows what she did with the costume. The two seem to connect until Lynette asks Jane to stop going after her husband, which Jane refuses to do. Meanwhile, Renee goes for her big dinner date with Ben, which finds itself interrupted first by trick-or-treaters, then by the fact she gets a bad allergic reaction. He takes her to the hospital and tells her that he doesn't understand her strange behavior, while Renee admits she hasn't really been with anyone she's truly liked in a long time. It's nice to see a real romance budding with Renee, who spent a lot of last season being almost a caricature of emotion.
Bree and Gabrielle go to Lynette's house and convince her that they need to go back to the woods to dig up Gabrielle's stepfather (Carlos isn't in a good place, and Susan has done nothing but freak out, so they're not invited on this little journey.) Carlos really isn't in a good place – he opens the door for a trick or treater and sees Gabrielle's dead stepfather instead, which drives him to return to the bottle.
We finally arrive to where we started the episode — the three girls in the woods trying to find the site where they buried the body, and we also finally find out what made them all freak out — the body has already been dug up.
What's next for our Wisteria Lane girls? With only a few episodes so far this season, I feel like the bar has already been raised in terms of the drama and mystery and I'm curious to see where we're going next.